10 things you need to know today: February 15, 2022
Biden administration shuts embassy in Ukraine as Russian invasion threat looms, Trump's accounting firm cuts ties with him, and more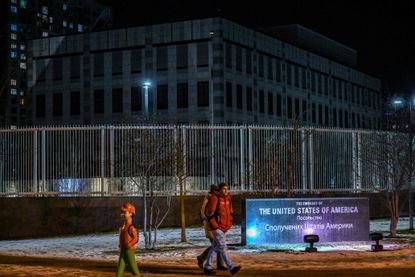 (Image credit: ARIS MESSINIS/AFP via Getty Images)
Sign up to our 10 Things You Need to Know Today newsletter
A free daily digest of the biggest news stories of the day - and the best features from our website
Thank you for signing up to TheWeek. You will receive a verification email shortly.
There was a problem. Please refresh the page and try again.
1. U.S. shuts Kyiv embassy but Russia moves some troops away from Ukraine
The Biden administration said Monday it was shutting down its embassy in Kyiv as the United States and its allies warned that Russia could invade Ukraine within days. The U.S. believes Moscow has massed as many as 130,000 troops near the Ukraine border, with tens of thousands of them participating in military exercises in Belarus. Secretary of State Antony Blinken emphasized that the U.S. is continuing to work closely with Ukraine on "intensive diplomatic efforts to deescalate the crisis." Russia announced that it was pulling back about 10,000 of the estimated 130,000 troops it has massed near the Ukraine border, although it said it was continuing military drills.
The Hill The Wall Street Journal
2. Accounting firm cuts ties with Trump as investigation continues
Former President Donald Trump's longtime accounting firm abruptly ended its relationship with him and the Trump Organization last week as he faces ongoing criminal and civil investigations into allegations he and his family business inflated the value of properties to secure loans, The New York Times reported Monday, citing court filings. In a Feb. 9 letter to the Trump Organization, the accounting firm, Mazars USA, said it could no longer stand by financial statements it prepared for Trump based on information he and his company provided. In the letter, Mazars said the Trump Organization should retract the documents from 2011 to 2020, according to the Times. The Trump Organization said in a statement it was disappointed with Mazars' decision.
Subscribe to The Week
Escape your echo chamber. Get the facts behind the news, plus analysis from multiple perspectives.
SUBSCRIBE & SAVE
Sign up for The Week's Free Newsletters
From our morning news briefing to a weekly Good News Newsletter, get the best of The Week delivered directly to your inbox.
From our morning news briefing to a weekly Good News Newsletter, get the best of The Week delivered directly to your inbox.
3. Trudeau invokes emergency powers against trucker protests
Canadian Prime Minister Justin Trudeau on Monday invoked emergency powers in a bid to break up the so-called Freedom Convoy protests against coronavirus restrictions that clogged Ottawa's downtown and blocked key border crossings. Ontario Premier Doug Ford announced Monday that his province, the most populous in Canada, would lift its COVID-19 vaccination mandate in two weeks, but said the move wasn't in response to the protests. He said the change was coming because it was "safe to do so" now that the coronavirus surge driven by the highly contagious Omicron variant is subsiding. The province also will lift its 50 percent capacity cap on restaurants on Thursday, four days earlier than previously scheduled.
4. Judge says he will dismiss Palin's libel suit against Times
A federal judge on Monday said he would dismiss 2008 Republican vice-presidential candidate Sarah Palin's libel lawsuit against The New York Times. Palin accused the Times and former editorial page editor James Bennet of defaming her in a 2017 editorial by incorrectly linking her to the deadly mass shooting that left then-Rep. Gabby Giffords (D-Ariz.) severely wounded. U.S. District Court Judge Jed Rakoff in Manhattan dismissed the suit, finding the Times made a "very unfortunate" error but Palin failed to show the newspaper acted with "actual malice," the standard for libel cases involving public figures. Rakoff said he would issue his ruling after the jury finishes deliberating so an appeals court would know how the jury's decision as well as his own.
5. Hate-crime prosecutors cite racist texts by Ahmaud Arbery's murderers
Prosecutors in the hate-crime trial of the three white men convicted of murdering Black jogger Ahmaud Arbery pointed to their racist comments and use of the N-word in text messages to assert that the crime was racially motivated. Defense attorneys said the three men — Travis McMichael, who fatally shot Arbery; McMichael's father, Greg McMichael; and another neighbor, Roddie Bryan — chased down Arbery as he ran through their Georgia neighborhood because of their "honest, though erroneous, suspicion" that he was behind recent robberies in the area. "I'm not going to ask you to like Travis McMichael...," said defense attorney Amy Lee Copeland. "But I'm going to ask you to return a verdict of not guilty to this indictment."
6. U.S. requests extradition of former Honduras president
The United States on Monday formally asked Honduras to extradite former President Juan Orlando Hernández to face charges of receiving money from drug cartels. Police surrounded Hernández's house hours after the U.S. made the request to the Honduran Foreign Ministry. Prosecutors in New York say the former president, once a U.S. ally, used his Central American nation's armed forces to provide security for drug traffickers. His extradition is not considered a sure thing, because it must be approved by the country's Supreme Court, which Hernández stacked with loyalists while he was in office from 2014 to January of this year, when he was unseated by opposition leader Xiomara Castro.
7. Musk donated 5 million Tesla shares to charity last year
Tesla CEO Elon Musk donated 5,044,000 shares in the electric-vehicle maker to charity from Nov. 19 to Nov. 29 last year, according to a Monday Tesla filing with the U.S. Securities and Exchange Commission. The donation, worth $5.74 billion, came as Musk sold $16.4 billion worth of Tesla shares after polling Twitter users about whether he should unload 10 percent of his stake in the company. Musk tweeted that he would be paying more than $11 billion in taxes last year as he exercised lucrative stock options. Bob Lord, an associate fellow at the Institute for Policy Studies who studies tax policy, said Musk would get a "huge" tax benefit by gifting shares instead of selling them because he would avoid capital gains tax.
8. Parkland victim's father protests on 4-year anniversary of shooting
Manuel Oliver — father to Joaquin "Guac" Oliver, one of the 17 people killed in the mass shooting at Marjory Stoneman Douglas High School on Feb. 14, 2018 — protested atop a construction crane in Washington, D.C., Monday morning, the four-year anniversary of the massacre. "The whole world will listen to Joaquin today. He has a very important message," Oliver tweeted, standing on the 150-foot crane. Oliver hung a sign from the crane addressing President Biden, saying, "45K people died from gun violence on your watch!" Oliver and his wife Patricia are calling for Biden to pledge substantial reform to curb gun violence during his State of the Union address, slated for March 1. Biden commemorated the tragedy with a call for action to reduce gun violence.
9. Study finds Western megadrought is worst in 1,200 years
The megadrought gripping the Southwest has been the driest two decades there in 1,200 years or more, according to an analysis published Monday in the journal Nature Climate Change. The drought started in 2000, and has severely reduced water supplies and fueled wildfires. It was already considered the worst drought in 500 years when exceptionally dry conditions in summer 2021 "really pushed it over the top," said lead researcher A. Park Williams, a University of California, Los Angeles, climate scientist. During the summer, two-thirds of the West was affected by extreme drought. The researchers determined that the weather conditions were worsened by human-caused climate change.
10. Amy Schumer, Regina Hall, and Wanda Sykes reportedly will host Oscars
Amy Schumer, Regina Hall, and Wanda Sykes are expected to host the 2022 Academy Awards, Variety reported and Deadline confirmed on Monday. Schumer, Hall, and Sykes will be the first official Oscar hosts since 2018, as the ceremony has gone without an emcee during the past three years. Comedian Kevin Hart was scheduled to host in 2019, but he stepped down after backlash over homophobic tweets and jokes. The Oscars hadn't hired a new host since. Last month, ABC confirmed the 2022 ceremony would bring back a host. But The Hollywood Reporter later revealed the plan was actually to have three of them, turning the ceremony into a "three-act show, with each one-hour act emceed by a different host."
Continue reading for free
We hope you're enjoying The Week's refreshingly open-minded journalism.
Subscribed to The Week? Register your account with the same email as your subscription.
Sign up to our 10 Things You Need to Know Today newsletter
A free daily digest of the biggest news stories of the day - and the best features from our website
Harold Maass is a contributing editor at TheWeek.com. He has been writing for The Week since the 2001 launch of the U.S. print edition. Harold has worked for a variety of news outlets, including The Miami Herald, Fox News, and ABC News. For several years, he wrote a daily round-up of financial news for The Week and Yahoo Finance. He lives in North Carolina with his wife and two sons.