The daily gossip: Grimes admits to hacking a blog over a 'mean story,' Bill Murray is getting into NFTs, and more
Today's top entertainment and celebrity news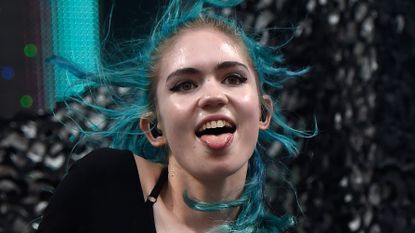 (Image credit: Kevin Mazur/Getty Images for Anheuser-Busch)
1. Grimes admits to hacking and blackmailing a blog over a 'mean story'
Grimes brought some real "Robert Durst confessing in the bathroom at the end of The Jinx" energy to a recent interview with Vanity Fair. The singer appeared to eagerly admit to a potential cybercrime, recounting her role in a DDoS attack against a blog. She said the blog, Hipster Runoff, leaked a photo of her kissing a friend at a party, posting a "mean story" about her going "wild" that got her "canceled" back "before the woke era." So she teamed up with a friend who was working on a "video game" and, she said, "We were actually able to DDoS Hipster Runoff and basically blackmail them. We were like, we're not going to let you put your site back up until you take the story down. And he did, in fact, take the story down, and it was like my coolest hacker moment." Um, she knows she's being filmed saying this, right? Cybersecurity expert Jackie Singh questioned how Grimes somehow didn't "seem concerned about any actual risk associated with admitting crimes to a major magazine."
2. Bill Murray is getting into NFTs
We regret to inform you that Bill Murray is now an NFT guy. Murray is partnering with the website The Chive to launch an NFT collection telling various stories from his life. "Each token in the Official Bill Murray NFT 1000 will have a unique graphic of Murray and accompanying text of a brief anecdote about the actor that he has either personally revealed to the company or has verified from previously published material," The Hollywood Reporter writes. A post on The Chive's website claimed NFTs offer Murray the "perfect storytelling platform," and it generously provides an example story: Murray's phone is an "8-year-old Blackberry Classic" nicknamed the "Bill Urry" that has an "M" key that doesn't work. Wow, we can't afford to not hear that riveting tale! "This original photo is not an NFT, but the story behind it will be," The Chive declares, showing a photo of Murray with the phone. Let's hope none of the Murray stories end up actually being so interesting that we're forced to figure out what an NFT is.
Subscribe to The Week
Escape your echo chamber. Get the facts behind the news, plus analysis from multiple perspectives.
SUBSCRIBE & SAVE
Sign up for The Week's Free Newsletters
From our morning news briefing to a weekly Good News Newsletter, get the best of The Week delivered directly to your inbox.
From our morning news briefing to a weekly Good News Newsletter, get the best of The Week delivered directly to your inbox.
The Hollywood Reporter The AV Club
3. Tom Cruise reportedly got COVID during 'Mission: Impossible' production
Tom Cruise's mission was to avoid getting COVID, but it sounds like that proved impossible. The Hollywood Reporter delved into what a nightmare it's been trying to make the next Mission: Impossible movie during the COVID-19 pandemic. The film has been repeatedly delayed, and the budget has reportedly ballooned to an eye-popping $290 million. Plus, a bunch of people on the movie have reportedly gotten COVID — including, according to the Reporter, director Christopher McQuarrie, and Cruise himself. In fact, the report says "McQuarrie's illness was so severe that he was hospitalized in London." The sequence of events in the article was a bit vague, but the Reporter said neither Cruise nor McQuarrie "was believed to be vaccinated" when they contracted the virus, and it "isn't clear" why not. Wait a second, surely they're not suggesting the same Tom Cruise who had a meltdown over COVID-19 protocol violations didn't get vaccinated the literal first second he could, right? Hmm...
4. Dave Coulier opens up about being 2 years sober
Full House star Dave Coulier is celebrating more than two years sober. The actor took to Instagram on Thursday to reveal that he "was a drunk," but he says he's now been "alcohol free since January 1, 2020," and he shared a photo of his bloodied face from when he drunkenly fell while walking up a flight of stairs. "I loved booze, but it didn't love me back," he said. "I decided to make a decision for my own well-being, my family and for those around me who I love so dearly." Coulier thanked his wife, Melissa, for helping him get through the "mental and physical withdrawal," and he said that since getting sober, "The sky is more blue, my heart is no longer closed, and I enjoy making people laugh until they fall down more than ever before." It sounds like, when it comes to alcohol, Coulier definitely made the right decision to cut it out of his life.
5. 'Moon Knight' director slams 'Wonder Woman 1984'
Shots fired, from the world of Marvel to DC! In a new interview with SFX Magazine, Moon Knight director Mohamed Diab joined the Wonder Woman 1984 pile on, specifically calling out the DC movie for its depiction of Egypt. Diab, who is Egyptian, said, "I remember seeing Wonder Woman 1984 and there was a big sequence in Egypt and it was a disgrace for us. You had a sheik — that doesn't make any sense to us. Egypt looked like a country from the Middle Ages. It looked like the desert." This was an example of what Diab described as how "inauthentically" Egypt "has been portrayed throughout Hollywood's history," explaining, "It's always exotic — we call it orientalism. It dehumanizes us. We are always naked, we are always sexy, we are always bad, we are always over the top." He makes a solid point — and besides, we're still not over how weird that Chris Pine body swapping thing was.
Entertainment Weekly Games Radar

Continue reading for free
We hope you're enjoying The Week's refreshingly open-minded journalism.
Subscribed to The Week? Register your account with the same email as your subscription.