The week's best parenting advice: February 15, 2022
Developmental milestones get an update, navigating nudity around your kids, and more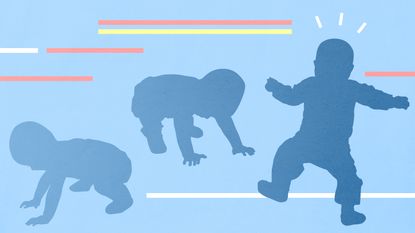 (Image credit: Illustrated | iStock)
1. Developmental milestones get an update
The Centers for Disease Control and Prevention and American Academy of Pediatrics updated their checklist of developmental milestones for infants and young children for the first time since it was released in 2004, writes Jackie Spinner in The Washington Post. Developmental experts hope the changes will give parents, doctors, and caregivers clearer benchmarks for when children typically do things, making it easier to identify signs of autism or social-communication disabilities and encouraging parents to seek interventions earlier. Previous guidelines missed some of the indicators that a child may be autistic, such as the fact that most children start smiling to get attention starting at about 4 months old. Pediatrician Paul Lipkin, one of the 13 experts who developed the new metrics, called the update "long overdue."
2. Navigating nudity around your kids
There's nothing inherently wrong with your child seeing you naked, but it's important for parents to set some ground rules, writes Tiffany R. Jansen in Parents. Kids need to understand that any clothing-optional mindset only applies to their home, that other families may have different rules, and other people may not be comfortable with it. Parents can answer any questions children have about their bodies matter-of-factly in an age-appropriate manner, and should expect their attitudes toward family nudity to evolve as they get older. "It is imperative that you respect your child's wishes in terms of covering up," says sexual health educator Amy Lang. "You want them to know that a safe adult respects a child's boundaries." Some parents may not be comfortable with nudity, which is also perfectly fine "as long as the message is that it's about privacy and not shame, embarrassment, or anything negative," said Lang.
Subscribe to The Week
Escape your echo chamber. Get the facts behind the news, plus analysis from multiple perspectives.
SUBSCRIBE & SAVE
Sign up for The Week's Free Newsletters
From our morning news briefing to a weekly Good News Newsletter, get the best of The Week delivered directly to your inbox.
From our morning news briefing to a weekly Good News Newsletter, get the best of The Week delivered directly to your inbox.
3. Why parents count babies' ages in months
It's easy for parents to pick up the habit of measuring their baby's age in ultra-specific units of time. After all, parents are constantly looking for help from physicians, who have good reasons for measuring a baby's age in months. But there are other reasons that parents think in smaller time increments, writes Julie Bogen in The Atlantic. "Every month of your baby's existence also marks the time since your life began a new era," Bogen writes. In conversation with other parents, this mode of speaking can cause parents unnecessary anguish about whether their child is meeting developmental milestones. But especially for parents like Bogen, who brought a child into a world at the start of a pandemic, monthly milestones offer parents needed proof that life is moving forward. "Tracking the minutiae of how long she'd been alive was evidence that we weren't completely trapped in time," Bogen writes.
4. Is it safe to raise your child on a vegan diet?
A growing number of parents are interested in raising their children on vegan or vegetarian diets, and while experts say it's possible to do in a healthy manner, it's difficult, writes Jillian Pretzel in The Washington Post. "With small stomachs and limited intake capacity, the food small children eat really needs to count." Studies have shown that vegetarian kids in the United Kingdom, Taiwan, and Germany grow at similar rates to their non-vegetarian counterparts. But some vegetarian and vegan children have lower levels of vitamin B-12, calcium, vitamin D, iron, and zinc. And while these nutrients can be found in non-animal products, a vegetarian or vegan diet that meets all of a child's needs has to be carefully planned. That's why some experts recommend "plant-based" diets — which limit but don't completely cut out animal products — for children until they are done growing.
5. More premature babies are surviving
Premature babies have a much greater chance at survival now than in the past, according to a new study. Among 10,877 babies born between 2013 and 2018, 78 percent of those born between 22 and 28 weeks survived, compared to 76 percent of those born between 2008 and 2012, an improvement that translates to hundreds of infants a year. Among those delivered at 22 weeks, 28 percent lived; at 23 weeks, 55 percent. Survival at that stage was unheard of as recently as the 1980s, according to neonatologist Krisa Van Meurs, and the progress represents the success of a wide variety of new treatment strategies. Of those born between 22 and 26 weeks of gestation, about half had moderate to severe impairments, such as requiring a mobility aid or cerebral palsy. "That's the focus for the next decade – how can we protect the brain and improve outcomes for these children," Van Meurs said.

Continue reading for free
We hope you're enjoying The Week's refreshingly open-minded journalism.
Subscribed to The Week? Register your account with the same email as your subscription.