Brussels attacks: New footage shows suspect fleeing airport
So-called 'man in the hat' was first seen in photographs released shortly after the attack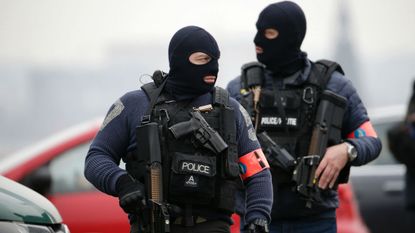 (Image credit: KENZO TRIBOUILLARD/AFP/Getty Images)
Belgian authorities have released new footage of a man suspected of taking part in last month's terror attacks in Brussels.
The so-called "man in the hat" was first seen in photographs released shortly after the attack on 22 March, walking alongside the two suicide bombers at Zaventem Airport.
The video shows the suspect, wearing a dark hat, blue shirt and light-coloured jacket, fleeing the airport after the bombs were detonated in the departure hall at 7.58am.
Subscribe to The Week
Escape your echo chamber. Get the facts behind the news, plus analysis from multiple perspectives.
SUBSCRIBE & SAVE
Sign up for The Week's Free Newsletters
From our morning news briefing to a weekly Good News Newsletter, get the best of The Week delivered directly to your inbox.
From our morning news briefing to a weekly Good News Newsletter, get the best of The Week delivered directly to your inbox.
CCTV shows him walking some six miles through the city. He was last seen at 9.50am, near key EU institutions and the Maelbeek metro station, the site of the third bombing.
Investigators believe the man discarded his jacket along the way and say it could hold vital clues.
Federal prosecutor Eric van der Sypt asked anyone who "might have filmed or taken a photograph of the suspect" to contact authorities urgently.
A total of 32 people were killed in the attacks, which injured hundreds more. Health officials said yesterday that 57 people were still being treated in hospital, 28 of them in intensive care.
Nearly three weeks later, Belgian police are coming under increasing pressure to identify those responsible.
"But their task has been complicated by overlapping networks - some of the Brussels attackers have been linked to the attacks in Paris - and by the use of fake identifications, meaning it is still unclear how many suspects were involved or are still on the run," says the New York Times.
In a separate development, the extradition of Salah Abdeslam, the key suspect in the Paris terror attacks, has been delayed for several more weeks to allow Belgian police more time to question him.
Brussels attacks: Belgian authorities release suspect
29 March
The only suspect charged over last week's terror attacks in Brussels has been released due to lack of evidence, prosecutors say.
Belgian media identified the man as Faycal Cheffou, an amateur journalist who was believed to be the third would-be bomber pictured in CCTV footage from Brussels airport. He was arrested on Saturday and charged with terrorism offences and murder.
Cheffou was thought to be the man pictured in a hat and glasses walking through Zaventem airport with bombers Ibrahim el-Bakraoi and Najim Laachraoui. That man is believed to have left the airport after his bomb failed to detonate.
However, a statement from the Belgian prosecutor yesterday said: "The indications that led to the arrest of Faycal C were not substantiated by the ongoing inquiry. As a result, the subject has been released by the examining magistrate."
Cheffou's lawyer says he was definitely not the "man in the hat" and has a credible alibi. He still faces charges of "terrorist assassination", although his lawyer believes these will soon be dropped.
A total of 35 people died in the bomb blasts one week ago in both the airport and on the Brussels metro, with 96 still injured in hospital. Several suspects have been arrested in Belgium and across Europe but none, except Cheffou, has been charged with murder.
This morning, the chief executive of Zaventem warned it would be some time before the airport is fully reopened.
Arnaud Feist said he hoped to have the crucial transport hub running at 20 per cent capacity by tomorrow, but full capacity would "take months".
Around 800 airport staff were asked to test provisional security arrangements. A new check-in area has been constructed in a temporary building and there will be increased screening of baggage.
Last night, it emerged that Belgian police believe they have found two right-hand gloves worn by the airport bombers but discarded before the attack.
CCTV footage showed Bakraoi and Laachraoui each wearing just one left-hand glove. It is thought this might have been to disguise triggers for the bombs they detonated.
The two gloves, which were found on a bus that left the airport shortly after the bombs went off, have tested positive for explosives residue, says the Daily Telegraph.
Belgian security services facing tough questions after Brussels attacks
24 March
Belgium's security services are facing tough questions in the wake of Tuesday's terror attacks in Brussels after Turkey claimed authorities ignored its warnings about one of the suicide bombers last year.
Ibrahim el-Bakraoi, the Zaventem airport bomber, was deported by Turkey to the Netherlands in June 2015, said Turkish President Recep Erdogan yesterday.
The country informed Belgium in July that it suspected Bakraoi had been trying to travel to Syria to join militants, said a Turkish official. Belgian authorities allegedly replied they had "caught this individual before but released him because they were unable to find any terror links".
Belgium officials have denied the claim, saying there are no records of any formal deportation, reports the Financial Times.
Meanwhile, the Daily Telegraph says the European Council told Belgium three weeks ago to overhaul its border force because guards were failing to check suspicious passengers from high-risk countries. It was ordered to install a new air passenger database to spot "foreign fighters", EU passport holders who have gone to train in Syria.
"The order underlines how a weak link in the Schengen system can put the entire border-free travel zone at risk from terrorists," says the paper.
Belgium's response to the terrorist threat will come under the spotlight at an emergency meeting of European security and justice chiefs in Brussels today, reports The Guardian, with at least three of Tuesday's suspected bombers known to have links to the terror cell behind the Paris attacks.
France's Le Monde newspaper says two possible accomplices in the attacks on the Belgian capital are still being sought.
"The second subject was filmed by Brussels metro CCTV carrying a large bag and in the company of Khalid el-Bakraoi [Bakraoi's brother] shortly before he blew himself up at Maelbeek station."
Meanwhile, scores of people remain in intensive care after Tuesday's attacks. Out of the 300 wounded, 61 are still in a critical condition, says Belgian health minister Maggie De Block. "Many are suffering from burns or wounds normally seen on a battlefield, such as shrapnel injuries," reports BBC News.
Brussels attacks: 'Several' suspects still at large
23 March
Several suspects linked to yesterday's terror attacks in Brussels are still on the run, said Belgian officials at a press conference this afternoon.
Federal prosecutor Frederic van Leeuw also confirmed that two of the suicide bombers were brothers Khalid and Ibrahim el-Bakraoui, Belgian nationals.
Contrary to early reports, the two men were behind both of yesterday's attacks - Ibrahim el-Bakraoui was responsible for the first explosion at Zaventem airport, while Khalid el-Bakraoui carried out the attack at the Maelbeek metro station, said Van Leeuw.
The bomber responsible for the second explosion at the airport has not been identified, reports The Guardian. Another suspect, seen on CCTV at Zaventem, has also not been officially identified, but local media have named him as 24-year-old Najim Laachraoui. It was reported that he had been arrested earlier today, but these claims have since been withdrawn.
The attackers travelled to the airport by taxi from Schaerbeek, said Leeuw. A raid at an apartment in the area uncovered a laptop containing a note from Ibrahim el-Bakraoui, in which he said he suspected the police were searching for him and that he did not want to end up in prison.
The prosecutor said 32 people had been confirmed dead, although this may rise as some of the 270 people injured are critically ill.
Brussels attacks: What we know about the suspects and victims
23 March
One day on from the terror attacks that claimed the lives of at least 32 people in Brussels, stories of the victims have begun to emerge alongside details of the suspects being investigated by police.
One of the attackers, who was captured on CCTV walking through Zaventem airport before two explosions went off yesterday morning, has been identified as Ibrahim El Bakraoui, a Belgian national. His brother Khalid has also been named as a suspect.
The pair, who are presumed to have died after detonating their suicide belts, had criminal records but no known links to terrorism.
A third man caught on the film has been named in the media as 24-year-old Najim Laachraoui. He was not wearing a suicide belt and is thought to have fled after his suitcase bomb failed to explode.
Laachraoui is well known to anti-terror police and was being sought over links to the Paris attacks of November last year. He is said to have travelled to Hungary in September with key suspect Salah Abdeslam, who was captured in Brussels last week after a massive four-month manhunt.
Terror group Islamic State has claimed responsibility for the attacks and warned: "What is coming is worse and more bitter."
Sweeping anti-terror raids are taking place across Brussels. One operation in the Schaerbeek area in the north of the city has unearthed items believed to belong to a terror cell, including chemicals and a nail bomb.
Brussels has started three days of official mourning, while names and details of the victims are beginning to come to light.
One of the first to be identified is Adelma Tapia Ruiz, 36, from Peru, who had lived in Brussels for nearly nine years and dreamt of opening a Peruvian restaurant in her adopted home.
She was at the airport with her husband, Christopher Delcambe, and their three-year-old twin daughters when the bombs went off.
Her older brother, Fernando Tapia Coral, told the New York Times: "The girls had been playing and Christopher followed them out of the gate area when the explosion occurred suddenly. Christopher couldn't find Adelma."
More than 200 people were wounded in the explosions at the airport and at Maelbeek metro station, including at least two British nationals.
Among those wounded at Zaventem were three Mormon missionaries from the US, one of whom, 19-year-old Mason Wells, had already survived the 2013 Boston Marathon bombing and was in Paris when November's attacks took place.
There are also concerns for Briton David Dixon, who is still missing after failing to arrive at his job in the city on Tuesday morning.
Marie Sutcliffe, the sister of Dixon's partner, Charlotte, told Radio 4's Today programme the overwhelmed mobile network made it impossible to make contact with him and that the family were now searching the city's hospitals.
"It's just waiting, which is heartbreaking and very worrying," she said.
Brussels attacks: Islamic State claims responsibility
22 March
Islamic State has claimed responsibility for a series of explosions that left at least 31 people dead and dozens more injured in Brussels.
Two blasts shook the departures area of Zaventem airport just after 8am local time (7am in the UK), killing 11 and injuring 81.
Less than an hour later, at least 20 people were killed when an explosion hit Maalbeek subway station, which is close to buildings used by the European Union.
"It was awful. There was just blood. It was like the apocalypse." Samir Derrouich, an airport employee, told the Daily Mail.
"I saw at least seven people dead. The injuries were so awful. You cannot imagine," said another eyewitness.
A Belgian federal prosecutor told state broadcaster RTBF the explosions were a "suicide attack", while state news agency Belga claims shots were fired and Arabic shouted before the blasts at Zaventem airport.
"What we feared has happened," said Belgian Prime Minister Charles Michel. "We realise we face a tragic moment. We have to be calm and show solidarity."
The attack comes just days after counter-terror police in Brussels captured Salah Abdeslam, a key suspect in the Paris attacks last November.
Belgium has now raised its terror threat to its highest level and much of the city has been put on lockdown.
Martin Schultz, the President of the European Parliament, has condemned the "heinous attacks" and urged local residents to "stay in a safe place" and follow the instructions of authorities.
Hundreds of extra police officers and troops have been deployed across the capital and security has been stepped up in major European cities.
After chairing an emergency Cobra meeting, British Prime Minister David Cameron said extra police would be sent to major transport hubs across the UK.

Continue reading for free
We hope you're enjoying The Week's refreshingly open-minded journalism.
Subscribed to The Week? Register your account with the same email as your subscription.