US warns of Europe Christmas terror
Caution urged at festivals and markets as France arrests seven in anti-terror raids in Strasbourg and Marseilles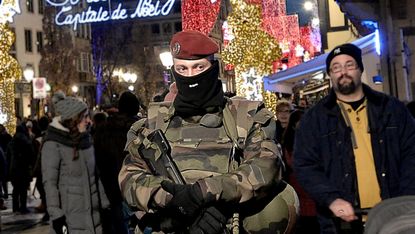 (Image credit: Frederick Florin/AFP/Getty Images)
US officials have warned that Europe could face a wave of terror attacks over Christmas, after French security services said they had thwarted a plot linked to Islamic State.
The State Department urged US nationals to exercise caution at festivals, events and outdoor markets across the continent in the coming weeks. The alert, which runs until 20 February 2017, was not triggered by any one specific threat, it added.
"Terrorists may employ a wide variety of tactics, using both conventional and non-conventional weapons and targeting both official and private interests," it warned.
Subscribe to The Week
Escape your echo chamber. Get the facts behind the news, plus analysis from multiple perspectives.
SUBSCRIBE & SAVE
Sign up for The Week's Free Newsletters
From our morning news briefing to a weekly Good News Newsletter, get the best of The Week delivered directly to your inbox.
From our morning news briefing to a weekly Good News Newsletter, get the best of The Week delivered directly to your inbox.
Last Sunday, French police arrested seven people in anti-terror raids in Strasbourg and Marseilles. Interior minister Bernard Cazeneuve said the arrests were part of an eight-month investigation.
He added: "Never has the terrorist threat been so high in our country. The anti-terrorist services are completely mobilised."
Christmas markets, a popular festive attraction for both tourists and locals, are thought to be particularly at risk. In 2000, the Strasbourg fair, which expects to receive more two million visitors this year, was the target of a thwarted plot by terrorists linked to al-Qaeda.
In September, following attacks in Paris, Nice and Brussels, French Prime Minister Manuel Valls said the threat level was at its maximum and security services were foiling attacks "every single day".
Meanwhile, a French counter-terrorism officer this week told CNN that "the number of Islamist extremists on the radar of French security services had grown to more than 15,000 and one growing concern was how quickly radicalisation was taking place".
He added that while counter-terrorism operations had intensified in recent months, there was an "acute danger" of attacks by radicals on French soil directed, instigated or inspired by IS.
Paris attacks: France remembers victims one year on
14 November
Remembrance ceremonies took place across France yesterday to mark the first anniversary of the terrorist attack that claimed the lives of 130 people in Paris.
President Francois Hollande unveiled plaques across the city commemorate those who had lost their lives but did not speak, saying he wanted the day to be about the victims rather than politics.
On Saturday, the Bataclan night club, where 89 people were killed, reopened its doors for the first time since the attacks with a minute's silence followed by a performance by the British singer Sting.
State of emergency
French Prime Minister Manuel Valls said yesterday that the state of emergency imposed in the immediate aftermath of the attacks is expected to be extended.
It is the second time the measures, which give police extra powers to carry out searches and place people under arrest, have been renewed. They were also extended after July's terror attack in Nice, when a lorry driver drove through a crowd killing 84 people.
However, an official inquiry says the state of emergency is only having a "limited impact" on improving security.
What is the political fallout?
With polls showing support for the Socialist government at record lows, far-right National Front leader Marine Le Pen is expected to make big gains in next year's presidential election. Although polls show she has little chance of winning, she is expected to reach the second round of voting as one of the top two candidates.
Le Pen said last month that France's government is weak and that Valls and Hollande had failed to address the issue of immigration, which she said was directly tied to national security.
Valls rejected her criticism.
"When a country is attacked it is understandable that people ask questions. But my responsibility is not to follow opinion polls. We passed two anti-terrorism laws. The far-right voted against them," he said.
Le Pen told the BBC this weekend that the UK's vote to leave the EU and Donald Trump's shock win in last week's US presidential election have boosted her own chances of winning.
Paris attacks: Why Salah Abdeslam's defence team resigned
12 October
Lawyers appointed to defend a suspected leader of the terror cell that killed 130 people in Paris last year say they have handed in their resignation.
French attorney Frank Berton and Belgian Sven Mary told BFM TV they agreed to represent Salah Abdeslam on condition he would talk to them about his involvement in the massacre.
"We are certain - and he has told us - that he will not speak, that he will exercise his right to remain silent. What can we do?" Berton said.
Abdeslam was initially said to be eager to explain himself in court. His refusal to cooperate was reportedly spurred by the decision to put him under 24-hour video surveillance.
Berton appeared to express some sympathy for his former client, saying: "When someone is watching your every move, day and night, you do go crazy. This is the result of a political decision, not a judicial one."
Mary agreed the way the case had been handled was a "shame". The real victims were those who were wounded or lost loved ones in the Paris attacks, he said: "They have the right to the truth and to try to understand the incomprehensible."
They added Abdeslam had been told of their decision last Thursday and had not expressed any interest in replacing his legal team.
Abdeslam was captured after being wounded in a shootout with police in the Molenbeek district of Brussels in March.
He is believed to have been the lead organiser of the coordinated terror attacks on 13 November 2015, in which gunman opened fire in central Paris, including killing dozens of concert-goers inside the Bataclan theatre.
Suicide bombers from the same cell also attempted to detonate explosives in the Stade de France during a France-Germany football match but were unable to access the stadium.
In all, 130 people were killed and 368 wounded. Abdeslam is allegedly the only survivor of the terror cell.
Paris attacks: Salah Abdeslam 'will not fight extradition to France'
24 March
Salah Abdeslam, whose arrest in Brussels last week has been linked to Tuesday's terror attacks in Brussels, will not fight extradition to France, his lawyer has said.
The 26-year-old Frenchman is a key suspect in the Paris attacks on 13 November 2015, in which 130 people died. He was arrested and wounded in a police raid in a Brussels suburb on 18 March.
Although Abdeslam had previously said he would contest extradition, his lawyer, Sven Mary, told French media on Thursday that his client now wishes to leave for France as soon as possible. Le Monde says the lawyer will be meeting with the judge considering the case to press for extradition.
Asked about the change, Mary said his client understood that "the case here is just a small piece" and that he wanted to "explain himself in France".
He added that Abdeslam had not been aware of this week's attacks in the Belgian capital.
Asked how he had responded to the news, Mary responded: "He had no reaction."
Abdeslam and two other men appeared in a Brussels court on Thursday morning, but the hearing was postponed until 7 April. Mary said more time was needed to study the large dossier on the case.
Investigators visited Abdeslam in prison after Tuesday's suicide bombings, according to the Daily Mail.
Asked on French Europe 1 radio station if Abdeslam had cooperated with Belgian investigators, Mary replied "No", saying his client had first wanted to seek legal advice.
The interior minister and justice minister today offered their resignations to Prime Minister Charles Michel in the wake of the suicide attacks, but were refused on the grounds that Belgium could not do without them in the present circumstances, reports the Belgian Le Soir newspaper.
Paris attacks suspect Salah Abdeslam 'was planning Brussels attack'
21 March
Paris attacks suspect Salah Abdeslam had been planning further attacks, according to Belgium's foreign minister.
Abdeslam, the alleged organiser of the attacks last November, which killed 130 people, told investigators he had been "ready to start something new in Brussels", Didier Reynders announced yesterday.
"We found a lot of weapons, heavy weapons, during our opening investigations and we found a new network around him in Brussels," he said.
Abdeslam was detained after a police operation in Brussels suburb of Molenbeek last Friday and later charged with "participation in terrorist murder" and "participation in the activities of a terrorist group".
He is also said to have told Belgian investigators he had planned to blow himself up outside the Stade de France on the evening of 13 November but changed his mind and did not detonate his suicide vest.
Francois Molins, the lead terrorism prosecutor in France, said: "These first statements leave unanswered a whole series of questions that Salah Abdeslam will have to answer."
Belgian police are also trying to identify a second man arrested alongside Abdeslam, says The Times. Named "Armine Choukri" on his fake Belgian identity card, he had fled the Brussels gunfight earlier last week in which his accomplice, Mohamed Belkaid, was killed by a police sniper.
The focus of the investigation has now turned on two other suspects. The Guardian reports that both are "considered armed and dangerous" and are still on the run despite a four-month international manhunt.
One of the men, Mohamed Abrini, is a childhood friend of Abdeslam who travelled by car with him and Abdeslam's brother, Brahim, between Brussels and Paris on 10 to 11 November. He has not been seen since 12 November. Brahim blew himself up during the 13 November attacks.
The other suspect, Soufiane Kayal, presented false papers when checked at the Austria-Hungary border on 9 September last year as he travelled with Abdeslam and Belkaid.

Continue reading for free
We hope you're enjoying The Week's refreshingly open-minded journalism.
Subscribed to The Week? Register your account with the same email as your subscription.