The supply-chain crisis: what's going on?
Chaos in global supply chains is affecting the availability of everything from milkshakes to microchips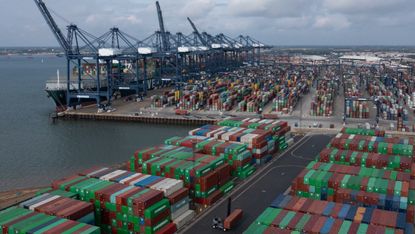 (Image credit: Dan Kitwood/Getty Images)
How serious is the problem?
In 2021, UK consumers have seen gaps on supermarket shelves, queues at petrol pumps, and shortages of goods from cars, fridges and construction materials to toys and McDonald's milkshakes. Shortages and delivery delays are now a major problem across much of the world.
Global supply chains which have run smoothly for decades have suddenly been thrown out by a number of connected systemic issues: a global shortage of semiconductor chips; an energy-supply crisis; disruptions to transport; and labour shortages. There are huge jams at the US's major ports; Felixstowe, the UK's largest container port, is being forced to turn away ships from Asia because of a lack of capacity. Supply-chain disruptions are now showing up in "every corner", reports Moody's Analytics. "Everything is breaking down," says Brian Bourke of the supply-chain specialist SEKO Logistics.
Subscribe to The Week
Escape your echo chamber. Get the facts behind the news, plus analysis from multiple perspectives.
SUBSCRIBE & SAVE
Sign up for The Week's Free Newsletters
From our morning news briefing to a weekly Good News Newsletter, get the best of The Week delivered directly to your inbox.
From our morning news briefing to a weekly Good News Newsletter, get the best of The Week delivered directly to your inbox.
Why is it happening?
In a word, because of Covid-19. From early 2020, the pandemic closed down factories and offices first in China, and then around the world; next, it changed consumer spending profoundly. While manufacturing and moving goods became harder, people who were stuck at home – still earning or on furlough but unable to spend disposable income on going out – instead bought consumer durables: TVs, iPads, dishwashers, PlayStations, Pelotons. That, says The Economist, "unleashed a furious but lopsided rebound". Companies have struggled since with order backlogs, particularly because Covid restrictions remained in place in big manufacturing nations, such as Vietnam. In the UK, workers have been slow to move from struggling sectors – sandwich shops in city centres, say – to in-demand areas such as truck-driving and warehousing. And together, these patterns have put great pressure on global shipping, which transports 90% of the world's traded goods.
How has shipping been affected?
Global maritime trade dipped sharply in early 2020, while millions of shipping containers delivering protective equipment were sent round the world. Then, when consumer demand surged back faster than expected later in the year, a large backlog soon built up. The pandemic has also caused other forms of disruption to shipping. In August, China partly closed the world's third busiest container port, Ningbo-Zhoushan, after a single Covid case was detected, disrupting supply lines across the world. In the West, the lack of HGV drivers to shift incoming goods has increased backlogs. At Felixstowe, the "dwell time" – the amount of time goods spend in port – has doubled from four-and-a-half days in 2020 to nine days. This has all had profound knock-on effects.
What sort of knock-on effects?
World business today depends on just-in-time supply chains. This system, by which businesses rely on deliveries of raw materials or stock exactly when they're needed, was first developed in the 1950s. Since then, it has become an entrenched feature of global trade. In theory, it is meant to improve efficiency by eliminating waste (of time, space or stock). But such supply chains are also vulnerable: single events can knock them off course. The blocking of the Suez canal by the Ever Given for six days in March caused chaos for firms around the world. Delays to the delivery of inputs for manufacturing – whether microchips or magnets – means that the finished products are also delayed. So when a whole array of problems hit justin-time supply chains – factory closures, worker shortages, shipping delays – at the same time, they created vast ripple effects across global business.
How has business been affected?
The cost of doing business has risen sharply. Transporting one 40ft container from East Asia to Europe now costs nearly £11,000 – about ten times higher than before the pandemic. In California, queues over 50 cargo ships long have built up off two of the US's biggest ports, Los Angeles and Long Beach; before Covid, it was unusual for more than one to wait for a berth. Companies can face delays running into months. Big retail chains such as John Lewis have chartered their own ships to transport goods. The microchip shortage has meant that UK car production dropped by nearly 30% in the year to August. Toyota has had to slash global production by 40%. The IMF has warned that supply disruptions and inflation could derail the post-Covid recovery.
Are these problems all because of Covid?
No. Part of the problem is that the pandemic occurred at a time when supply chains were fragile anyway. First, the rise in economic nationalism – whether Brexit or the US-China trade war – has meant that new tariffs, border bureaucracy and immigration controls were being introduced. Many countries are now bringing their supply chains back onshore, which may make them more robust in future, but is adding to current difficulties. Secondly, the push to decarbonise has left energy producers in Europe and China struggling to meet raised demand for power.
When will the problems end?
There was a consensus earlier in the pandemic that factories and shipping companies would catch up with demand within a matter of months and clear the backlog. But that didn't happen before the peak pre-Christmas shipping season began. Moody's Analytics warns that supply-chain disruptions "will get worse before they get better". More optimistically, the investment bank Jefferies predicted this week that October would turn out to be the worst month, and that we are already "past the peak pinch" on cargo ship delays, port bottlenecks and labour shortages. But even so, most experts predict that it will take at least six months and possibly more than a year for the situation to stabilise. "The world is still short of everything," read a recent New York Times headline. "Get used to it."
Will Christmas be cancelled?
The Christmas bulge in food, toy and gift purchases is trying at the best of times: supply-chain managers describe it as "pushing the pig through the python". But this year business leaders and shipping companies have been warning for months that the festive surge in demand will not be satisfied at a time when the UK is grappling with shipping logjams, a fuel crisis, and shortages of both HGV drivers and abattoir workers.
"I don't want to sound like a Grinch", one shipping boss told The Times, "but there are going to be gaps on the shelves this Christmas." The National Farmers' Union has warned of trouble in the meat industry. Ministers have been anxious to play down fears of problems facing consumers this Christmas. "I'm confident there will be a good amount of Christmas presents available for everyone to buy," the Chancellor, Rishi Sunak, declared last week. That sentiment was echoed by Tim Morris, chief executive of the UK Major Ports Group, who said that supply chains are ultimately "robust", and that there is no need to panic. But it's an issue that could come back to bite the Government. "To cancel one Christmas may be regarded as carelessness," said Patrick Maguire in The Times, but "to cancel two…"

Continue reading for free
We hope you're enjoying The Week's refreshingly open-minded journalism.
Subscribed to The Week? Register your account with the same email as your subscription.