The Bob Iger saga and Disney's next era
Who could eventually replace the controversial head of the Mouse House?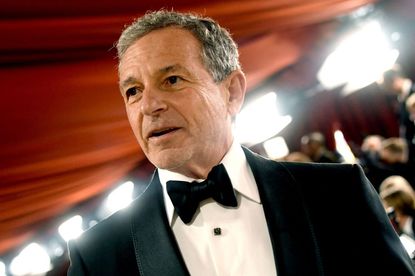 (Image credit: Valerie Macon / AFP via Getty Images)
One of the most powerful names in entertainment and media is undoubtedly Bob Iger. The CEO of The Walt Disney Company, Iger retired from his position in 2021 — only to return as the head of the Mouse House less than a year later following the ousting of his successor, Bob Chapek.
Iger was initially at Disney for more than a decade, and his tenure has been marked by large expansions within the company. Under his leadership, Disney acquired billion-dollar tentpole IPs such as Lucasfilm, Marvel, Pixar, 21st Century Fox and more. When it comes to its major money driver — its theme parks — Disney recently announced plans to spend $60 billion on its parks and cruises division over the next decade, which CNN noted is "about twice what it spent in the most recent 10-year period." In 2022, Disney's total assets were valued at an astronomical $203.6 billion, according to Statista.
But behind this success, reports of numerous problems began emerging, many of them linked to financial woes with Chapek and Iger's quest to name an eventual successor to Mickey Mouse's empire. A recent exposè from CNBC's Alex Sherman described recent happenings at the company as "the making of an epic succession mess." What has spoiled the glamour of the Magic Kingdom, and who could replace the 72-year-old Iger when he eventually does step down?
Subscribe to The Week
Escape your echo chamber. Get the facts behind the news, plus analysis from multiple perspectives.
SUBSCRIBE & SAVE
Sign up for The Week's Free Newsletters
From our morning news briefing to a weekly Good News Newsletter, get the best of The Week delivered directly to your inbox.
From our morning news briefing to a weekly Good News Newsletter, get the best of The Week delivered directly to your inbox.
What's happened behind the scenes?
The issues reportedly began almost immediately after Iger named Chapek as his eventual successor. However, while Iger would no longer serve as the company's CEO, he wasn't leaving — Disney announced he would continue in a role as executive chairman "to ensure a smooth and successful transition through the end of his contract."
The plan also allowed Iger to continue to perform many of his prior duties as head of the company — despite the fact that Chapek was now CEO. Disney noted that Iger "would direct the company's creative endeavors," insinuating that he would be allowed to remain in control of Disney's film and television divisions. Chapek, who was previously the head of Disney's Parks, Experiences and Products division, would oversee the company's "business segments and corporate functions," Disney said.
The two men couldn't have been more different, according to Sherman; Chapek "has the outward corporate demeanor of a Midwestern businessman," whereas Iger "holds court around his Brentwood mansion — a short stroll from celebrities, producers, super-agents and other Disney executives."
As time passed following Chapek's takeover, Iger reportedly began pining to return to his seat as Disney CEO over the board's concerns that Chapek couldn't handle the position. Chapek even "confided to a friend that his tenure at Disney was 'about three years of hell,' defined by one overriding theme: his unrelenting fear that Iger wanted his job back," Sherman reported.
Chapek was fired by the Disney board in November 2022, and his concerns about Iger taking his job back came true. The catalyst for Chapek's firing, Sherman told Puck's "The Town" podcast, seemed to be a September 2022 earnings call in which Chapek appeared to downplay the company's declining revenues and stock prices for that quarter. Instead, Chapek reportedly ignored these warnings in favor of talking about the public response to a Disney World Halloween party.
"It wasn't that the results [of the quarter] were bad," Sherman said. "It was that Chapek lost the faith of the senior executives" on Disney's board, adding that the board "felt like [Chapek] was just not listening," and appeared "totally unfamiliar" with the state of the brand.
What role did Iger play in Chapek's ousting? It's hard to say. However, the re-installed CEO of the Mouse House has allegedly "told peers and colleagues he returned to Disney to correct what he sees as one of the biggest mistakes of his career — choosing Chapek," Sherman reported. It appears the market didn't have a problem with Iger reasserting control — Disney's shares reached a two-year high following his return.
When will Iger leave Disney?
Likely not for at least a few more years. Iger's contract was extended by Disney's board earlier this year, which will keep him employed at the Mouse House through 2026. This seems to go against comments that Iger made in 2022 upon reclaiming the reins from Chapek, in which he said he would only stay in the position for another two years while searching for a suitable replacement to take over in 2024.
Following his contract extension, Iger insisted that he was still looking for a replacement despite committing to stay in the role through 2026. "Because I want to ensure Disney is strongly positioned when my successor takes the helm, I have agreed to the Board's request to remain CEO for an additional two years," Iger said in a statement following his extension. "The importance of the succession process cannot be overstated, and as the board continues to evaluate a highly qualified slate of internal and external candidates, I remain intensely focused on a successful transition."
Who could replace him?
The most obvious heirs apparent at one point were Tom Staggs and Kevin Mayer. Staggs worked at Disney for nearly 30 years and once had Chapek's old job as the head of Disney Parks. Mayer was at Disney for over 15 years and led their direct-to-consumer and international platforms.
Both men "had once been tipped as potential successors to Iger," The New York Times noted, but both Staggs and Mayer left Disney after Iger passed them over in favor of Chapek. However, Iger shocked industry insiders when he brought the pair back to Disney in television advisory roles this past August.
His decision to bring them back into the company's fold means Iger could be — and probably is — considering one of them for the eventual top job. While there are other internal candidates, "Mayer and Staggs have to be viewed as possible contenders as well," Fortune reported.
One of these top internal candidates is undoubtedly Dana Walden, currently the co-chair of Disney Entertainment. Walden has oversight over massive portions of Disney's television empire, including ABC Entertainment, ABC News, ABC-owned television stations, Disney Branded Television, Disney Television Studios, Freeform, FX, Hulu Originals, National Geographic Content and Onyx Collective. Another top internal candidate is Josh D'Amaro, who leads Disney's theme parks division.
However, while both Walden and D'Amaro have experience in their collective areas, both have "big holes in their resume that make it more challenging to see them at the top," Forbes reported. Walden has "never worked on the parks & resorts side (which also includes consumer products)," the outlet noted, while D'Amaro "has never run a movie or TV division, at a time when those operations are struggling with secular shifts in their businesses."
At the end of the day, though, Disney's board will have the final say on Iger's replacement — a board that is filled with members "who were effectively chosen by Iger, and mostly have little entertainment background," Forbes added. The fact that the board has effectively put finding Iger's successor on his own shoulders "feels like an abdication of responsibility and illustrative of the company's ongoing challenge," the outlet said. "Perhaps Iger should focus on building a better board first, to get the help he really needs to work himself out of a job."

Continue reading for free
We hope you're enjoying The Week's refreshingly open-minded journalism.
Subscribed to The Week? Register your account with the same email as your subscription.