Is America inching toward conflict with China?
The two superpowers are exchanging increasingly harsh words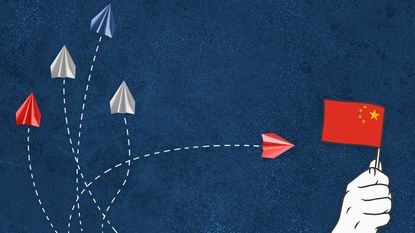 (Image credit: Illustrated | Gettyimages)
Tensions between the U.S. and China — the No. 1 and No. 2 economies by GDP, respectively — have been waxing and waning for decades. The frosty U.S.-China relationship dropped another few degrees this week as Chinese President Xi Jinping and new Foreign Minister Qin Gang took the unusual step of accusing the U.S., by name, of threatening China's economic growth and national security.
"Western countries, led by the United States, have implemented all-around containment, encirclement, and suppression of China, which has brought unprecedented severe challenges to our country's development," Xi said in a speech Monday to a group of advisory delegates on the sidelines of the National People's Congress, according to China's official news agency.
In response, U.S. National Security Council spokesman John Kirby insisted the U.S. seeks "strategic competition" with China, not conflict. But Qin, until recently China's ambassador Washington, said at a news conference in Beijing on Tuesday that "the so-called 'competition'" the U.S. seeks amounts to "all-round containment and suppression, a zero-sum game of life and death."
Subscribe to The Week
Escape your echo chamber. Get the facts behind the news, plus analysis from multiple perspectives.
SUBSCRIBE & SAVE
Sign up for The Week's Free Newsletters
From our morning news briefing to a weekly Good News Newsletter, get the best of The Week delivered directly to your inbox.
From our morning news briefing to a weekly Good News Newsletter, get the best of The Week delivered directly to your inbox.
President Biden and Xi agreed in Bali last November to work together to build "guardrails" for the U.S.-China strategic competition, but the U.S. scrapped the first big meeting toward that effort after discovering (and shooting down) a giant Chinese surveillance balloon floating over the U.S.
"When the U.S. says it wants to 'install guardrails' and have 'no conflict' in China-U.S. relations, it really means that the U.S. requires China not to fight back when hit or scolded, but this cannot be done!" Qin said. "If the United States does not hit the brakes, but continues to speed down the wrong path, no amount of guardrails can prevent derailing, and there will surely be conflict and confrontation."
Recently, Biden has kept most Trump administration China sanctions while adding on hard restrictions on exports of advanced semiconductors. Beijing, meanwhile, has been steadily demanding more control over Western companies in China. The COVID-19 pandemic and Taiwan are constant flare points. Can this crucial relationship be salvaged, or are the two superpowers inching inexorably toward conflict?
What are the commentators saying?
You can tell this is serious because Chinese leaders almost never single out other countries or leaders for criticism, preferring more diplomatic inferences and strategically ambiguous accusations, NPR News reports.
"This is the first time to my knowledge that Xi Jinping has publicly come out and identified the U.S. as taking such actions against China," Michael Swaine, a senior research fellow at the Quincy Institute for Responsible Statecraft, tells The New York Times. "It is, without doubt, a response to the harsh criticisms of China, and of Xi Jinping personally, that Biden and many in the administration have leveled in recent months."
"Ultimately, Xi and Qin's remarks this week were as much political as they were geopolitical," Ishaan Tharoor writes in a Washington Post analysis. "Faced with a slumping economy battered by the pandemic, Xi and his cadres are attempting a sweeping overhaul of China's financial system and government bureaucracy." It's worth noting that Xi, about to cement an unprecedented third term, delivered his remarks to "a legislative advisory body packed with politically connected business leaders who are grappling with the worst economic outlook in 25 years," The Wall Street Journal adds.
Xi's comments are targeted at a domestic audience, Andrew Collier at Hong Kong-based Orient Capital Research agrees the Times. "Beating the nationalist drum is a politically savvy way" to encourage growth and prepare for economic decoupling "when China is facing severe economic headwinds." Tellingly, Xi's accusations against the U.S. were printed on the front page of China's People's Daily newspaper but omitted entirely from an English-language version of the same article, the Times notes.
Even if Xi is just preaching to his choir, "by directly pointing to the U.S. as the source of major problems around the world, by name, you feel like that sets the possibility for China to potentially take substantive actions that they haven't been willing to take before," Scott Kennedy, a China expert at the Center for Strategic and International Studies, tells NPR News.
What happens next?
Everyone should brace for this to be the new Chinese party line, Kennedy says. "Nothing Xi Jinping or the Chinese leadership in general says about foreign policy or the U.S. in particular is by accident," and his new aim at the U.S. "sets a tone that other officials within China will have to follow."
That will certainly not help restart efforts to improve U.S.-China trade, scientific and cultural exchanges, or political relations, the Journal says. And Europe and Asia will "pine for more stable U.S.-China relations that might reduce the political risk of trading with each of the world's two largest economies — or trying to choose between them."
"In the near term, given Xi's increasingly assertive policies — including foolish acts such as the ill-timed balloon — we will probably have to spend more time on the rivalry side" of "the Sino-American strategic competition," Harvard's Joseph Nye writes at the Australia Strategic Policy Institute. What we need to prevent is this crucial relationship developing into another Cold War — or worse, and more aptly, another "1914, when all the great powers expected a short Third Balkan War, only to end up with World War I, which lasted four years and destroyed four empires,"
In the 1910s, political leaders "didn't pay enough attention to the growing strength of nationalism," now on the rise in China and the U.S., Nye adds. "If the Sino-American relationship was a card game, one could say that we have been dealt a good hand. But even a good hand can lose if it's badly played. Seen against the historical context of 1914, the recent balloon incident should remind us why we need guardrails."

Continue reading for free
We hope you're enjoying The Week's refreshingly open-minded journalism.
Subscribed to The Week? Register your account with the same email as your subscription.