The most shocking MTV Video Music Awards moments ever
The ceremony's most jaw-dropping speeches and infamous performances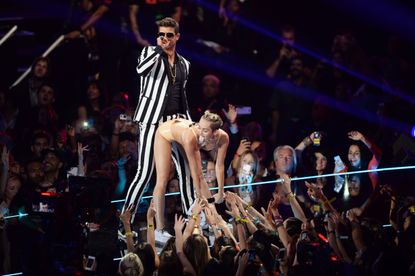 (Image credit: Andrew H. Walker / WireImage)
The history of the MTV Video Music Awards is riddled with jaw-dropping moments, from head-turning outfits to controversial performances and surprise on-stage kisses. Might anything from this year's ceremony, which airs Tuesday night on MTV, go down in the awards show's hall of infamy? In honor of tonight's event, let's take a look back at some of the VMAs' biggest shockers ever.
Michael Jackson and Lisa Marie Presley share a kiss
The 1994 VMAs featured an instantly iconic moment barely a minute into the show. Michael Jackson opened the ceremony alongside Lisa Marie Presley, whom he had married months earlier, and declared, "Just think, nobody thought this would last." He and Presley proceeded to share a kiss on stage before immediately leaving. In fact, it didn't last, as the two were divorced by 1996. The kiss was seen as hugely awkward, and Presley later told Oprah Winfrey, "He knew I didn't love that."
Diana Ross jiggles Lil' Kim's breast
Lil' Kim turned heads at the 1999 VMAs while wearing only a pastie over her left breast, which Diana Ross memorably jiggled while they were presenting an award together. Kim later told MTV, "I think it was more of like a friendly, 'Oh my God, you look sexy, girl, but do you know you have a boob hanging out?"
Subscribe to The Week
Escape your echo chamber. Get the facts behind the news, plus analysis from multiple perspectives.
SUBSCRIBE & SAVE
Sign up for The Week's Free Newsletters
From our morning news briefing to a weekly Good News Newsletter, get the best of The Week delivered directly to your inbox.
From our morning news briefing to a weekly Good News Newsletter, get the best of The Week delivered directly to your inbox.
Nicki Minaj slams Miley Cyrus
Nicki Minaj came in like a wrecking ball at the 2015 VMAs, throwing serious shade at host Miley Cyrus. Prior to the show, Minaj had objected to "Anaconda" being snubbed for Video of the Year, leading Cyrus to criticize her. "You made it about you," Cyrus told New York Times Magazine. "Not to sound like a bitch, but that's like, 'Eh, I didn't get my V.M.A.'" So while accepting the award for Best Hip-Hop Video, Minaj spawned tons of memes by calling out "this bitch that had a lot to say about me the other day in the press," adding, "Miley, what's good?" Cyrus, who was also on stage, tried to claim her quotes had been manipulated, but Minaj clearly wasn't buying it.
Prince (seemingly) bares his butt
Prince raised eyebrows during a performance of "Gett Off" at the 1991 VMAs after apparently showing his butt. But Marliss Jensen, who dyed the suit Prince was wearing, later clarified to the St. Paul Pioneer Press, "That yellow suit — his 'butt suit' — did not show his butt. That was fabric."
Fiona Apple declares 'This world is bullshit'
Tell us how you really feel. Fiona Apple delivered an infamous acceptance speech at the 1997 VMAs, during which she declared, "This world is bullshit." She continued by urging viewers not to "model your life about what you think that we think is cool and what we're wearing and what we're saying and everything," and she closed by musing that it's "just stupid that I'm in this world." Apple later told Rolling Stone that because of this speech, she "went from being 'tragic waif ethereal victim' to being 'brat bitch loose cannon.'"
Rage Against the Machine's Tim Commerford gets arrested
Rage is right. Rage Against the Machine bassist Tim Commerford was so upset when the band lost Best Rock Video to Limp Bizkit at the 2000 VMAs, he ran on stage and climbed up a piece of the set. According to Rolling Stone, he was arrested and faced charges of assault and resisting arrest. Commerford said he wanted to bring the structure to the ground, but "once I was up there, it's like, 'Wow, now what are you going to do?'"
Britney Spears performs with a snake
Why did it have to be snakes? Britney Spears' performance of "I'm a Slave 4 U" at the 2001 VMAs was like a free trip to the zoo for viewers at home, as she incorporated various animals and at one point even carried a live python. Spears recently reflected that this was "one of my favorite performances," but she still remembers how "scared I felt when I was handed this snake and took the stage."
Lady Gaga wears a dress made of meat
Lady Gaga has a few contenders for most shocking VMAs moment, including her 2009 performance where she made it seem like she was bleeding. But the most memorable is the dress made of meat that she wore at the 2010 VMAs, which became so iconic, it has its own Wikipedia page. Gaga later said on "The Ellen DeGeneres Show" that the dress was tied to her opposition to "don't ask, don't tell," and it symbolized the fact that "if we don't fight for our rights, pretty soon we're going to have as much rights as the meat on our bones."
Madonna, Britney Spears and Christina Aguilera share a kiss
It likely wouldn't generate as much buzz in 2023, but Madonna kissing Britney Spears and Christina Aguilera was all anyone could talk about after the 2003 VMAs. According to Rolling Stone, rehearsals were locked down so as few people as possible would know details of the performance, and Madonna later told Oprah she "had no idea that it was going to cause the ruckus that it caused."
Miley Cyrus' twerking
As Miley Cyrus was seeking to shed her image as a wholesome Disney star, the 2013 VMAs certainly accomplished that. The singer infamously twerked on stage during a raunchy performance with Robin Thicke, who later insisted it "wasn't sexually charged at all." But the backlash was significant, and not just on Fox News, with Vulture's Jody Rosen arguing Cyrus' "act tipped over into what we may as well just call racism" and comparing it to a "minstrel show routine." She later told Harpers Bazaar this was "kind of a 'fuck you'" to a system she felt repressed by.
Kanye West interrupts Taylor Swift's speech
Miley, we're gonna let you finish, but Kanye West had the most shocking VMA moment of all time! When Taylor Swift won Best Female Video at the 2009 VMAs, the rapper now known as Ye infamously rushed the stage to grab her microphone and declare the award should have gone to Beyoncé. It was such a significant cultural moment that even then-President Barack Obama had thoughts. Years later, Ye's career imploded over antisemitic comments while Swift's star continued to rise, proving there was truth to her lyric, "Your nemeses will defeat themselves before you get the chance to swing."

Continue reading for free
We hope you're enjoying The Week's refreshingly open-minded journalism.
Subscribed to The Week? Register your account with the same email as your subscription.