10 things you need to know today: November 13, 2023
Gaza's two largest hospitals stop operating due to fighting, Tim Scott drops out of Republican presidential race, and more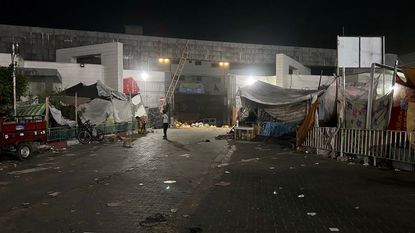 (Image credit: Ismail Zanoun / AFP via Getty Images)
1. Fighting shuts down Gaza's 2 largest hospitals
More Gaza hospitals shut down on Sunday as a lack of fuel and frequent bombardment by the Israeli military made normal operations impossible, according to staff. The Palestinian enclave's two largest hospitals, Al Shifa and Al Quds, are now closed to new patients. Four other hospitals were evacuated Friday. The Palestinian Red Crescent said that, in addition to patients, more than 14,000 people displaced by the fighting were sheltering at Al Quds. The Biden administration cautioned Israel against fighting near hospitals but echoed Israel's allegation that Hamas was using civilians and hospitals as shields for its fighters. Israel accuses Hamas of operating a command center under Al Shifa, a claim Hamas denies. Reuters, The New York Times
2. Tim Scott drops out of GOP presidential race
Sen. Tim Scott (R-S.C.) said Sunday he was suspending his campaign for the 2024 Republican presidential nomination. "I think the voters, who are the most remarkable people on the planet, have been really clear that they're telling me: not now," Scott said on former GOP Rep. Trey Gowdy's Fox News program. The announcement appeared to surprise Gowdy, and some of Scott's own staff told NBC News they didn't know he had decided to drop out. Scott, the son of a single mother, ran on a hopeful message based on his rise from poverty to becoming the only Black Republican in the Senate. But he struggled in the polls and with fundraising after a promising start. NBC News, The New York Times
3. 100,000 protest antisemitism in Paris
More than 100,000 people participated in a march in Paris on Sunday to protest rising antisemitism since the start of Israel's war against Hamas in Gaza, The Associated Press reported. Tens of thousands more marched in other French cities. Political leaders from the left, center and right participated in the Paris demonstration under heavy security. President Emmanuel Macron, who didn't attend, urged French citizens to oppose "the unbearable resurgence of unbridled antisemitism." France has Europe's largest Jewish population and has faced antisemitism flareups in the past. It has recorded 1,247 antisemitic acts since Hamas fighters conducted a deadly surprise attack in southern Israel on Oct. 7, nearly triple the total 2022. The Associated Press
Subscribe to The Week
Escape your echo chamber. Get the facts behind the news, plus analysis from multiple perspectives.
SUBSCRIBE & SAVE
Sign up for The Week's Free Newsletters
From our morning news briefing to a weekly Good News Newsletter, get the best of The Week delivered directly to your inbox.
From our morning news briefing to a weekly Good News Newsletter, get the best of The Week delivered directly to your inbox.
4. UK's Sunak fires Braverman, brings back Cameron in Cabinet reshuffle
British Prime Minister Rishi Sunak on Monday fired interior minister Suella Braverman, who was accused of emboldening far-right activists behind London street violence by her criticizing of police. Sunak brought back former Prime Minister David Cameron as foreign secretary in a Cabinet reshuffle. James Cleverly, who had been serving as foreign secretary, moved over to replace Braverman as home secretary. The moves came as Sunak's Conservative Party trails the opposition Labour Party ahead of elections expected next year. Cameron's appointment suggested Sunak was more interested in experienced centrist leadership than in appeasing Braverman allies on the right, according to Reuters. Reuters, CNN
5. Pentagon says 5 died in Mediterranean helicopter crash
Defense officials said Sunday that five U.S. Army Special Operations troops died in the crash of a helicopter over the eastern Mediterranean Sea in a refueling training "mishap." The U.S. commandos were in the region as part of Pentagon contingency planning as the Biden administration tries to prevent the Israel-Hamas war from expanding. The Pentagon has quietly sent commando teams, including the Army's Delta Force and the Navy's SEAL Team 6, to Cyprus to prepare for possible evacuations of U.S. citizens from Israel and Lebanon. The MH-60 Black Hawk helicopter went down off southeastern Cyprus, defense officials said. The New York Times, The Washington Post
6. US strikes kill Iranian proxy fighters in Syria
The Pentagon said Sunday that the U.S. had conducted a new flurry of airstrikes against Iranian proxy fighters in Syria in response to dozens of recent attacks against U.S. troops in the country and in neighboring Iraq. The strikes killed an undetermined number of Iranian-backed fighters and marked an escalation in U.S. retaliation for the upsurge of attacks since the outbreak of the Israel-Hamas war in Gaza. Tensions also intensified along Israel's border with Lebanon after Iranian-backed Hezbollah militants fired anti-tank missiles from southern Lebanon into Israel, injuring 18 Israelis, one critically, in the latest escalation of skirmishes along that border since the eruption of war in Gaza. The Washington Post, The Guardian
7. US Army overturns convictions of Black soldiers for 1917 riot
The U.S. Army has overturned the convictions of 110 Black soldiers charged with mutiny, murder and assault in connection with a riot at Texas' Camp Logan in 1917. Nineteen of the Black soldiers were executed after their convictions for the confrontation between their 24th Infantry Regiment and police and white residents of Houston. The Army plans a ceremony Monday to recognize the vacating of the soldiers' court-martial convictions. Their service records will now show honorable discharges, so their descendants could be eligible to receive benefits. "It can't bring them back, but it gives them peace," said Angela Holder, whose great-uncle, Cpl. Jesse Moore, was one of the soldiers executed. Houston Chronicle, The Wall Street Journal
8. Report: FBI investigating Adams involvement in clearing Turkey consulate opening
The FBI's investigation of New York Mayor Eric Adams is focused on whether he pressured Fire Department officials to approve Turkey's new high-rise consulate in Manhattan despite lingering building-safety questions, The New York Times reported Sunday, citing three people familiar with the matter. Weeks after Adams won the Democratic primary and shortly before his election two years ago, he urged then-Fire Commissioner Daniel Nigro to let the Turkish government occupy the building, at least temporarily. That cleared the way for Turkish President Recep Tayyip Erdogan to preside over the $300 million, 35-story tower's grand opening in September 2021 during a visit to the United Nations General Assembly in New York. The New York Times
9. Canadian fashion mogul Peter Nygard convicted of sexual assault
A Toronto jury on Sunday found former Canadian fashion mogul Peter Nygard guilty of four counts of sexual assault. Jurors found Nygard not guilty of a fifth count of sexual assault and one count of forcible confinement. Nygard, 82, showed no signs of emotion as the verdict was announced, according to the CBC. Prosecutors said during the six-week trial that Nygard used his "status" to pressure and assault the women, luring the 16- to 28-year-old women into a private luxury bedroom with "a giant bed" and "automatic locks" he controlled in his firm's Toronto headquarters. Nygard denied the charges. His lawyers said his accusers were "gold digging," and said prosecutors based their case on "revisionist history." CBC, BBC News
10. 'The Marvels' flops in box office debut
"The Marvels" brought in just $47 million in domestic ticket sales in its debut, the worst opening weekend yet for a film in Disney's Marvel Cinematic Universe. Initially, the movie was expected to open with $75 million to $80 million. The projections were cut to $60 million to $65 million in recent weeks. But lukewarm buzz and the inability of stars like Brie Larson to promote the film due to the actors' union strike (which ended Friday) contributed to its failure to meet even watered-down expectations. The only two other Marvel films to fall short of $60 million in their opening weekends were "The Incredible Hulk," which debuted with $55.4 million in 2008, and "Ant-Man," with $57.2 million in 2015. Variety

Continue reading for free
We hope you're enjoying The Week's refreshingly open-minded journalism.
Subscribed to The Week? Register your account with the same email as your subscription.