10 things you need to know today: November 4, 2023
Blinken travels to Jordan as Israel-Hamas conflict drags on, more than 130 people dead following earthquake in Nepal, and more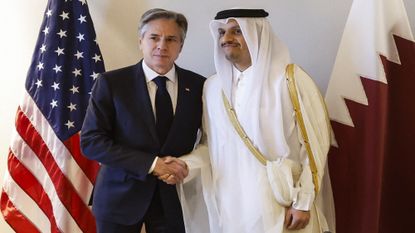 (Image credit: Jonathan Ernst / AFP / Pool via Getty Images)
1. Blinken travels to Jordan as Israel-Hamas conflict drags on
U.S. Secretary of State Antony Blinken is meeting with Arab leaders in Jordan on Saturday as the war between Israel and Hamas continues to cause widespread death on both sides and a humanitarian crisis in Gaza. Blinken, who is coming off of another trip to Israel, already met with Qatari Prime Minister Mohammed bin Abdulrahman Al Thani in the Jordanian capital of Amman. He is also slated to hold talks with foreign ministers from Saudi Arabia, Jordan, Egypt and the United Arab Emirates. The meetings come a day after Israel rejected American calls for a humanitarian "pause" in the conflict, as Blinken urged Israeli Prime Minister Benjamin Netanyahu to better "protect Palestinian civilians." Financial Times, Reuters
2. More than 150 people dead following earthquake in Nepal
More than 150 people are dead and hundreds are injured after an earthquake in Nepal on Saturday. The temblor struck around midnight local time, according to officials, and was registered as a magnitude-5.6 earthquake by the U.S. Geological Survey — though Nepal's monitoring center rated it as high as 6.4. A number of smaller aftershocks also occurred following the main shake. The death toll has been reported as 160, though this has not been confirmed. Officials stressed, though, that the number of fatalities is expected to rise, as debris-blocked roads and Nepal's mountainous terrain are making it tough to locate survivors. Landslides following the earthquake also cut off access to many of the affected towns. The New York Times, BBC
3. Appeals court temporarily freezes gag order against Donald Trump
A federal appeals court temporarily froze the limited gag order against former President Donald Trump on Friday. The three-judge panel, all of whom had been appointed by Democratic presidents, froze the order to allow more time for them to consider to full scope of the gag, saying that they would fast-track the process. The gag order had been issued by District Judge Tanya Chutkan in the Washington, D.C. case charging Trump with inciting the Jan. 6, 2021, insurrection at the Capitol. The freezing of the gag order means that the former president can freely go after witnesses in the case on social media, at least for the time being. CNN, CBS News
Subscribe to The Week
Escape your echo chamber. Get the facts behind the news, plus analysis from multiple perspectives.
SUBSCRIBE & SAVE
Sign up for The Week's Free Newsletters
From our morning news briefing to a weekly Good News Newsletter, get the best of The Week delivered directly to your inbox.
From our morning news briefing to a weekly Good News Newsletter, get the best of The Week delivered directly to your inbox.
4. Judge allows lawsuit from Virginia teacher shot by student
A teacher who was shot by her 6-year-old student in Virginia is allowed to sue her former school district for negligence, a judge ruled Friday. The ruling means that Abby Zwerner can proceed with a $40 million lawsuit against the Newport News Public Schools. The judge declared that Zwerner was not limited only to receiving worker's compensation, as lawyers for the district had attempted to argue. The 25-year-old made national headlines after she was shot by the student in January, and lawyers for Zwerner have argued that the school district was aware of problems with the student but did not do enough to mitigate any risks. The Virginian-Pilot, The Associated Press
5. Multiple US banks hit by deposit delays
A number of large banks were struck by deposit delays on Friday as a result of processing issues. Bank of America, Wells Fargo, Chase, U.S. Bank and Truist were among the institutions affected, as the processing problems appeared to be almost industry-wide. While the Federal Reserve said that all of its systems were working normally, it noted that there was an issue with the Electronic Payments Network, a private network that handles many ACH transfers — though the company said less than 1% of total transfers were affected. Both Chase and U.S. Bank released statements saying that all customer funding was secure and that they were working to process deposits as quickly as possible. CNBC, Fox Business
6. Biden, Harris endorse 23 Democratic candidates in Virginia
President Biden and Vice President Kamala Harris are endorsing 23 Democratic candidates for the Virginia legislature ahead of next week's election, the White House announced Saturday. The elections this coming Tuesday will see presidential endorsements for seven state Senate candidates and 16 House of Delegates candidates. While Democrats hold a slim majority in the Virginia state Senate, Republicans narrowly control the House of Delegates as well as the governor's office. Both Biden and Harris referenced the importance of reproductive rights in this election, as "so much hangs in the balance — not just for Virginia but for the direction of this country," the pair said in a joint statement. NBC News, Richmond Times-Dispatch
7. George Santos planning to run for reelection even if expelled
Rep. George Santos (R-N.Y.) said Friday that he would run for reelection in 2024 even if he's expelled from his seat in the House of Representatives. The embattled congressman told CNN that he will "absolutely" run in 2024 because his constituents didn't elect him for his background. The freshman representative has admitted to fabricating and falsifying large parts of his education, experience and overall life story following his election to Congress. He is currently under federal indictment and has pleaded not guilty to 23 charges including wire fraud and money laundering. Santos recently survived an effort by the House to expel him, though a congressional ethics committee could still recommend his removal. CNN
8. Report from India's aviation watchdog proposes less work for pilots
India's aviation safety watchdog is recommending reduced work hours and more rest for pilots across the country, according to draft regulations obtained by Reuters on Saturday. The regulations would require pilots to cut their maximum flight duty periods from 13 hours to 10 hours and also mandate an increase in their weekly rest periods from 36 hours to 48 hours. The country's civil aviation groups had decided to launch an investigation into pilot fatigue after the captain of an IndiGo flight collapsed and died prior to a trip in August. Fatigue has long been an ongoing issue in the aviation industry, not just in India, but across the globe. Reuters
9. Ken Mattingly, astronaut who assisted Apollo 13 crew, dies at 87
Ken Mattingly, a NASA astronaut who orbited the moon and is remembered as one of the heroes of the Apollo 13 mission, died this week at the age of 87. Mattingly's death was confirmed by a NASA spokesperson, who said he passed away at his home in Arlington, Virginia. Mattingly first went into space in 1972 aboard Apollo 16. He is best known, though, for the spaceflight he didn't go on. Scheduled to fly on Apollo 13 in 1970, Mattingly was booted from the flight after being exposed to measles. When a portion of Apollo 13 exploded and left the three astronauts inside stranded, Mattingly led the ground effort that brought them safely home. The New York Times
10. Daylight saving time to begin across most of US
A day that many people dread is arriving, as daylight saving time is set to end for a large portion of the United States. The clocks will turn from 2 a.m. to 1 a.m. on Sunday morning. While this means that Americans will get an extra hour of sleep, it also means that the sun will begin to set earlier and earlier every day until daylight saving time returns in March. As Americans will transition to leaving work in the dark — even if it's only 4 or 5 p.m. — the debate continues over the merits of daylight saving time, as many argue that it should be implemented year-round. The Associated Press

Continue reading for free
We hope you're enjoying The Week's refreshingly open-minded journalism.
Subscribed to The Week? Register your account with the same email as your subscription.