10 things you need to know today: September 22, 2023
Zelenskyy visits Washington as Biden unveils more Ukraine aid, Rupert Murdoch steps down at Fox and News Corp., and more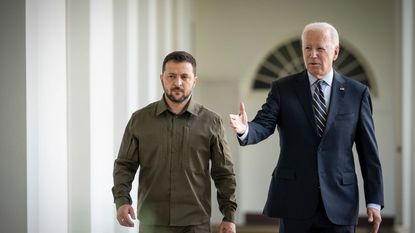 (Image credit: Drew Angerer / Getty Images))
1. Zelenskyy appeals for more aid in Washington visit
Ukrainian President Volodymyr Zelenskyy on Thursday gave Congress an upbeat report on the progress his military is making with the counteroffensive it launched this summer against Russian forces that invaded last year. He told lawmakers that Ukrainians have a good war plan and "are winning." Zelenskyy got a "hero's welcome" on Capitol Hill last year, but this time he received a cooler reception from some Republicans as he requested more aid, The Associated Press reported. President Biden met with Zelenskyy later in the day at the White House and announced a new $325 million aid package. He assured Zelenskyy the U.S. would "do all we can to ensure the world stands with you." The Associated Press, Axios
2. Rupert Murdoch retiring as head of Fox, News Corp.
Rupert Murdoch, 92, is stepping down as chair of Fox and News Corp. in November, the companies announced Thursday. The conservative Australian media mogul's eldest son, Lachlan Murdoch, will take over. "For my entire professional life, I have been engaged daily with news and ideas, and that will not change," Murdoch said in a memo to staff. "But the time is right for me to take on different roles." Murdoch inherited an Australian newspaper from his father in 1952, and built a news and entertainment empire in the U.S. and Britain. He purchased big name newspapers, including The Wall Street Journal, but it was his creation of the conservative Fox News Channel that cemented his influence in U.S. politics. The Wall Street Journal, The Associated Press
3. GOP hardliners block spending bill again as shutdown looms
Right-wing House Republicans on Thursday blocked a Pentagon spending bill for a second time this week. The GOP hardliners joined Democrats to vote down an effort to advance the military appropriations bill, which normally gets approved with bipartisan support. The vote marked another embarrassing setback for House Speaker Kevin McCarthy (R-Calif.), who indicated hours earlier he had persuaded enough holdouts to support the funding bill. The defeat, as lawmakers abruptly ended work for the week, showed that McCarthy is having a hard time keeping the Republican caucus in line as time runs out to pass a short-term deal to avert a government shutdown at the end of the month. The New York Times
Subscribe to The Week
Escape your echo chamber. Get the facts behind the news, plus analysis from multiple perspectives.
SUBSCRIBE & SAVE
Sign up for The Week's Free Newsletters
From our morning news briefing to a weekly Good News Newsletter, get the best of The Week delivered directly to your inbox.
From our morning news briefing to a weekly Good News Newsletter, get the best of The Week delivered directly to your inbox.
4. India cancels Canada visa services
India canceled visa services for Canadian citizens on Thursday, citing security threats. The temporary restrictions escalated a diplomatic feud that erupted this week when Canada's prime minister, Justin Trudeau, said India might have been behind the June killing of a Sikh separatist in British Columbia. The allegation, which India rejected as "absurd," was based on surveillance of Indian diplomats in Canada, The Associated Press reported. Trudeau said Thursday he had not intended to provoke India by making the allegation public. India said the suspension of visa services was necessary because threats received by its embassy and consulates in Canada have "disrupted their normal functioning." BBC, The Associated Press
5. Federal IT contractor charged with espionage
The Justice Department announced Thursday it had arrested a State Department IT help desk technician on espionage charges for allegedly transferring defense intelligence information to a spy from an African nation. Abraham Teklu Lemma, a naturalized U.S. citizen of Ethiopian descent who worked as a federal contractor, was detained on Aug. 24. According to the affidavit, Lemma, 50, copied and removed top secret information, including satellite images, maps and notes, from at least 85 intelligence reports concerning the African country between late 2022 and August 2023. He also allegedly used his security clearance to access and copy highly classified information from at least 48 other intelligence reports. USA Today, CNN
6. Ukraine scrambles to resolve grain dispute
Ukraine on Thursday agreed to license exports of its grains to Slovakia as part of an effort to settle disputes over its grain shipments. Ukraine has had to start sending its wheat and other grains overland after Russia scrapped a deal to allow shipments through the Black Sea. Slovakia, Poland and Hungary last week placed restrictions on the movement of Ukrainian grain. Ukraine filed a complaint this week with the World Trade Organization and threatened to retaliate over the bans by imposing its own export restrictions. Poland then said it would stop sending weapons to Ukraine to focus on arming its own military. Reuters, The New York Times
7. Home sales drop again
U.S. home sales dropped 21% from January to August compared to the same period last year, according to data the National Association of Realtors released Thursday. The year before, sales fell 18%. The ongoing slowdown came as the Federal Reserve's inflation-fighting campaign to raise interest rates increases borrowing costs for homebuyers. The median home sales price increased 3.9% compared to a year earlier, to $407,100. The Fed paused its rate increases this week but signaled it might hike once more this year and keep rates high longer than previously anticipated. "Perhaps there could be some recovery taking place, but the last couple of data releases are implying no," said Lawrence Yun, the NAR's chief economist. "Things are slumping down again." The Washington Post
8. Senate confirms 2 more military leaders
The Senate on Thursday confirmed two more military leaders to head their branches of the armed forces, once again sidestepping Sen. Tommy Tuberville's (R-Ala.) blanket hold on military promotions in protest against a Pentagon abortion policy. Gen. Randy A. George was cleared to become the next Army chief of staff, and Gen. Eric M. Smith the next Marine Corps commandant. The votes came after the Senate confirmed Air Force Gen. Charles Q. Brown Jr. to be the next chair of the Joint Chiefs of Staff on Wednesday. Senate Majority Leader Chuck Schumer (D-N.Y.) separated the vote on Brown from more than 300 promotions being held up by Tuberville to keep the Joint Chiefs seat filled as Gen. Mark Milley retires. Politico, The Washington Post
9. US extends Afghan refugee protections
The Biden administration on Thursday extended protections for Afghan refugees who fled the country after the last U.S. forces left in August 2021 and the Taliban took back control of Afghanistan. The renewal of Temporary Protected Status for about 3,100 Afghan citizens lacking proper documentation ensured that they would not be deported for another 18 months. Renewing the designation "allows us to continue to offer safety and protection to Afghan nationals who are unable to return to their country," said Homeland Security Secretary Alejandro Mayorkas. A day earlier, the Biden administration and DHS extended protected status to nearly a half-million Venezuelan nationals due to the South American nation's ongoing political and humanitarian crises. Axios
10. Bus headed to New York band camp crashes, killing 2 adults
A commercial bus carrying 40 students to band camp "tumbled down a 50-foot ravine" in New York's Orange County on Thursday, killing two adults and injuring several students, Gov. Kathy Hochul said. The New York State Police identified the dead as Gina Pellettiere, 43, and Beatrice Ferrari, 77. The injured students were transported to six area hospitals. Five had critical injuries. Police said a preliminary investigation indicated that one of the bus' front tires failed on Interstate 84, possibly causing it to crash down the ravine. "Imagine the fear, the screams and the aftermath when these high school students — many of them freshmen — were surrounded by this chaos," Hochul said. CNN

Continue reading for free
We hope you're enjoying The Week's refreshingly open-minded journalism.
Subscribed to The Week? Register your account with the same email as your subscription.