10 things you need to know today: September 30, 2023
Government shutdown looms after failed House vote, California Sen. Dianne Feinstein dies at 90, and more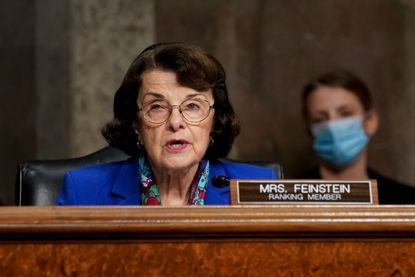 (Image credit: Stefani Reynolds-Pool/Getty Images)
1. Government shutdown looms after failed House vote
The federal government appears to be headed toward a shutdown this weekend, as separate factions of House Republicans have been unable to reach a deal to keep the government open. House Speaker Kevin McCarthy (R-Calif.) attempted to bridge the gap between moderate conservatives and hardline members of the GOP with a last-ditch bill to extend federal funding. The bill failed to pass in the House, though, handing McCarthy another defeat and making the prospect of a shutdown likely inevitable. A bipartisan Senate stopgap bill that would've also funded the government through Nov. 17 has been hung up in Congress' upper chamber, with Republicans pushing for aid to Ukraine to be dropped from the bill. The Washington Post, CNN
2. California Sen. Dianne Feinstein dies at 90
Sen. Dianne Feinstein (D-Calif.), a Democratic Party mainstay who served in the U.S. Senate for more than 30 years, has died at the age of 90. Feinstein died on Thursday at her Washington, D.C., home, her chief of staff said Friday. Feinstein, a California native, rose to prominence as the mayor of her hometown, San Francisco, for 10 years before launching a career in national politics. She was elected to the Senate in 1992 and would become the longest-serving female senator in history. In recent years, concerns were raised about her age and mental fitness after a number of health scares. California Gov. Gavin Newsom (D) is slated to pick an interim appointment to fill Feinstein's seat. CBS News, Axios
3. Mark Milley takes jab at Trump during military retirement speech
Joint Chiefs of Staff Chairman Gen. Mark Milley officially retired on Friday, handing over the reins of the U.S. Military to Air Force Gen. Charles Q. Brown Jr. During his retirement speech, Milley appeared to take a jab at former President Donald Trump, saying the military doesn't swear an oath to a "wannabe dictator," adding, "We take an oath to the Constitution, and we take an oath to the idea that is America." Trump and Milley have often clashed with each other both during and after Trump's presidency. This culminated last week, when Trump appeared to call for Milley's execution in relation to a call the general had made to China following the 2020 election. USA Today, The Hill
Subscribe to The Week
Escape your echo chamber. Get the facts behind the news, plus analysis from multiple perspectives.
SUBSCRIBE & SAVE
Sign up for The Week's Free Newsletters
From our morning news briefing to a weekly Good News Newsletter, get the best of The Week delivered directly to your inbox.
From our morning news briefing to a weekly Good News Newsletter, get the best of The Week delivered directly to your inbox.
4. Bail bondsman charged with Trump in Georgia case pleads guilty
A bail bondsman charged alongside former President Donald Trump in Georgia pleaded guilty on Friday, making him the first defendant in the case to accept a plea deal from prosecutors. Scott Graham Hall, 59, pleaded guilty to five counts of conspiracy to commit intentional interference with performance of election duties, and will receive five years of probation. Hall is one of 17 co-defendants charged alongside the former president in the Georgia case, which alleges that Trump and others participated in a wide-ranging conspiracy in the Peach State to try and overturn the results of the 2020 election. Hall in particular was alleged to have gained access to "secure voting equipment and voter data." The Associated Press, CNN
5. UAW announces additional walkouts as auto strike continues
United Auto Workers (UAW) President Shawn Fain said Friday that his union would be authorizing an additional 7,000 workers to walk off the job in auto plants in Illinois and Michigan, as the auto strike against the Big Three U.S. car manufacturers expands. The workers will go on strike at a Ford plant in Chicago and a GM facility in Lansing, Michigan. No additional walkouts were announced at Stellantis, the last of the Big Three automakers, as Fain said that talks were moving in the right direction with the company. The strike has become a political rallying point in recent days, with both President Biden and former President Donald Trump visiting Michigan last week. Politico, Bloomberg
6. Downpour leaves New York City drenched with more rain expected
New York City was besieged by heavy flooding on Friday, as rainfall left much of the Big Apple and surrounding region underwater. Nearly nine inches of rain was recorded at John F. Kennedy International Airport in Queens, while parts of Brooklyn received more than seven inches. The rainfall sent floodwaters into portions of the New York City subway system and flooded streets in what New York Gov. Kathy Hochul (D) called a "life-threatening rainfall event." Many of the city's residents were reportedly surprised by the scale of the flooding, as some criticized city officials and Mayor Eric Adams for not properly preparing for the storm. Additional rains are expected to batter the city on Saturday. The New York Times
7. Almost all of Nagorno-Karabakh's Armenian population has reportedly left region
More than 100,000 ethnic Armenians have left the Nagorno-Karabakh region in Azerbaijan, Armenian officials said Friday. This amounts to the majority of the enclave's Armenian population, as the masses continue to flee the area following a military takeover by Azerbaijani forces. Though in Azerbaijani territory, Nagorno-Karabakh has been run by a breakaway government led by ethnic Armenians since the 1990s, though conflicts have long besieged the region. As Azerbaijan moves to reclaim Nagorno-Karabakh, international rights groups have warned of a humanitarian crisis looming for the Armenians who remain. The United Nations is expected to helm a visit to Nagorno-Karabakh in the coming days, a move that Azerbaijan says it welcomes. BBC
8. France and Germany to begin setting up weapon shops in Ukraine
French and German defense contractors have begun setting up weapons and munitions shops in Ukraine as the European allies move toward the full manufacturing of arms in the war-torn country. Germany has cleared a contract between arms maker Rheinmetall and Ukraine's state-owned defense corporation, while at least 20 French defense contractors traveled to Ukraine to begin inking deals with Ukrainian leaders. Ukrainian officials have reportedly met with a number of defense contractors about manufacturing weapons in Ukraine, something that President Volodymyr Zelenskyy has been adamant about. The country's capital, Kyiv, hosted an international arms fair on Friday that was reportedly attended by 165 private defense corporations from 26 nations. Politico
9. Serbian military building up forces on Kosovo border
The United States warned Friday of a buildup of Serbian troops on the country's border with Kosovo, and urged Serbia's leaders to withdraw its forces. The spokesperson for the U.S. National Security Council, John Kirby, said in a statement that the White House was monitoring "a large Serbian military deployment along the border with Kosovo that includes an unprecedented staging of advanced Serbian artillery, tanks and mechanized infantry units." Kirby added that this was a "destabilizing development" to the region. Western officials are reportedly calling both Serbian and Kosovan leaders in an effort to de-escalate tensions, as NATO's presence in Kosovo has been bolstered with additional peacekeepers. The Guardian
10. Suspect arrested in 1996 murder of rapper Tupac Shakur
A suspect was charged with murder on Friday in the 1996 shooting death of rapper Tupac Shakur. Duane Davis, 60, was taken into custody in Las Vegas and charged with murder with the use of a deadly weapon, in addition to a related gang charge. Shakur, widely considered one of the greatest rappers of all time, was gunned down in a drive-by shooting on the Las Vegas strip, and his murder has remained a mystery for nearly 30 years. Davis has previously admitted to being in the car from which the shots were fired on the same night of Shakur's murder, and is a known member of the South Side Compton Crips gang. Los Angeles Times

Continue reading for free
We hope you're enjoying The Week's refreshingly open-minded journalism.
Subscribed to The Week? Register your account with the same email as your subscription.