The ethnic conflict plaguing the Nagorno-Karabakh region
Thousands of ethnic Armenians have begun fleeing the territory out of fear of persecution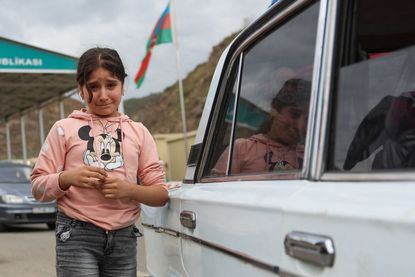 (Image credit: Emmanuel Dunand / AFP via Getty Images)
Thousands of ethnic Armenians have begun fleeing the mountainous Nagorno-Karabakh region in the midst of a recent territorial dispute, The New York Times reported. The area, straddling the border of Eastern Europe and Asia, lies less than 100 miles from Armenia, and as such, is home to around 120,000 Armenians.
While internationally recognized as part of Azerbaijan, Nagorno-Karabakh has mostly been controlled by a breakaway government since the early 1990s. Tensions between Azerbaijan and the breakaway leadership have continued to rise, culminating in the breakage of a cease-fire and a full-scale assault by Azerbaijani forces. This has led to a large humanitarian crisis that has forced Armenians to flee Nagorno-Karabakh out of fear of persecution.
What is happening?
Azerbaijan launched an attack this past week on Nagorno-Karabakh under the guise of "local anti-terrorist activities." However, it soon became clear that Azerbaijani forces were implementing a full-scale assault on the region.
Subscribe to The Week
Escape your echo chamber. Get the facts behind the news, plus analysis from multiple perspectives.
SUBSCRIBE & SAVE
Sign up for The Week's Free Newsletters
From our morning news briefing to a weekly Good News Newsletter, get the best of The Week delivered directly to your inbox.
From our morning news briefing to a weekly Good News Newsletter, get the best of The Week delivered directly to your inbox.
The Azerbaijani government initially claimed that the attack was launched in response to landmine assaults from terrorists. But the government "gave no indication of how besieged Karabakh Armenians laid such weapons," Politico reported, nor any clues as to how these weapons could've been acquired.
Azerbaijan incapacitated Armenian forces, "as well as combat assets and military facilities," using "high-precision weapons," the Azerbaijani government said, per Politico. Within 24 hours, the Armenians in Nagorno-Karabakh were forced to surrender, and Azerbaijan claimed to have re-taken the region.
Why have tensions between Azerbaijan and Nagorno-Karabakh been rising?
Azerbaijan's attack was the culmination of a late Soviet-era feud. Since 1994, Nagorno-Karabakh has been controlled by a breakaway state known as the Republic of Artsakh, despite the region being an enclave of Azerbaijan.
The creation of this republic was preceded by "a bloody war" over Nagorno-Karabakh, fought between Armenia and Azerbaijan" in the late 1980s and early 1990s," BBC reported. The conflict, now known as the First Karabakh War, "has been the trigger for further violence in the years since."
Various skirmishes have occurred in the region in the following decades, and the last major conflict began in 2020, when "Azerbaijan took back parts of Nagorno-Karabakh along with surrounding territory that Armenian forces had claimed during the earlier conflict," The Associated Press reported. This fighting lasted only a few weeks before a Russian armistice prevailed, and Russian peacekeepers have been patrolling the region ever since.
In the three years since, though, Azerbaijan has been building up its forces along the regional border. It previously installed a 10-month blockade on the only road connecting Nagorno-Karabakh to Armenia, shutting off access to food and supplies. Tensions continued to brew throughout 2023 and eventually boiled over in last week's attack.
What is happening with the Armenian refugees?
As the violence began, many Armenians began to flee Nagorno-Karabakh. Armenian Prime Minister Nikol Pashinyan described an exodus from the region as "the only way out," per Al Jazeera. He added that up to 120,000 thousand Armenians were expected to leave Nagorno-Karabakh, as they didn't want to live as part of Azerbaijan.
Pashinyan said that Armenians in Nagorno-Karabakh are fearful of an "ethnic cleansing," something that experts have already been warning about for months and something the Armenian people have suffered before. In a report released weeks before the attack, Luis Gabriel Moreno Ocampo, the former chief prosecutor of the International Criminal Court, claimed there was "reasonable basis to believe that a genocide is being committed against Armenians living in Nagorno-Karabakh."
At least 19,000 refugees have returned to Armenia from Nagorno-Karabakh, according to state news agency Armenpress.
What's next for the region?
Calls for peace have come from within Armenia and internationally. U.S. Secretary of State Antony Blinken said he has "deep concern for the ethnic Armenian population in Nagorno-Karabakh," adding that Azerbaijan should "protect civilians and uphold its obligations to respect the human rights and fundamental freedoms of the residents of Nagorno-Karabakh," per a State Department release.
Criticism has also been directed at Russia's peacekeepers for seemingly allowing Azerbaijan to invade. Pashinyan said that the ability of Azerbaijan to attack "raises serious questions ... about the goals and motives of the peacekeeping troops of the Russian Federation." Russian officials have denied allegations that they were working with Azerbaijan to reclaim the territory.
Following the attack, Azerbaijani President Ilham Aliyev said his country would work to establish peace for any remaining Armenians in Nagorno-Karabakh.

Continue reading for free
We hope you're enjoying The Week's refreshingly open-minded journalism.
Subscribed to The Week? Register your account with the same email as your subscription.