Pros and cons of the International Baccalaureate
IB offers a more holistic education and international outlook but puts specialists looking to study in the UK at a disadvantage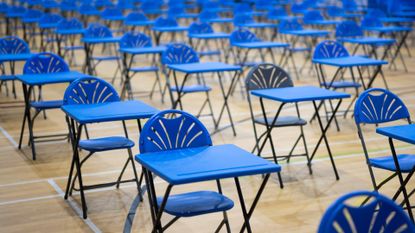 (Image credit: Matthew Horwood/Getty Images)
Rishi Sunak's plans to radically overhaul A-levels and replace them with a new "British Baccalaureate" have received decidedly mixed reviews from teachers and parents alike.
The prime minister is understood to be considering ditching the current exam system for 16- to 18-year-olds and replacing it with a new certificate where pupils would study a broader range of subjects until they leave school. English and maths would be compulsory – something Sunak has long called for.
Perhaps ironically, the plans would bring post-Brexit Britain's education curriculum much closer to the rest of Europe, where the International Baccalaureate (IB) has been in place for decades and pupils receive a total score out of 45, rather than grades in individual subjects.
Subscribe to The Week
Escape your echo chamber. Get the facts behind the news, plus analysis from multiple perspectives.
SUBSCRIBE & SAVE
Sign up for The Week's Free Newsletters
From our morning news briefing to a weekly Good News Newsletter, get the best of The Week delivered directly to your inbox.
From our morning news briefing to a weekly Good News Newsletter, get the best of The Week delivered directly to your inbox.
Pro: a more holistic education
Supporters of the IB say it provides a much broader and rounded educational experience. Students follow six academic courses over two years, choosing one course from each of six groups including mathematics, sciences, individuals and societies, studies in language and literature, and the arts. This is compared to just three A-level subjects which can also be much more limited in scope.
The Creativity, Action, Service (CAS) component also puts an emphasis on "emotional and social development by getting students involved in activities outside the classroom", said Studential.
This seemingly endless suite of assignments and deadlines, combined with mock exams, "contribute to make IB a demanding programme" said the South China Morning Post (SCMP), but it comes with "definite benefits: a form of analytical training that can follow you to university and beyond".
Con: rewards generalists
The strength of the IB is also its weakness, namely that it rewards pupils who are good at everything while those who excel at a few subjects suffer.
It means that students who excel in one or two subjects often miss out on their first-choice university, because typical offers usually require a minimum IB score based across all subjects, rather than top scores in particular subjects that students want to pursue at undergraduate level.
Professor Alan Smithers, director of the Centre for Education and Employment, told i news this is why most schools in the UK that adopted the IB have since dropped it and returned to A-levels. According to the International Baccalaureate Organization just 137 schools in the UK currently offer the IB Diploma, half as many as in 2008.
Pro: More attractive to employers
With the future of work less and less predictable, employers today "care less about subject specifics and more about skills, diversity and flexibility", wrote Colin Irvine, Director of IBDP at Bradfield College, all traits which along with self-management and ambition are the cornerstone of an IB education, he added.
Nick Law, headteacher at Carre's Grammar School in Sleaford, told The Lincolnite that offering an English Baccalaureate could, "if properly funded, planned and designed with teachers and professionals, enhance life opportunities and give students the knowledge and skills that employers are looking for".
This is a view backed by Robert Halfon MP, chair of the Commons Education Select Committee, who in a 2022 article for TES magazine set out the case for why an IB-style qualification that mixes academic and technical subjects is needed to prepare students for the new world of work.
This adds to "a growing body of evidence that the IB Diploma Programme prepares students for success at the university level and beyond", an article on the Haileybury school portal reported.
Con: not suited to British university system
While the IB complements university courses in Europe and the US, which are typically longer and allow students to specialise later on, it "does not suit the British university system, where students are already expected to have specialised upon entry", said i news.
"If you're going to take somebody up to the higher reaches of physics in three years at university, they've got to have a very high jumping-off point" said Professor Smithers. "That works well with the A-level system, where you can show that you've done subjects like physics, maths, further maths and computing, but not the International Baccalaureate."
Pro: improves international prospects and outlook
While it may put some students at a disadvantage when entering British universities, "thanks to its international recognition and transferability, and to its rigour and breadth of study, [the IB] has become a very popular choice among expat families seeking a well-rounded, international education for their children", said World Schools.
"You can't go past the most obvious point in the IB's favour – the international aspect," agreed Crimson Education. The IB Diploma is recognised by all leading universities, said the education site, "which instantly puts you on the world stage and contextualises your application". By comparison, "country-specific programmes don't have the same global reach, so it's harder for universities to understand the results and compare you fairly to other candidates."
In Europe especially the IB Diploma is "widely accepted and more easily understood than A-levels", said Studential.
Con: it's a marathon not a sprint
"The IB is no walk in the park" said Crimson Education. "In fact, it's not a walk at all. Think of it more as a run – but a marathon, not a sprint," said the site, this means "you need to be a 'long-distance learner' to do well".
"Some of the work, depth required, and deadlines can be overwhelming, both in terms of volume and variety" agreed SCMP, meaning "not everyone has the maturity to embrace these things, and so IB simply is not for everybody."
It may also not be for those who feel the pressure under intense exam situations. This is because, while the course "requires consistent work and solid performance over a two-year period" your performance is judged in one final exam covering all the material taught over the whole two-year period, said World Schools.

Continue reading for free
We hope you're enjoying The Week's refreshingly open-minded journalism.
Subscribed to The Week? Register your account with the same email as your subscription.