Ofsted chief: Gove rejected 'no notice' inspections in 2012
Sir Michael Wilshaw delivers findings on claims of a hard-line Muslim takeovers in Birmingham schools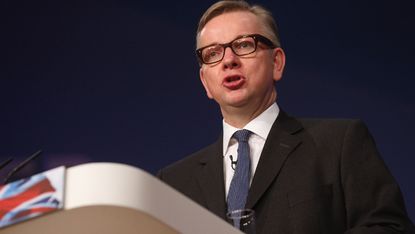 (Image credit: Getty Images)
Education Secretary Michael Gove rejected 'no notice' school inspections two years ago, according to Chief Inspector of Schools Sir Michael Wilshaw. Gove announced this week that he wanted to introduce "lightning" inspections, with notice periods reduced from one or two days to less than an hour, after it emerged that schools at the centre of the alleged 'Trojan Horse' plot tried to fool inspectors.
Wilshaw, who has welcomed the policy, told BBC Newsnight that he made the same suggestion in January 2012, but Gove said he wanted to listen to head teachers about the need for "a preliminary dialogue with the inspectors about how the inspection should be conducted". The Department for Education has said that the implication that Gove "blocked" no-notice inspections is "wrong".
Ofsted yesterday published reports on 21 schools that were ordered to examine allegations that groups of hard-line Muslims tried to infiltrate schools in Birmingham. Wilshaw found that an "organised campaign to target certain schools" led to a "culture of fear and intimidation" in Birmingham's education system. Five schools will be placed in "special measures" and a sixth has been labelled inadequate. A further 12 schools were ordered to make improvements, but three were praised by inspectors. He concluded that there had been deliberate attempts to change the ethos of schools.
Subscribe to The Week
Escape your echo chamber. Get the facts behind the news, plus analysis from multiple perspectives.
SUBSCRIBE & SAVE
Sign up for The Week's Free Newsletters
From our morning news briefing to a weekly Good News Newsletter, get the best of The Week delivered directly to your inbox.
From our morning news briefing to a weekly Good News Newsletter, get the best of The Week delivered directly to your inbox.
How did the 'Trojan Horse' plot emerge?An anonymous letter leaked to newspapers in March supposedly contained plans to take over state schools and push them into adopting a more Islamic culture. The letter proposed to force out school leaders and replace them with staff sympathetic to their religious agenda. It claimed that these tactics had already been used in a number of Birmingham schools, describing the plot as 'Operation Trojan Horse'.
Was the 'Trojan Horse' letter real?The letter is widely assumed to be a fake. But while some say it was a hoax to stir racial tensions, others believe it was an attempt by a whistleblower to alert authorities about genuine concerns at Birmingham schools. Once the letter emerged, Birmingham City Council received "hundreds" of allegations similar to those illustrated in the letter, dating back over 20 years. One teacher from a school called Park View Academy told the Sunday Times about discrimination against girls, homophobia, segregation, extremist views, creationism, bullying and unfair disciplinary practices at the school. In one sex-education lesson, a worksheet said women could not deny their husbands under Islamic law, she said. Two anonymous members of staff from the school also told BBC Radio 4 that school assemblies had praised Anwar al-Awlaki, the former head of Al-Qaeda.
Who is investigating the schools?Ofsted, the Department for Education, the Education Funding Agency, West Midlands Police and Birmingham City Council are, between them, investigating 25 schools. Education Secretary Michael Gove came under fire for appointing Peter Clarke, the Metropolitan Police's counter-terrorism chief, to investigate on behalf of his department as 'education commissioner'. The chief constable of West Midlands Police Chris Sims was among those to criticise the move, saying that people could draw "unwarranted conclusions" from Clarke's former role in counter-terrorism.
What did Ofsted's investigation reveal?Three schools – Ninestiles School, Small Heath School and Washwood Heath Academy – have been rated "outstanding" or "good". But five schools have been placed in "special measures", which could see their entire leadership removed, says the Daily Telegraph. Many of the remaining schools are to be sent notices saying their governance requires improvement.
The BBC reports that inspectors found an organised campaign to alter the character and ethos of schools, as well as nepotism in the appointment of senior leadership posts and complaints of discrimination against female staff. They also found that teachers had been bullied by governors, and left in fear of losing their jobs. "Head teachers were being 'undermined' and the curriculum was being narrowed to reflect the 'personal views of a few governors'," its website reports.
The Ofsted results came as a parallel investigation by the Education Funding Agency (EFA) found that the Park View Educational Trust ran schools that had "taken the Islamic focus too far". The EFA said that some schools had taken advantage of inspection notice periods to put on "hastily arranged shows of cultural inclusivity". At one school, Oldknow Academy, this included an assembly on Easter and Christianity.
How have the schools responded?The Park View Education Trust has rejected the findings on each of its schools – adding that the inspectors found no examples of extremist indoctrination at any of them. "David Hughes, vice-chair of Park View Educational Trust in Birmingham, said that their schools 'do not tolerate or promote extremism'," The Times reports. "He rejected Ofsted's findings."
What will change as a result?Apart from changes at individual schools, the new regime of "lightning" inspections looks likely to be introduced, with schools being given less than an hour's notice of inspectors' arrival. Schools at the centre of the alleged Trojan Horse plot tried to fool inspectors with hastily arranged interfaith events after being informed of visits in advance. Gove is also believed to be considering banning teachers and governors linked to extremist activities from all schools.
What are the political implications?Some parents and the Labour Party have laid the blame on Gove's education policies, as many of the schools affected had converted to academies, limiting the local authority's control over how they are run. However, some of the schools involved are under local authority oversight. Gove has written to all schools and colleges in England urging them to watch out for signs of radicalisation in the wake of the so-called Trojan Horse plot. The issue has also prompted a public row between Gove and Home Secretary Theresa May, which last week overshadowed the Queen's Speech. May wrote a letter to Gove demanding tougher treatment of extremism and questioning why his department had not acted sooner.

Continue reading for free
We hope you're enjoying The Week's refreshingly open-minded journalism.
Subscribed to The Week? Register your account with the same email as your subscription.