Fact check: the fake coronavirus cures that you should shun
From avoiding ice cream to consuming antimalarials and huge amounts of garlic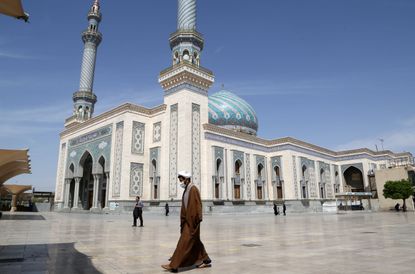 (Image credit: Fatemah Bahrami/Anadolu Agency via Getty Images)
Almost 300 people have died in Iran and more than 1,000 have suffered after taking what they thought was a treatment for coronavirus.
Iranian media says the deaths are down to people ingesting methanol after fabricated reports spread on social media claiming people had cured themselves of coronavirus with whisky and honey.
The idea that drinking high-proof alcohol kills the virus apparently stems from an Iranian tabloid story from early February, reports ABC News.
Subscribe to The Week
Escape your echo chamber. Get the facts behind the news, plus analysis from multiple perspectives.
SUBSCRIBE & SAVE
Sign up for The Week's Free Newsletters
From our morning news briefing to a weekly Good News Newsletter, get the best of The Week delivered directly to your inbox.
From our morning news briefing to a weekly Good News Newsletter, get the best of The Week delivered directly to your inbox.
Methanol is similar to ethanol, but much more poisonous. Drinking it can cause organ and brain damage, and symptoms include chest pain, nausea, hyperventilation, blindness and even coma.
"It is rumoured that alcohol can wash and sanitise the digestive system," said Dr Javad Amini Saman in Iran's western city of Kermanshah, where dozens have been hospitalised. "That is very wrong," reports the Daily Mail.
What other fake coronavirus "cures" should be avoided?
–––––––––––––––––––––––––––––––For a round-up of the most important stories from around the world - and a concise, refreshing and balanced take on the week's news agenda - try The Week magazine. Start your trial subscription today –––––––––––––––––––––––––––––––
Antimalarials
A man from Phoenix, USA, has died after taking chloroquine phosphate, an additive used to clean fish tanks that is also found in an antimalaria medication.
His wife, a woman in her 60s, was hospitalised but survived the poisoning after throwing up much of the chemical.
Chloroquine phosphate had been excitedly touted by Donald Trump as a potential treatment for the new coronavirus.
At a news conference last week, the president falsely said that the US Food and Drug Administration (FDA) had approved the use of an antimalaria medication called chloroquine to treat patients infected with coronavirus, reports The Guardian.
"Trump kept saying it was basically pretty much a cure," the woman told NBC News. She said her advice would be: "Don't take anything. Don't believe anything. Don't believe anything that the president says and his people… call your doctor."
Home-made hand sanitiser
Shortages of hand gel and a need for people to keep their hands clean has led to some creative members of society coming up with recipes for bootleg sanitiser with the contents of their booze cupboard.
But scientists have urged people to stick to shop-bought brands, noting that a lot of home-made recipes are ineffective and could even harm people's skin.
Professor Sally Bloomfield, of the London School of Hygiene and Tropical Medicine, told the BBC that she does not believe you can make an effective hand sanitiser at home – even vodka only contains 40% alcohol.
Garlic
Garlic might be effective when it comes to keeping vampires at bay or ruining your Tinder date, but it is not going to keep you safe from coronavirus.
The World Health Organization says that while garlic is a "healthy food that may have some antimicrobial properties", there's no evidence to suggest that eating garlic can prevent you from getting Covid-19.
Eating garlic isn't a bad idea, but like anything, it should be enjoyed in moderation. The South China Morning Post reported a story of a woman who was hospitalised with a severely inflamed throat after consuming 1.5kg – or 16 bulbs – of raw garlic.
Miracle minerals
Everybody has at least one Facebook friend from school who makes a living pyramid selling beauty products or vitamin drinks.
And the latest trend is "miracle mineral supplements" that can "wipe out coronavirus", according to YouTuber and spreader of fake news, Jordan Sather.
The FDA says it "is not aware of any research showing that these products are safe or effective for treating any illness". It warns that drinking such minerals can cause nausea, vomiting, diarrhoea and symptoms of severe dehydration.
Drinkable silver
US televangelist Jim Bakker suggested drinking colloidal silver – tiny particles of the metal suspended in liquid – claiming the solution killed the new coronavirus.
The advice was subsequently spread on Facebook groups packed with people suspicious of "mainstream" medical advice, despite US health authorities saying that there is no evidence that silver is an effective remedy for any health condition.
Drinking water
Some people apparently heeded health experts' advice and took the silver out of their water before drinking.
One widely shared Facebook post says drinking a glass of water every 15 minutes can help flush out any virus, citing a "Japanese doctor" as the source.
Professor Trudie Lang at the University of Oxford told the BBC that there is "no biological mechanism" that supports the idea you can wash away a fatal disease through drinking water.
Nevertheless, keeping hydrated can't hurt – just don't overdo it. The NHS recommends six to eight glasses a day.
Heat
The idea that heat can kill coronavirus has emerged in various ways through the typical social media channels.
Some users have claimed that exposure to the sun and drinking hot water can help, while others have warned that people should stay clear of ice cream and use a hairdryer on their throats.
Trying to manually heat up your body to defeat the virus is completely ineffective, says Bloomfield.

Continue reading for free
We hope you're enjoying The Week's refreshingly open-minded journalism.
Subscribed to The Week? Register your account with the same email as your subscription.