Appointments and interpretation won't fix the Supreme Court
The legitimacy problems long preceded Trump and Biden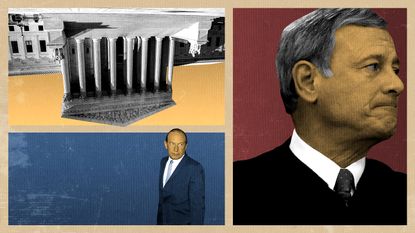 (Image credit: Illustrated | AP Images, Getty Images, iStock)
Sign up to our 10 Things You Need to Know Today newsletter
A free daily digest of the biggest news stories of the day - and the best features from our website
Thank you for signing up to TheWeek. You will receive a verification email shortly.
There was a problem. Please refresh the page and try again.
It's a busy season for the Supreme Court. The justices are now deep into an annual docket that includes major cases on abortion, religious education, gun rights, state secrets, and unintentional discrimination — and just this week, a preliminary ruling on congressional redistricting. With the pending retirement of Stephen Breyer, they also face a looming confirmation battle. Through it all, there's a backbeat of criticism from progressives who fear the court's slant to the right since the Trump Administration.
These conditions don't quite add up to a crisis. Even so, the pressure is rising in judicial politics. That's a headache for Chief Justice Roberts, who's tried to keep the court above the political fray. But it's also an opportunity for the rest of us to confront recurring paradoxes that seem inextricable from the court's very design.
The first issue involves representation. In other words: who serves on the Supreme Court and why. In January, President Biden provoked a minor controversy when he announced that he would make good a campaign promise and appoint a Black woman to replace Breyer. Critics argue that means sacrificing merit to demography. "The irony is the Supreme Court, at the very same time, is hearing cases about this sort of affirmative racial discrimination and while adding someone who is the beneficiary of this sort of quota," Sen. Roger Wicker (R-Miss.) told a Mississippi radio show.
Subscribe to The Week
Escape your echo chamber. Get the facts behind the news, plus analysis from multiple perspectives.
SUBSCRIBE & SAVE
Sign up for The Week's Free Newsletters
From our morning news briefing to a weekly Good News Newsletter, get the best of The Week delivered directly to your inbox.
From our morning news briefing to a weekly Good News Newsletter, get the best of The Week delivered directly to your inbox.
The trouble with Wicker's argument is that party loyalty, coalition management, and symbolism have always been part of the selection process. With so few seats on the court and so many plausible nominees, it's inevitable that presidents will choose nominees who promote their political interests, including satisfying important constituencies. Democrats who defend Biden's announcement emphasize Ronald Reagan's campaign pledge that he would appoint the first woman to the court. But there are older precedents, including informal commitments to maintaining a "Jewish seat" and a "Catholic seat" in the 20th century and a preference for geographic balance in the 19th century.
This kind of selection doesn't necessarily lead to great judges. In 1965, President Lyndon B. Johnson maneuvered Arthur Goldberg out of the "Jewish seat" in order to replace him with Abe Fortas. A career Democratic operative and Johnson crony, Fortas maintained unusually close relations with his patron in the White House. Although Fortas' friendship with the president was tolerated when he was just one of nine judges, it became controversial when Johnson unsuccessfully attempted to elevate him to chief justice. Fortas was later forced to resign altogether due to financial improprieties.
The reaction against the politicization and cronyism represented by Fortas encouraged a rival vision of Supreme Court justices as academically-trained technocrats. Few judges represented that vision better than Breyer, who clerked for Goldberg before proceeding through the Justice Department, Harvard Law School, and the U.S. Court of Appeals. A former member of the Watergate special prosecutor's task force and protegée of Sen. Ted Kennedy, Breyer couldn't be regarded as entirely non-partisan. Still, his 1994 nomination to the Supreme Court was approved by a Senate vote of 87-9 — a level of unanimity that's almost unimaginable now but Breyer shared with most contemporary nominees.
But that degree of legislative consensus was premised on an expectation of judicial consensus. You can't expect agreement on Supreme nominations when so much rides on their outcomes. Robert Bork and Clarence Thomas were exceptions to the relative harmony of late 20th century nominations because they challenged the ideal of anodyne competence. Both believed the Constitution had been wrongly interpreted for decades — or possibly centuries. And they aimed to set things right.
But the rise of originalist jurisprudence is a consequence rather than a cause of the second paradox of the Supreme Court. Even if it has de facto representative features, the Court is not supposed to be a legislative body. Instead, it wields veto power over actions by other institutions of government.
But what distinguishes the exercise of that power from arbitrary interference? And when does preventing unconstitutional uses of government power cross the line into undemocratic manipulation? For conservatives, the ostensible modesty and elegant jurisprudential technique prized by Breyer was a way of retrospectively legitimizing earlier generations of judicial partisans and activists, who showed no such restraint about promoting liberal goals.
Reliance on the original meaning of the Constitution is supposed to counteract such tendencies without relying on the personal or ideological preferences of the court's lineup at any given time. The difficulty is that it's not so easy to determine what the Constitution meant, to whom, or at what specific historical moment. For some conservatives, moreover, the appeal of originalism always had as much to do with its anticipated results than with the promise of an ideologically-neutral method.
Last week, Harvard Law professor Adrian Vermeule intervened in this simmering debate with a challenging essay in The New York Times. Arguing that the currently dominant schools of jurisprudence are intellectually and politically bankrupt, he proposes an alternative approach. Progressives assume the constant, leftward evolution of morality while conservatives appeal to a dubious historical consensus, Vermeule argues. Instead, judges should try to rule in ways that promote a shared understanding of the common good including "stable families, material security, dignified work and a sense of social harmony."
Although it's less incendiary than previous statements of his position (you have to click through the links to get the full picture), it's hard to believe that the adoption of Vermeule's strategy would reduce the partisanship and polarization of the court that he, too, laments. One reason is that he defines the common good so generally as to avoid serious disagreements about definitions, priorities, and the correct means to given ends. Vermeule contends that constitutional language like "due process of law" and "free speech" is too vague to guide judicial decisions. But it's hard to understand how "dignified work" or "a sense of social harmony" is any better.
That's not a reason to dismiss such concepts as irrelevant or incoherent. The fundamental problem is that Vermeule's argument, like the alternatives it rejects, counts on constitutional interpretation to resolve political disputes. We can and should expect elected legislators and executives to express and promote their preferred conceptions of the common good. That's because we have the freedom to vote for or against them, depending on whether we agree. The combination of presidential appointment, life tenure, and a final say on legislation, by contrast, makes that influence attenuated, at best.
The reason the Supreme Court faces increasing challenges to its legitimacy isn't that either it's composed of the wrong personnel or that the justices have adopted the wrong interpretive strategies. It's that they've acquired a degree of influence over basic questions of law and policy that cannot be held immune from electoral and ideological considerations.
If we want appointments and decisions to be less controversial, we'd need to reduce the court's power. But that requires looking beyond the criteria for nomination or meaning of the constitutional text and considering the more basic questions about the meaning of self-government.
Continue reading for free
We hope you're enjoying The Week's refreshingly open-minded journalism.
Subscribed to The Week? Register your account with the same email as your subscription.
Sign up to our 10 Things You Need to Know Today newsletter
A free daily digest of the biggest news stories of the day - and the best features from our website
Samuel Goldman is a national correspondent at TheWeek.com. He is also an associate professor of political science at George Washington University, where he is executive director of the John L. Loeb, Jr. Institute for Religious Freedom and director of the Politics & Values Program. He received his Ph.D. from Harvard and was a postdoctoral fellow in Religion, Ethics, & Politics at Princeton University. His books include God's Country: Christian Zionism in America (University of Pennsylvania Press, 2018) and After Nationalism (University of Pennsylvania Press, 2021). In addition to academic research, Goldman's writing has appeared in The New York Times, The Wall Street Journal, and many other publications.