Restorative powers: breathe new life into old houses
Expert advice for buying and improving period properties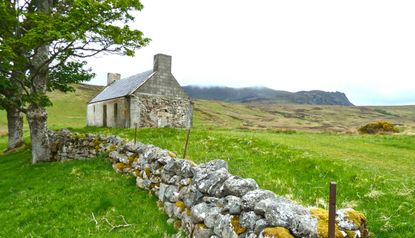 Sign up to our 10 Things You Need to Know Today newsletter
A free daily digest of the biggest news stories of the day - and the best features from our website
Thank you for signing up to TheWeek. You will receive a verification email shortly.
There was a problem. Please refresh the page and try again.
Older properties can offer oodles of character but often need sensitive treatment.
To learn how to bring out the best in period properties, we asked four experts to share their tips for buying, renovating and improving older properties.
Marianne Suhr, The Old House Consultancy
Subscribe to The Week
Escape your echo chamber. Get the facts behind the news, plus analysis from multiple perspectives.
SUBSCRIBE & SAVE
Sign up for The Week's Free Newsletters
From our morning news briefing to a weekly Good News Newsletter, get the best of The Week delivered directly to your inbox.
From our morning news briefing to a weekly Good News Newsletter, get the best of The Week delivered directly to your inbox.
I'd never live in anything but an old house. I love the idea that people have come before me; that it's an accumulation of layers and history. I like old floors that bear the imprint of many generations of footprints – but all this can be lost if you're not careful when you're restoring.
Know what you're getting yourself into before buying a property. Visit at different times of the day, take lots of photographs. And get the right survey. Very few surveyors understand older properties, but you can get a conservation accredited surveyor through the Royal Institution of Chartered Surveyors (Rics). It's far better to spend a bit more on a good survey before committing to a purchase, rather than regretting your buy later.
A good surveyor should turn up in old clothes and overalls, and get up into the roof space. A mortage valuation survey – where they just look at the property from the outside – will tell you very little.
Next, live in the house before you do anything. Get a good understanding of how you use the space, where the sun comes in, and how it functions for everyday living.
Thermally upgrade elements for energy efficiency. If you're reroofing, take guidance from an impartial professional, rather than relying on the roofer's advice (who may put their own interests first).
One of the worst things for an old house is to spray the underside of roof tiles with insulating foam. It traps damp in the roof space and will render the tiles unreusable.
Windows are often the beauty of an old house but also a major source of heat loss. There are all sorts of secondary glazing systems that you can install, and magnetic lift out systems are ideal. Try Storm Windows or Selectaglaze for toughened glass, or MagneGlaze for a cheaper DIY option. They're also a good way of combating noise pollution.
Suspended timber ground floors can be a major source of heat loss, equivalent to leaving a small window open 24/7. The simplest solution is thermal underlay and carpet, but if you're set on exposed floorboards, get an expert to lift them gently and insulate from beneath. It's important to keep an airflow in the sub-floor void (through well maintained air bricks, for example) to avoid rot.
Damp is an absolute priority to fix. Make sure the gutters work properly and discharge into the drains. The best way to do this is to stand outside with an umbrella in a heavy rainstorm. If you see rainwater running down the walls, you'll get penetrating damp. It's easily fixed with either repairs or new gutters.
Low-level damp is usually caused by cracked drains near the house or high external ground levels. Both can be fixed with common sense and a good builder. A drainage survey costs less than £200.
There are just four questions to ask a builder that will tell you if they are qualified to work on older properties:
- Do you use pure lime mixes with no cement?- Are you happy to repair an old window, rather than replace it? - Do you think an old wall will work without the installation of a damp proof course?- Do you get on with conservation officers?
Letting an old house breathe is incredibly important. Stick with lime mortar and plaster. Modern cement is completely incompatible and can trap moisture. In a worst-case scenario, it can lead to dry rot, woodworm and deathwatch beetle.
Never resort to an injected damp proof course – houses built before the mid-19th century never had damp proof courses. Injected damp proof courses are a modern invention, they rarely have any effect, and can cause an irreversible scar on the building. They're a complete rip-off.
Make sure you can live with the house even if you're refused permission to extend. Generally, conservation officers are open to applications as long as they don't destroy the history of the property or the understanding of its original form.
If you're considering making changes, ask the conservation officer for a pre-application meeting to discuss what's feasible. It's about £200 but worth it, rather than spending thousands on architect's plans only for them to be rejected.
The Society for the Protection of Ancient Buildings (SPAB) has a great technical advice line (020 7456 0916) offering free impartial guidance.
For more information, visit oldhouseconsultancy.co.uk or read The Old House Handbook and The Old House Eco Handbook
Ben Addy, Moxon Architects
When reusing old buildings, the basics don't really change – keep the weather out, heat in and provide delight. Modern life brings a plethora of technical and lifestyle demands that were never a consideration. This is where challenges tend to arise, and it can lead to the old building fabric being considered in the way that a hermit crab might contemplate an empty shell – or alternatively, it is possible to tightly integrate new construction with the old in such a way that the boundary between the two is visible as a change in material.
There is a balancing act between historic reconstruction and creative reinterpretation. It is important to consider the decision-making that originally went into the construction and to look at why certain materials were selected. The historic construction method was almost always borne out of what skills and building materials were locally available.
Applying the same logic today results in new adaptations or additions that follow the same principle but can look radically different. For example, the steel insertion at our temporary studio is a reflection of the skill base of our construction company and the fact that mild steel sheet is readily available, whereas a good stock of local granite and the skilled masons to work it are somewhat harder to come by.
Response to landscape is crucial when working in a rural or open setting. We pay close attention to how the design either follows the landscape or acts as a counterpoint. We did just this with Coldrach, an 18th century "but and ben" farmhouse set near the foot of Lochnagar at Crathie that is typical of the Scottish Highlands. The property is compact and robust with clipped eaves and modest windows. These buildings often sit resolutely in the landscape in much the same way as a large boulder sits in a field.
Our extension to this building trebles the useable area of the home, but in this landscape, we decided that the new part would tag onto the old, using it like an anchor. Material colour and texture is also important – the farmhouse has a modesty to it and the new part follows from this, albeit in untreated timber and red oxide corrugated metal rather than granite and slate.
In beautiful landscapes, the preference is to be out in it, but the second-best option would be a room with a good view. How that view is incorporated into the design is a bigger question and something we spend a lot of time considering and discussing with our clients during the initial design stages.
Ben Addy is managing director of moxonarchitects.com
Merlin Wright, Plain English
Location aside, I wait till I feel a pulse of attraction for a new project. The period or style of the building is of secondary importance after its potential: it's like meeting an interesting new person and trying to discover as much as possible about them. It's exciting to find a building that has been obscured by poor conversions or layers of decorating horrors, as all these can be unpeeled to reveal the beauty beneath.
My father was an architect and I grew up with an appreciation of both old and new buildings. Since joining Plain English 17 years ago, I've absorbed their sensibility and appreciation for traditional detailing, and also their approach to integrating old with new and working with existing structures and features.
I've worked on countless projects for clients where budgets and timescale allow for dramatic, wonderful results. My personal projects have been more modest – always Victorian or Georgian terraced houses – although my first personal project was a huge Victorian pub in south London which I converted into flats as well as a studio for myself. Money was tight, so I lived on site, in a tent pitched on the swirly-carpeted stage where they used to have the strippers.
The key is to get the floorplan right. We have clients who spend £4m on a townhouse and the kitchen's typically in the basement – the smallest, darkest part of the house. We usually suggest we move the kitchen up to a more central location so the whole house can come alive again.
Poor quality workmen drive me bananas. It's always tempting to accept the cheapest quote, but noisy pipes and wonky walls are depressing. Prior planning and a thorough specification are essential as it's expensive to change or add to the works once a project has started. A project of any size has to be properly managed and supervised, either by an architect or a project manager. They are responsible for standards, timing and payment to the contractors. Most homeowners are not qualified to do this.
I hate it when so-called damp experts come in and drill lots of holes and pump loads of chemicals into walls. Old houses just don't need it, provided there's plenty of sub-floor ventilation.
A terraced house structure is amazingly strong. Often you get structural engineers coming in and saying you need a steel column right in the middle of the floor when you don't. Old brick walls are quite robust things.
Homeowners' lifestyles should also be considered. Children are like little drunks, for example, so remember that pristine white walls look great until you get a tidemark of handprints like a Richard Long artwork. If you've got kids, I'd go for a self-finished lime plaster on the walls. It never needs painting, doesn't show the marks and just gets better with age.
Merlin Wright is design director at plainenglishdesign.co.uk
Richard Parr, Richard Parr Associates
I've developed a forensic ability to see through buildings, mentally pulling them apart in order to drill down to their true essence. An old building is like a diary, with layer upon layer of history etched into its skin. The skill is in knowing which layers to strip back, which to keep, and which to build upon. This is a great responsibility, and it takes both bravery and restraint.
Contrast and definition are key – it's important to be clear where the old fabric ends and the new work begins; to respect the history of the building whilst simultaneously giving it a future. This kind of work is a great privilege; an opportunity to leave a legacy for decades or even centuries to come.
Old buildings come with secrets. We scratch beneath the surface and we're never quite sure what will lie beneath. The challenge is in dealing with the unknown; revealing the failures in the fabric of the building, and finding solutions to them.
My fascination for old buildings lies in the opportunity to revisit another person's work. As William Morris said: "Quality is never an accident; it is always the result of intelligent effort."
Luxury used to be synonymous with size, opulence and perception of wealth. Fortunately, our 21st-century clients do not think like this. Our clients often prefer their homes to be understated. They are interested in things that supplement their enjoyment of life - technology, culture, and creativity. Convenience and comfort override the ostentatious.
In the 17th and 18th centuries, houses were built for function. Social structures and accepted formulas for living meant each room was rigidly compartmentalised to serve a particular activity. Today, technology has allowed us to diffuse boundaries and give us amazing opportunities. One thing that is unchanged in the British is the aspiration to create ownership and a haven.
See more at richardparr.com
Continue reading for free
We hope you're enjoying The Week's refreshingly open-minded journalism.
Subscribed to The Week? Register your account with the same email as your subscription.
Sign up to our 10 Things You Need to Know Today newsletter
A free daily digest of the biggest news stories of the day - and the best features from our website