Instant Opinion: under questioning Boris Johnson is a 'blundering schoolboy'
Your guide to the best columns and commentary on Thursday 28 May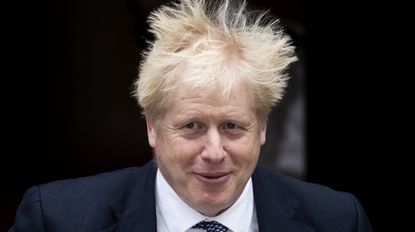 (Image credit: Dan Kitwood/Getty Images)
The Week's daily round-up highlights the five best opinion pieces from across the British and international media, with excerpts from each.
1. Martin Kettle in The Guardian
on the PM's performance under scrutiny
Subscribe to The Week
Escape your echo chamber. Get the facts behind the news, plus analysis from multiple perspectives.
SUBSCRIBE & SAVE
Sign up for The Week's Free Newsletters
From our morning news briefing to a weekly Good News Newsletter, get the best of The Week delivered directly to your inbox.
From our morning news briefing to a weekly Good News Newsletter, get the best of The Week delivered directly to your inbox.
Faced with questions from MPs, Boris Johnson was like a blundering schoolboy
"Boris Johnson signed off this afternoon by telling the Commons liaison committee how much he had enjoyed his first meeting with them. If that's true, then either I'm a Dutchman or Johnson has a weird way of having fun. No wonder he has managed to go almost a year before attending Westminster's most prestigious committee. He came determined to say nothing new about Dominic Cummings and more or less managed it, though it came at a cost. On the wider issues of his government's response to the pandemic, he mostly flannelled. Some of the questioners, notably Greg Clark, Stephen Timms, Robert Halfon and Darren Jones, beat him all ends up. Yvette Cooper delivered some icy remarks that should send shivers down his spine. Leadership Winston Churchill style it most definitely was not. Billy Bunter in the headmaster's study kept coming to mind. Johnson said he had spent a lot of time preparing for the meeting. It felt like a wasted effort. To expect the grasp of detail normally expected of a modern leader was and is hopeless."
2. Max Hastings in The Times
on how political spin took hold in British politics
I should never have fallen for Peter Mandelson's lies
"Donald Trump is the first US president of the post-truth era, in which reality is deemed to be not a matter of fact, but instead whatever he asserts it to be. Other world leaders — Putin, Bolsonaro, Erdogan, Xi — govern from the same assumption. It would be extravagant to suggest that Britain is yet in their league, but in our modest way we seem to be working at it. Neither the prime minister, however, nor even Dominic Cummings, can claim credit for launching this brand of politics. Some of us recall Tony Blair's advisers, Alastair Campbell, he of the 2002 Iraq dodgy dossier, and the 'prince of darkness', Peter Mandelson. Both, like Cummings, were clever, ruthless men who believed that ends justified means, and made themselves almost indispensable to a prime minister. Campbell is today a darling of chat shows, but his complicity with Blair in taking Britain to war under false pretences had incomparably graver consequences than Cummings's defiance of lockdown rules."
3. Ed Davey, acting co-leader of the Liberal Democrats, in The Independent
on how Dominic Cummings has bound the nation together
Dominic Cummings was tearing this country apart. Now he has united us in anger
"You have to give Dominic Cummings credit for one thing. After years of wrenching the country apart with his deliberately divisive campaign tactics, Boris Johnson's chief adviser has suddenly succeeded in uniting us again. Rarely have I ever seen such a unanimous outpouring of fury from people of all walks of life and all political persuasions. From the grandparents who haven't seen their grandkids for weeks. From the families who live apart, able to see each other only via video call. From the couples who had been planning their weddings for months, only to be forced to postpone them. From the new dads separated from mother and baby for the first days of their child's life. From the family members unable to be at their loved one's side at the end, and unable to mourn together afterwards. Even from a handful of brave Tory MPs. Millions of people across the UK have made heart-breaking sacrifices to comply with the lockdown and help keep others safe from coronavirus. They are rightly outraged."
4. Russell Hobby, chief executive of Teach First, in The Daily Telegraph
on planning for children post-coronavirus
We need a recovery plan now to stop lockdown from permanently damaging young people's futures
"For the next three years, we need a national recovery plan for young people – and it must begin by recognising the vast differences in experience during this period. Some spent lockdown learning online, some even had tutors. But millions without access to the internet or devices didn't. We need to make sure that those who couldn't learn during the lockdown are given the chance to recover. Some young people had a happy time, others didn't. We need to reach those whose home lives have been troubled. Additional pastoral and academic support over the summer and into autumn, if social distancing rules allow, has a strong evidence base. It should ideally continue well beyond 2020: there are no quick fixes for this. The plan should also ensure that those schools and colleges serving the most disadvantaged communities get enduring extra investment to rebuild. They need more, because their communities have suffered more during the pandemic. Catch-up provision may help restart school life, but it is consistent, high quality teaching over the course of a young person's entire education that helps them to forge their own future and prevents them becoming NEET. Successful schools and confident teachers are the ideal foundation for our country's recovery."
–––––––––––––––––––––––––––––––For a round-up of the most important stories from around the world - and a concise, refreshing and balanced take on the week's news agenda - try The Week magazine. Start your trial subscription today –––––––––––––––––––––––––––––––
5. David Banks in the Star Tribune
on the death of another unarmed black man at the hands of US police
The death of George Floyd, and the frustration that nothing ever changes
"... above all, it's hard to ignore the central frustration: that nothing ever changes. From Jamar Clark to Philando Castile to now, there's a complicated but unacceptable through line in recent policing history. Things do change, of course - incrementally. But such progress just can't compete for public attention with high-profile events. End racism? Stop killing black people? Of course. There's nothing to dispute. Equally important to progress are less-encompassing goals that can be defined, met and documented. What might that look like? For a police department, it starts with accountability within the ranks. It doesn't take a citizen's death to raise questions about police officer misconduct. Lesser abuses occur, complaints are filed and sometimes officers are fired. And then - at least half the time, it appears - they're reinstated. This happens in part because the state requires local governments to submit to binding arbitration in disciplinary actions. So one piece of progress would be to revisit that law. Another would be for departments - through training, peer pressure or whatever means - to change their cultures so that rogue behavior is unacceptable. That would be demonstrated by a sheer drop in the number of complaints. Because there are more good cops than bad cops - you know this is true - police officers as much as citizens, and police unions as much as police officers, have reason to push for this kind of change. And they know that's true, even if they see ways it seems disadvantageous."

Continue reading for free
We hope you're enjoying The Week's refreshingly open-minded journalism.
Subscribed to The Week? Register your account with the same email as your subscription.