Instant Opinion: 'I still don't know why I was stopped'
Your guide to the best columns and commentary on Tuesday 11 August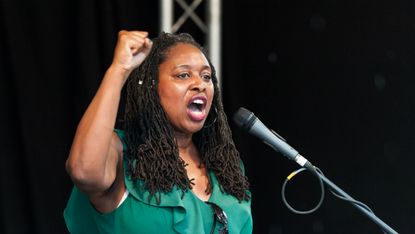 The Week's daily round-up highlights the five best opinion pieces from across the British and international media, with excerpts from each.
1. Labour MP Dawn Butler in The Guardian
on systemic racism in the UK
Subscribe to The Week
Escape your echo chamber. Get the facts behind the news, plus analysis from multiple perspectives.
SUBSCRIBE & SAVE
Sign up for The Week's Free Newsletters
From our morning news briefing to a weekly Good News Newsletter, get the best of The Week delivered directly to your inbox.
From our morning news briefing to a weekly Good News Newsletter, get the best of The Week delivered directly to your inbox.
'I still don't know why I was stopped': racial profiling has to end
"It was on Saturday that I publicly called for the Metropolitan police commissioner Cressida Dick to resign. I know enough from her past statements to know that she does not recognise institutional racism, nor does she show any solidarity with those who suffer from it. It took only one day for her police force to prove my point once again. Something really needs to change. The incident on Sunday was upsetting; I was being second-guessed and asked where I was going in the city that I've lived in all my life. But I know that what happened to me is, sadly, a regular experience for people of colour."
2. George Conway in The Washington Post
on the dear leader
I (still) believe the president, and in the president
"I believe the 'books' and 'manuals', if someone would just read them, say 'you can test too much' for Covid-19. I believe we now have 5 million cases because we test so much, and that the president was right to slow testing down, unless he was kidding — in which case he was right not to. I believe that the president has done a tremendous job fighting the virus — and that he shouldn't 'take responsibility at all' - even though about 160,000 Americans have died. I believe the virus 'is what it is'. I believe it isn't racist to call the coronavirus 'kung flu' or 'the China Virus'. It isn't racially divisive to say Black Lives Matter is a 'symbol of hate', to celebrate Confederate generals as part of our 'Great American Heritage', or to share video of someone shouting 'white power', which, like displaying the Confederate flag, is 'freedom of speech'."
3. Christian F Trippe in DW
on a Soviet Spring in the making
Belarus protests pose a real threat to Lukashenko
"Lukashenko's attitude toward the coronavirus appears to have brought about this turn of events. As the pandemic brought most of the world to a standstill, Lukashenko — a former collective farm director who had always presented himself as an authoritarian-but-caring leader — no longer seemed to care about the people of his country. He denied the significance of COVID-19, his hubris got the better of him, and he contracted the virus himself. People who had appreciated his paternalistic style lost their respect for their newly naked emperor; those who had been scared of him lost their fear."
4. Rami G Khouri in Al Jazeera
on escaping the cycle of corruption
Hezbollah and the people will have to negotiate a new Lebanon
"Lebanon is experiencing the same dynamics as other Arab countries have since 2010: the irresistible force of an enraged and pauperised citizenry marching in the streets to bring down a power structure that refuses to budge. Yet, like in Sudan, Algeria, Syria, Egypt, Iraq, and elsewhere, Lebanon's exhausted and humiliated citizens have struggled against an entrenched militarised regime which is not easy to evict from power. But Lebanon's power structure is unlike any other Arab country's and it is even more difficult to challenge."
5. Pamela L Pugh in The Detroit News
on Biden's choices
Time is now for a Black woman vice president
"We should all be reminded that in 2016, with 94% of Black women voting for Hillary Clinton and 53% of White women voting for Donald Trump, we were the Democrats' strongest voting bloc. It is hard to imagine how Biden, without a Black woman on the ticket, will get over the finish line. Know that the world, younger generations and women in general are watching to see if Joe Biden and the Democratic Party are ready to move Black women from "the help" to second in command of this great nation. A Biden ticket must include a Black woman as running mate."

Continue reading for free
We hope you're enjoying The Week's refreshingly open-minded journalism.
Subscribed to The Week? Register your account with the same email as your subscription.