'Afghan refugees have no choice – but Britain does'
Your digest of analysis and commentary from the British and international press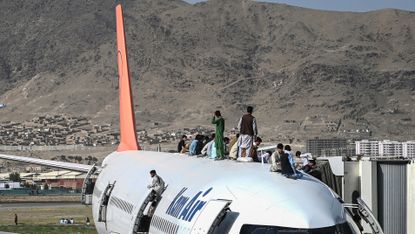 (Image credit: Wakil Kohsar/AFP/Getty Images)
1. Afghan refugees will come whether Britain likes it or not – we need to help them
The Independent's editorial board
on a comprehensive asylum system
It is inevitable that there will be refugees leaving Afghanistan, "many thousands of them", says The Independent's editorial board. "They cannot stay in their homeland, and nor can their families, because they know what the Taliban has in mind for them, whatever they may say. They are fleeing for their lives, for they have no choice." Britain, however, does have a choice, says the paper. "Organise a rational, fair and comprehensive system of resettlement, or pretend the problem doesn't exist – or is much smaller than it actually is – put an unrealistic cap on numbers, and wait for the former interpreters, fixers, aid workers and parts of the former Afghan military to turn up in dinghies on the beaches of Kent or in the back of lorries." The Independent fears it will be the latter. "The UK does not seem to be able to face the human consequences of its failure arriving on its shores."
Subscribe to The Week
Escape your echo chamber. Get the facts behind the news, plus analysis from multiple perspectives.
SUBSCRIBE & SAVE
Sign up for The Week's Free Newsletters
From our morning news briefing to a weekly Good News Newsletter, get the best of The Week delivered directly to your inbox.
From our morning news briefing to a weekly Good News Newsletter, get the best of The Week delivered directly to your inbox.
2. The incel movement is a form of extremism and it cannot be ignored any longer
Laura Bates for The Guardian
on an ignored ideology
Incels "subscribe to a transnational ideology characterised by white male supremacy, oppression of women and the glorification and encouragement of male violence", writes Laura Bates for The Guardian. They believe that sex is their "inherent birthright as men", explains the founder of the Everyday Sexism Project, and that rape and murder are "appropriate punishments for a society they perceive as withholding sex from them". Although they are not an organised group, their online influence is "far more widespread than we might like to think", she adds. Therefore, if those at the "most extreme end of the spectrum of radicalisation are carrying out massacres" such as the Plymouth shooting, "it is not unrealistic to raise the concern that others may be carrying out smaller acts of violence and misogyny in their daily lives", she says.
3. Confronting domestic violence must be a top priority for the Met
Leader comment for the Evening Standard
on why more must be done
"Covid-19 and the corresponding lockdowns were a disaster for women and children facing domestic violence and abuse," says the Evening Standard. It reflects that "while many of us found comfort in our homes, others were trapped in unsafe and terrifying conditions." The leader comment argues that the paper "cannot welcome more the progress made by the new Predatory Offender Unit, which has arrested more than 2,000 suspects who 'made life hell' for women and children in the capital". It continues: "Such a taskforce was long overdue, these arrest figures make that clear – it must be a top priority of the Met to crack down on these appalling crimes."
4. Overpaid yet still unhappy? Huw do you think you are?
Allison Pearson for The Telegraph
on a contentious cut
Allison Pearson is not overcome with sympathy for the BBC's News at Ten presenter Huw Edwards, who is angry after he received a pay cut. "At the risk of inducing mass cardiac arrest," she writes, "it should be pointed out that Huw's wounding wage reduction took his licence payer-funded salary from £550,000-£599,999 per annum to £425,000-£429,999." The Telegraph's columnist says: "In other words, he went from being outrageously overpaid to merely ludicrously overpaid." She notes that the newsreader still earns almost three times more than another public servant, the prime minister. "Where I come from, they always say you can take the boy/girl out of South Wales, but you can't take South Wales out of the boy/girl," she writes. "In Huw Edwards's case, they couldn't be more wrong."
5. The beautiful world of heavy metal
Tom Chivers for Unherd
on nerdy warmth
Looking back on his teenage years and his love of thrash metal, Tom Chivers acknowledges that the musical genre's aesthetic is "blood and skulls", that "there are lots of songs about devils and demons" and that "lots of it is aggressive or violent in content". However, writes Unherd's science editor, from the inside of the movement, "metal feels nerdy and warmhearted – a place for slightly socially awkward people to find a social group outside the mainstream". As the UK's music scene opens up again, Chivers hopes to go along to more metal gigs. The only trouble is, he concludes, "headbanging these days gives me a headache and my glasses fall off".

Continue reading for free
We hope you're enjoying The Week's refreshingly open-minded journalism.
Subscribed to The Week? Register your account with the same email as your subscription.