'Martin Luther King's warning of the white moderate rings truer than ever'
Your digest of analysis from the British and international press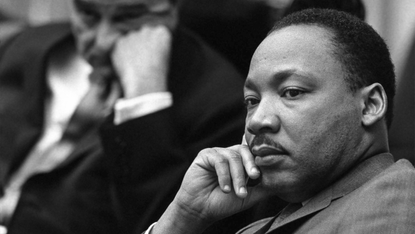 (Image credit: Alpha Historica / Alamy Stock)
Sign up to our 10 Things You Need to Know Today newsletter
A free daily digest of the biggest news stories of the day - and the best features from our website
Thank you for signing up to TheWeek. You will receive a verification email shortly.
There was a problem. Please refresh the page and try again.
1. Don't get mad about Biden comparing George Floyd and MLK. Get mad about Biden becoming who MLK warned us about
Michael Arceneaux at The Independent
on reasons for anger
A video of Joe Biden claiming George Floyd's death had a greater global impact than Martin Luther King Jr's assassination "received renewed criticism amid resurfacing" in social media posts shared on MLK day this week, writes Michael Arceneaux at The Independent. The-then presidential candidate was "emphasizing the role smartphones have played in mobilizing people all over the world to participate in the movement against police brutality", and he did not intend to "offend the late Dr King as some purport". This online outrage "tells me people like to be mad about anything, but often not the right things", says Arceneaux. "There is plenty of reason to be mad at Joe Biden" considering "he is failing both Dr King and George Floyd in terms of enacting legislation to help curb police brutality, voting rights, and fight poverty". His administration "gave up on passing a police reform bill in honor of George Floyd last fall". King's "warning of the white moderate 60 years ago rings truer than ever in the wake of Biden's failures to pass legislation to help the Black voters that delivered him the presidency".
Subscribe to The Week
Escape your echo chamber. Get the facts behind the news, plus analysis from multiple perspectives.
SUBSCRIBE & SAVE
Sign up for The Week's Free Newsletters
From our morning news briefing to a weekly Good News Newsletter, get the best of The Week delivered directly to your inbox.
From our morning news briefing to a weekly Good News Newsletter, get the best of The Week delivered directly to your inbox.
2. Covid fraudsters are being given a free pass
Alice Thomson at The Times
on costly divisions
The pandemic will soon enter the endemic phase in the UK. "The country will slowly move on" from rows over masks and rule-breaking, says Alice Thomson at The Times, to be "just as angry about who profiteered from the virus". The newspaper's disclosure this week that "£4.3bn of public money lost to fraud in the pandemic will never be recovered is just the tip of it". The problem isn't just the businesses that "took vast amounts of furlough money and then paid their chief executives huge bonuses". There are the second home owners "who claimed compensation for mythical lost rent", and those who "suddenly discovered they could apply, with no experience, for PPE and lateral flow contracts". There's no longer a sense, says Thomson "that we're all in it together". Instead, we enter "a new age of inequality", where "two nations" co-exist: "the lucky few fuelling the demand for Rolls-Royces, versus everyone else being told to cuddle their pets for warmth". The "us and them economic outcome of the pandemic" could lose the Conservatives the next election, if the "culture of the Downing Street frat house" doesn't.
3. War is increasingly likely, with Putin amassing troops and relishing the sight of a weak President Biden
Douglas Murray at The Sun
on familiar tactics
The chances that we are about to go to war with Russia "are still slim", says Douglas Murray at The Sun. "Nuclear-armed states do not like to go to war with each other", something that's been true since the Cold War. The massing of Russian troops on the border with Ukraine is a tactic Vladimir Putin has used before, says Murray. He did it in Crimea in 2014, and in 2008 "when he provoked a war with Georgia and stole" two regions. "Each time Putin took what he believed was his and the wider world did nothing. A lesson Putin noted well". The "dictator-for-life… pretends Nato is surrounding him", but the massing of troops this time is "of course, not about genuine fear on his part", Murray continues. "It is part of a desire to strengthen his position domestically by once again taking what he believes is his". The UK has sent defensive equipment to Ukraine, and while "it is in no one's interests" for us to engage in armed conflict with Russia, "it is also in no one's interests to allow the world's dictators and strongmen to gobble up whatever they want". We should, says Murray, "be proud that Britain is playing her part".
4. It is not too late to look up
David Ho and Laurent Bopp at Al Jazeera
on serious satire
Within three weeks of its release, Adam McKay's Don't Look Up became Netflix's second most watched film of all time. It's a "hilarious satire", say geoscientists David Ho and Laurent Bopp at Al Jazeera. "But it is also a serious indictment of the failure of the Western world's political and media classes to use their positions to try and solve global problems." McKay has said the film is really about climate change, not an extinction-threatening asteroid hitting earth. But the film is "not a perfect analogy for the climate emergency and humanity's response to it", the writers here say. Its "US-centric view" doesn't "reflect a global experience" or "make much sense when it comes to the fight against climate change". Similarly, climate change's effects "are not instantaneous like those of comets", and "efforts to lessen the effects will not be felt immediately". The moment that these writers found most powerful was at the end of the film, when Dr Randall Mindy, played by Leonardo DiCaprio, says: "We really did have everything, didn't we". Ho and Bopp agree: "Earth does have everything needed for life. And it is our duty to continue the ongoing fight to keep it that way".
5. A possible sex offender doesn't look good on a commemorative tea towel
Tanya Gold at The New York Times
on business decisions
Prince Andrew is in "internal exile" in Windsor, "jobless and divorced and with a collection of carefully arranged cuddly bears", says Tanya Gold at The New York Times. "He's apparently fond of TV", and this writer wonders whether The Crown would make good watching for the Duke, particularly the episode where Queen Mary reminds Elizabeth II: "The crown must win. Must always win". Because the crown is indeed "a business" and "their business is power". The rest, the "hats, flowers, doilies", is mere "icing sugar", says Gold, and it's for that reason that the Queen's second son "has been exiled without trial or conviction". At least some members of the royal family understand that "their survival depends on the fumes of sentiment and nostalgia", and "a possible sex offender doesn't look good on a commemorative tea towel". If Andrew were to "read the history" of his family, "he would learn that exile, imprisonment and execution are normal".
Continue reading for free
We hope you're enjoying The Week's refreshingly open-minded journalism.
Subscribed to The Week? Register your account with the same email as your subscription.
Sign up to our 10 Things You Need to Know Today newsletter
A free daily digest of the biggest news stories of the day - and the best features from our website