'Britain needs a democratic monarchy'
Your digest of analysis from the British and international press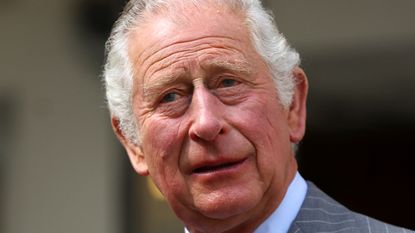 (Image credit: Hannah McKay/WPA Pool/Getty Images)
1. Charles should ask: Do you want me as king?
James Kirkup in The Times
on the monarchy's future
"One of the many services the Queen has done her country is to spare us from thinking too much about the constitution," writes James Kirkup in The Times. "Her enduring constancy means most people don't give any thought to the monarchy and its future." But one sad day "that will end", he writes. The royal succession will "convulse Britain in emotional turmoil beyond anything the past few years have conjured", and our next king should be "ready to act, boldly, to meet that moment". Although Charles "will take the throne by accident of birth" he will "still need a mandate", suggests Kirkup. And one of the "boldest" ways Charles could take the crown with "the active support of the people" would be with a "public vote, either among the whole country or the citizens' juries", says Kirkup. "Either way, he should ask the people: Do you accept me as your king?" When the Queen dies all the "old certainties" over the continuation of the monarchy "will crumble". The "only way" a "fundamentally anachronistic" institution such as royalty can survive that upheaval is to "accept the spirit of the age", he writes. "Britain needs a democratic monarchy."
Subscribe to The Week
Escape your echo chamber. Get the facts behind the news, plus analysis from multiple perspectives.
SUBSCRIBE & SAVE
Sign up for The Week's Free Newsletters
From our morning news briefing to a weekly Good News Newsletter, get the best of The Week delivered directly to your inbox.
From our morning news briefing to a weekly Good News Newsletter, get the best of The Week delivered directly to your inbox.
2. Farewell to the brilliant iPod, doomed for doing one thing
Jemima Lewis in The Telegraph
on a technological icon
"I belong to Generation Mixtape, so I feel no nostalgia about the death of the iPod," writes Jemima Lewis in The Telegraph. Nevertheless, "it changed the world, and Apple's fortunes, selling 400 million and paving the way for the iPad and iPhone." Now, these technologies have "superseded their parent gadget, and made its very purpose seem quaintly old-fashioned," she continues. "Who needs a device solely for listening, when the phone in your pocket can do that plus every other thing?" Smartphones have now "gobbled up" many functions other gadgets once served, and the more they gobble up, the more we will "come to mourn" these now-defunct devices. But in its simplicity was the iPod's "brilliance" and also its doom – "precisely because it can only do one thing".
3. The Tesco chairman is backing a windfall tax. This is not business as usual
Zoe Williams in The Guardian
on retail reality
"It's a delicate moment for a chairman of Tesco, trying to describe reality while maintaining the brand-boosterism that someone in some distant MBA hell decided the shareholders demand," writes Zoe Williams in The Guardian. But in an interview with the Today programme, John Allan, who is a former president of the CBI, "dispensed entirely with the second imperative". He described what cashiers were telling him: "that customers were asking them to stop when they'd rung through £40. People are out of wriggle room." It was a "crunchy, evocative description of how skint people are already, a tacit emphasis that this is everybody's business, and a hint, if you chose to hear it, that this is unprecedented," continued Williams. "Even more striking, though, was that he went on to endorse a windfall tax on oil and gas companies," wrote Williams, who said it was "not a controversial point of view". While it is possible to "split hairs" on whether energy companies' profits are "obscene", the "entire fossil fuel industry combined wouldn't deny that it's all been a bit of a lucky strike, and that they've been half-expecting a windfall tax since their bonanza began".
4. Threatening to break the Northern Ireland Protocol plays straight into Putin's hands
Ian Dunt for the i news site
on another false alarm?
"The threat to tear up the Protocol is to the post-Brexit world what no-deal was for the Brexit one," writes Ian Dunt for the i news site. "It is a constant threat which can be realised at any moment. Will they ever do it? No one really knows. Perhaps even they don't know. Maybe this really will happen next week. Or maybe it'll be like all the other false alarms," he continues. But "what we do know for certain is that it's often an empty threat". The government has been "making belligerent threats about Article 16 for over half a year, and yet there was no legislation to implement it in Tuesday's Queen's Speech". It suggests that Boris Johnson's government has a penchant for threatening "serious action without the intention of seeing it through". "We also know one other thing for certain: each time the Government makes this threat they undermine the UK's global credibility," says Dunt.
5. After Starmer: what's next for Labour?
Katy Balls in The Spectator
on succession
"Sometimes a plan can be too successful," writes Katy Balls in The Spectator. When Durham police announced on the day of the local election results that they would investigate Keir Starmer over 'beergate', "Tory MPs were delighted". But now "Tory strategists have started to worry". "What if Starmer actually resigned, as he has promised to do if he is fined? That would raise awkward questions about Johnson clinging on." Starmer, in turn, by putting his job on the line, "has forced his party to think about successors, whether now or later". Both of Britain's main parties are "stuck with leaders being investigated by police for breaking Covid rules, but neither party has an obvious candidate for succession", Balls continues. When it comes to a potential Labour leader, Lisa Nandy is "the option that Tories fear most", with Conservative MPs believing "she has more bite than her boss". When Durham police conclude their investigation, "the Prime Minister and his opposite number may both have reason to hope that they find Starmer not guilty".

Continue reading for free
We hope you're enjoying The Week's refreshingly open-minded journalism.
Subscribed to The Week? Register your account with the same email as your subscription.