CCTV reveals midnight meeting between London Bridge terrorists
Attackers seen laughing and joking five days before killing eight people and injuring 48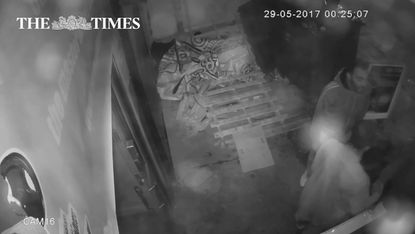 (Image credit: The Times)
New CCTV footage has emerged of the London Bridge terrorists laughing and joking as they plotted their attack just days before the atrocity.
The Times has gained access to a clip showing Khuram Butt, 27, Rachid Redouane, 30, and Youssef Zaghba, 22, meeting outside a gym in Barking, east London, in the early hours of Monday 29 May.
Five days later, eight people were killed and another 48 were left injured when the three extremists drove a van into pedestrians on London Bridge and went on a knife rampage in Borough Market.
Subscribe to The Week
Escape your echo chamber. Get the facts behind the news, plus analysis from multiple perspectives.
SUBSCRIBE & SAVE
Sign up for The Week's Free Newsletters
From our morning news briefing to a weekly Good News Newsletter, get the best of The Week delivered directly to your inbox.
From our morning news briefing to a weekly Good News Newsletter, get the best of The Week delivered directly to your inbox.
The clip, which is now with the police, shows the men leaving the gym where Butt worked and Redouane throwing a mobile phone onto a stack of crates outside.
Ten minutes later they return and Butt retrieves the phone and they chat before embracing each other and leaving.
Dramatic CCTV footage has also emerged of the moment armed police gunned the terrorists down, reports The Guardian.
In the clip, which has been verified, one knifeman swings his weapon towards an officer. This is followed by a burst of gunfire as the attackers fall to the ground.
Detectives probing the London Bridge terror attacks have made three more arrests following a raid by armed officers in east London.
Police arrested two men during an operation in Ilford at 10pm yesterday, detaining a 27-year-old man on suspicion of the preparation of terrorist acts and a 33-year-old man on suspicion of possession with intent to supply controlled drugs.
A third man aged 29 was arrested at a residential address in Ilford on suspicion of the preparation of terrorist acts.
The Met Police have issued an appeal for information from witnesses, asking on Twitter: "Did you witness the white van on London Bridge? Did you see the suspects attacking people or armed police confronting the suspects?"
Anyone with any information "however insignificant it seems" should call the anti-terrorist hotline on 0800 789 321, say police.
London Bridge attack: HSBC banker is eighth victim
7 June
London Bridge terror attack's eighth victim has been named as Ignacio Echeverria, 39, a banker from Spain who works for HSBC.
He went missing after last being seen trying to fend off one of the attackers with his skateboard to help an injured woman at Borough Market.
One of his relatives, Isabel Duran, wrote on Twitter: "Ignacio Echeverria attacked the terrorists to try to save a woman.
"He is in heaven with his inseparable skateboard."
Echeverria's father, Joaquin, told the Associated Press that HSBC had provided the services of a private detective to help with their search after the UK authorities failed to share any information with them.
According to Spanish media, the family was told of Echeverria's death by Spanish ambassador Carlos Bastarreche after the family flew into London on Tuesday.
His family criticised the delay from the UK in telling them what had happened.
Police searching for missing Frenchman Xavier Thomas, 45, say they retrieved a body from the Thames last night.
A police statement said: "Witness accounts suggest that it is possible that Xavier was struck by the van that resulted in him being thrown into the River Thames."
Officers have since confirmed a body was found at Limehouse, about three miles away, yesterday.
"Formal identification has not yet taken place, however Thomas's next of kin have been informed of this development," said a Metropolitan Police spokesman.
Thomas's girlfriend was seriously injured after being hit by the attackers' van, which ploughed into pedestrians on London Bridge. A total of 36 people, of whom 18 are in a critical condition, are still being treated in five London hospitals following the incident.
Police this morning arrested a 30-year-old man in Ilford, east London, "on suspicion of the commission, preparation or instigation of terrorist acts", reports Sky News.
A Met spokesman said: "Detectives investigating the London Bridge terror attack have carried out a search warrant at an address in east London in the early hours of Wednesday 7 June.
"Officers from the Met's Counter Terrorism Command, supported by officers from the Territorial Support Group, entered the address in Ilford at around 1.30am.
"A search of the address is ongoing."
London Bridge attack: Third attacker named as Moroccan-Italian Youssef Zaghba
6 June
Police have named the third attacker who carried out Saturday night's terror attack in London Bridge as 22-year-old Moroccan-Italian Youssef Zaghba.
According to the Italian newspaper Corriere della Serra, Zaghba was on a list of persons of interest to the Italian security services. He had been stopped at Bologna airport last year while trying to travel to Syria via Turkey.
The newspaper says Zaghba was working in a London restaurant and had been reported as a concern by the Italian authorities.
UK police sources, however, say that he was not on the radar of the British intelligence agencies.
According to Corriere della Serra, Zaghba's Italian mother and Moroccan father lived together in Morocco but later separated. His mother returned to Italy.
After the Bologna incident, Zaghba was charged with international terrorism by the Italian authorities but the charge was later dropped.
The other two attackers were named yesterday as Rachid Redouane, 30, who claimed to be Moroccan-Libyan, and Pakistan-born Briton Khuram Butt, 27.
It has emerged that Butt was not only known to the authorities but also featured in a Channel 4 documentary about extremists last year.
Yesterday, Metropolitan Police assistant commissioner Mark Rowley defended the force for dropping the investigation into Butt, which started in 2015, because "there was no intelligence to suggest that this attack was being planned and the investigation had been prioritised accordingly".
Transport for London has confirmed that Butt worked as a trainee customer service assistant for six months until last October. One colleague said he had reported him for his extremist views.
Seven people were killed and 48 injured when the three men attacked people outside bars and restaurants in London Bridge on Saturday night.
There are 36 people still being treated in five London hospitals, of whom 18 are in a critical condition.
The latest victim to be named is Kirsty Boden, a 28-year-old nurse from Australia, who was killed as she ran to help those injured when a van ploughed into pedestrians, says the Evening Standard.
Boden's family said in a statement: "We are so proud of Kirsty's brave actions which demonstrate how selfless, caring and heroic she was, not only on that night, but throughout all of her life. Kirsty – we love you and we will miss you dearly."
Also today, reports from France have identified a 27-year-old worker at the Boro Bistro restaurant, Alexandre, as one of the dead. His surname is not yet known.
Yesterday, it was confirmed that James McMullan, 32, from Hackney, and Canadian Christine Archibald, 30, were also killed.
In an unprecedented move, more than 130 imams and Muslim religious leaders have said they will refuse to say the traditional prayer for the souls of the attackers, The Guardian reports.
This morning at 9am a book of condolence for the dead was opened. It is being kept at Southwark council headquarters in Tooley Street until the police cordon around Southwark Cathedral can be lifted.
London Bridge attacker 'appeared in jihadi documentary'
5 June
Concerns are being raised about whether the authorities could have done more to prevent Saturday night's terror attack on London Bridge after it emerged that one of the attackers had been reported as a potential extremist several times. He had even appeared in a TV documentary about British jihadis.
At least one of the three men was apparently interviewed by police over his beliefs, the Daily Mail reports, according to messages seen on a notepad held by an officer at Sunday's raids in Barking, east London.
The handwritten note, captured by a photographer at the scene, said that he had "been interrogated last year for his Islamic views", adding that his house was searched and his passport taken away.
One of the attackers, a 27-year-old Pakistani known as 'Abz', featured in a Channel 4 investigation into radical Islam. He was shown "arguing with police officers after unfurling an Isis flag in a park," Metro reports.
An acquaintance told BBC Asian Network that the attacker was a fan of extremist preacher Ahmad Musa Jibril and could have been radicalised by online sermons.
After hearing his friend express support for Islamic State, the concerned man rang an anti-terror hotline and passed on his suspicions – but says his tip-off was not followed up.
"I did my bit, I know a lot of other people did their bit but the authorities did not do their bit," he said.
Erica Gasparri, who lives on the same estate as the attacker, told the Daily Telegraph that she had reported her neighbour to police two years ago after he approached her son and other children in the park preaching radical Islam.
When she confronted him, the attacker allegedly told her he "would do whatever is required in the name of Allah".
Gasparri says she took photos of the man and handed them over to Barking Police when she told officers of the unsettling encounter, but she heard nothing back.
Another neighbour, Ramou Grant, told Good Morning Britain that Abz recently held a barbecue at his flat.
"Last week he called for a barbecue and invited all of us. [I'm] thinking, was this a send-off?"
Another local resident described the suspect as a "very affable person" who was "very much a member of the community".
Another assailant was carrying an Irish identity card when firearms officers shot him dead in Borough Market. The Moroccan-born man was living in Dublin prior to the attack, the Irish gardai have confirmed.
Scotland Yard says it will release the names of the attackers "as soon as operationally possible", The Times reports. The media have chosen not to name them following police requests.

Continue reading for free
We hope you're enjoying The Week's refreshingly open-minded journalism.
Subscribed to The Week? Register your account with the same email as your subscription.