Claudio Bravo debut: Is Man City goalkeeper a liability?
Pep Guardiola says he's happy with his new keeper as he tries to enforce a footballing philosophy on Man City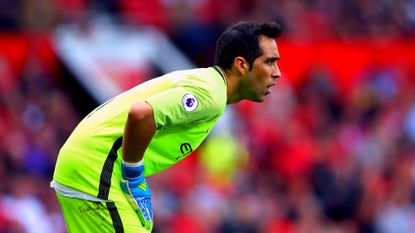 (Image credit: Alex Livesey/Getty Images)
Perhaps the main talking point to emerge from Saturday's Manchester derby – despite City's victory – was the performance of goalkeeper Claudio Bravo. The Chilean endured a difficult debut in which he gifted United a goal and almost gave away a penalty with a strong challenge on Wayne Rooney. This would have generated even more headlines had he been sent off.
After the game Pep Guardiola was adamant that Bravo had played well while the 33-year-old Chilean insisted he was "comfortable" with his performance.
Much has been made of Guardiola's decision to offload Joe Hart and replace him with a ball-playing keeper, so the manager had little option but to defend his man. But "Guardiola's backing for his keeper, while understandable, was at odds with a display that occasionally threatened to spread panic in City's ranks," says Phil McNulty of the BBC.
Subscribe to The Week
Escape your echo chamber. Get the facts behind the news, plus analysis from multiple perspectives.
SUBSCRIBE & SAVE
Sign up for The Week's Free Newsletters
From our morning news briefing to a weekly Good News Newsletter, get the best of The Week delivered directly to your inbox.
From our morning news briefing to a weekly Good News Newsletter, get the best of The Week delivered directly to your inbox.
"He was hesitant and occasionally too slow to clear with the ball at his feet and once he came from his line to claim a first-half free-kick, Bravo had to catch it. He did not, allowing Zlatan Ibrahimovic to score and give United hope.
"It is too early to say whether Bravo will be an upgrade on the banished Hart but those who believe England's first-choice keeper has been sent into exile too soon will not have had their worries eased by this performance."
But was it all bad? Bravo had "as good a debut as someone who gifts one goal, nearly gives away a few others and arguably could have been sent off can have", says Simon Bajkowski in the Manchester Evening News.
"Bravo's confidence on the ball means he is comfortable for opposition players to get close to him and while it might not always do much for nervous dispositions, it is effective," he says. "It may not have looked like one of the best performances ever, but there was enough there to see why Guardiola was satisfied."
Invoking studies of surgeons, airline pilots and jazz musicians Matthew Syed of The Times attempts to explain why Guardiola is so determined to play a keeper who passes the ball as opposed to one who catches crosses.
"Why flirt with such danger? Why take extravagant risks?" He asks. "The answer lies at the heart of Guardiola's philosophy and reveals a feature of the game that many other coaches are signally missing.
"He doesn't want the goalkeeper to be a separate entity. If Guardiola had the choice, he would have the goalkeeper wear the same colour as the rest of the team. By ensuring that he is part of the interplay, he drives ever deeper the idea that everyone on the pitch are 'one'."
Many observers wondered what Joe Hart made of it all as he watched from his new home in Turin. Most believed he would have found Bravo's problems amusing, that was until Hart suffered an equally nightmarish debut for his new club, Torino, 24 hours later.
Like Bravo, the England man dropped a cross to gift opponents Atalanta a goal and was beaten by a late penalty as his new club lost, leaving Jonathan Liew of the Daily Telegraph to ruminate on Hart's fall from grace.
"From the adoring bosom of east Manchester and its familiar songs, to the stark terraces of northern Italy and a crowd of under 15,000, most of them Atalanta fans screeching and jeering his every touch. It was as if he had fallen asleep in April and woken in September, in the middle of a strange and surreal nightmare," he says.
Guardiola draws first blood as Man City beat Mourinho's Man United
10 September
Pep Guardiola claimed first blood as his rivlary with Jose Mourinho landed in the Premier League and his Manchester City side beat United 2-1 in a thrilling encounter at Old Trafford.
Kevin de Bruyne was the star of the show as he opened the scoring, set up the second goal and almost added a third when he hit the inside of the post in the second half.
But Guardiola was given food for thought as his new first choice goalkeeper Claudio Bravo made an erratic debut in which he presented United with a goal when he dropped a cross, and was lucky not to give away a penalty after trying to play his way out of the box.
City were the better of the two teams in the first half and took the lead after 15 minutes when De Bruyne nicked in front of a statuesque Daley Blind to capitalise on a knock-down from Kelechi Iheanacho and go through on goal.
Twenty minutes later Iheanacho made it two, when he tapped home from five yards after De Bruyne hit the post.
City were dominating United with two-thirds of possession, but Bravo let United back into the game when he dropped a cross and Zlatan Ibrahimovic volleyed home from 15 yards just before half time.
Mourinho brought on Ander Herrera and Marcus Rashford at half time and his side were a totally different proposition after the break. But despite peppering the City box they failed to find the breakthrough, although they were unulucky not win a penalty when Bravo played himself into trouble in the box.
The goalkeeper rounded Ander Herrera but almost presented the ball to Rooney and slid in studs first on the England captain. It looked a clear penalty and possibly a red card but somehow the Chilean keeper escaped punishement.
As the half wore on City recovered their poise and began to push for a third goal as they hit United on the break. It made for a breathless finale, but in the end neither side could find the net, although De Bruyne went closest when he hit the post for a second time in the match.
United manager Mourinho was at a loss to explain why Bravo was not penalised for the foul on Rooney, but said his team had not been good enough in the first half. He appeared to single out Henrikh Mkhitaryan and Jesse Lingard, who were hauled off at half time, saying: "Sometimes players disappoint managers."
However, he said he was at fault for his team selection.
Guardiola, meanwhile, claimed he was "delighted" with the performance of Bravo, praising him for the way he recovered after the mistake that gave Ibrahimovic the goal.
FULL TIME: Manchester United 1 Manchester City 2. City survive for a famous and ultimately deserved victory. It was a great game and there is even a brief embrace between the two managers as Guardiola strides onto the pitch to celebrate and Mourunho stalks off towards the tunnel.
95 mins: Anotehr mistake from Bravo almost gifts Pogba a chance, but Stones clears. And that's it!
94 mins: Rooney launches a free kick into the box and its pinball in the box. Zabaleta finaly heads clear but United will have one last chance with another free kick.
92 mins: Mourinho looks glum on the touchline, Guardiola is gesticulating wildly. Ibrahimovic has a shot deflected JUST wide. Bravo flaps at the corner but wins a free kick.
Five minutes injury time. Can United find an equaliser in Fergie time?
88 mins: Desperate stuff from United. Rooney has the ball nicked off his head as he tries to get on the end of an Ibrahimovic knock down. Pogba tries to turn in the box and is muscled out of it, and then De Bruyne releases the pressure.
Rashford charges the City box but slips. Time is running out for United as Zabaleta comes on for De Bruyne.
85 mins: Chance for United! Rooney goes through but can't get the ball from under his feet and he is forced wide. Then City break and Fernandinho is thwarted by a last-ditch tackle from Bailly.
Grandstand finish in store at Old Trafford.
82 mins: Bravo dwells on the ball in the City box yet again, and Rooney goes in hard on the keeper, but only picks up a booking. Bravo has been playing with fire all game.
81 mins: Suddenly it's City back in control and that has a lot to do with De Bruyne's increasing influence. Ibrahimovic resorts to coming into his own half to retrieve the ball but United cannot get forward at the moment.
Martial comes on for defender Luke Shaw. Mourinho is going for broke.
78 mins: United are pouring forward but look likely to get hit on the break. First Nolito is offside and then another break ends with De Bruyne brought down on the edge of the box. But his free kick is over.
United are bringing on their final substitute - Anthony Martial is about to make his entrance.
75 mins: We've got a game on now. United win a series of corners but can't fashion a clear cut chance and then City break. Sane feeds De Bruyne whose shot hits the inside of the post and dribbles along the goal line to safety. Incredible chance.
70 mins: Things are hotting up.
United score but it's ruled out. Rashford won the race for a long ball and charged into the box where he got off a shot under pressure from Stones and Otamendi. It was goal-bound but took a deflection off Ibrahimovic who was in an offside position.
De Gea makes a brilliant save to keep United in the match. Fernandinho got in a shot from a well worked set piece and the keeper saved to his left and scrambled to block the follow up from Otamendi. Brilliant goalkeeping.
66 mins: Ibrahimovic has yet another chance as Fellaini knocks down a long ball. But the big Swede could not get over the ball and the effort flies over. United are still just about on top but some of the wind has gone out of their sails and time is now against them.
62 mins: Bravo collects a free kick cleanly, but his throw is straight to a United player. City get the ball back and Sane is taken out with a big tackle from Marcus Rashford - welcome to the Premier League.
60 mins: One City debutant, Bravo, is having a bit of a nightmare but here comes another as Leroy Sane replaces Raheem Sterling. How will the young German fare?
56 mins: Bravo messes up again. Is the City keeper a liability? He tries to show off his footballing skills in the box, but loses control and ends up going in studs up on Rooney. He just about wins the ball and United's appeals for a penalty are waved away. But he was very lucky there. Guardiola must be having palpitations.
55 mins: City have managed to reassert some control here, but they are jabbing United rather than landing punches.
50 mins: United may be 2-1 down but Old Trafford can smell blood. There will be no dropping off now for Mourinho's side. They are scrapping for everyhing here. Ibrahimovic is booked for a trip on Otamendi and Fellaini joins him in the book soon after for a stray elbow.
The temperature is rising here and there could be a lot more drama to come.
48 mins: It's all guns blazing for United, as Ibrahimovic fires over again. He has had three chances already in the second half.
Mourinho must have put a rocket up them at half time, as they are a different team now. They had 35% possession in the first half but it's all United now.
46 mins: Here we go again. And United are straight onto the attack, Rashford charges down the left and tees up Ibrahimovic in the middle, but he skies his effort. What a start to the half!
Substitutions: Mourinho has rolled the dice at half time. Ander Herrera and Marcus Rashford are on, replacing Henrikh Mkhitaryan and Jese Lingard.
United will have a front three of Rooney, Ibrahimovic and Rashford.
HALF TIME: Manchester United 1 Manchester City 2. The Manchester derby lived up to expectations as the first Premier League clash between Jose Mourinho and Pep Guardiola served up three goals in the first 45 minutes and left huge question marks over new City keeper Claudio Bravo, who is making his debut.
City started the better of the two teams and took the lead after 15 minutes when De Bruyne nicked in front of a static Daley Blind to latch onto a long ball. The Belgian left the Unitd defender for dead and sent David de Gea the wrong way to make it 1-0 to the visitors.
City were in total control for the next 20 minutes and made it 2-0 after 36 minutes, when De Bruyne hit the post and Iheanacho tapped in from five yards.
United looked done and dusted but a terrible error from Bravo let them back in as he fumbled a cross that he did not need to come for, presenting the ball to Zlatan Ibrahimovic who fired home from 15 yards.
Ibrahimovic then saw a header saved and had a shot cleared off the line after another mix-up involving Bravo as the half came to a dramatic conclusion.
Both managers will have issues to address at half time, while the fans will hope the second half is as good as the first.
46 mins: Can Claudio Bravo handle the Premier League? Another mix up in the box leaves Ibrahimovic with the ball at his feet and no keeper to beat, but his snap shot is weak and John Stones clears. Phew! What and end to the first half.
45 mins: United are flying all of a sudden! Bailly is booked but United break and a cross from Rooney is met firmly by Ibrahimovic but Bravo stops the header. And we have an end to end classic on our hands as half time approaches.
42 mins: 42 mins: GOAL!! Man Utd 1 Man City 2. GOAL!! United are back in it. Ibrahimovic scores after a terrible error from debutant keeper Bravo!
You could forgive Joe Hart a sly grin as his replacement fumbles a cross and the ball drops for Ibrahimovic who does brilliantly to volley home through a crowd of players to make it 2-1. That was the first real test for Bravo who failed miserably. He can play with his feet but he can't catch!
39 mins: Mourinho is being taken apart by Guardiola here, and Old Trafford is deathly quiet. The Special One will have to give one hell of a team talk at half time and make some major changes to his team. Is it time for Marcus Rashford already?
36 mins: GOAL!! Man Utd 0 Man City 2. Iheanacho scores to double the lead. De Bruyne was given time and space in the box and fired in a low shot that came back off the post to the Nigerian teenager who fired home from five yards. Was he offside? No.
34 mins: De Gea is called into action as he dives at the feet of Iheanacho to collect a cut back from Sterling. City could and should have a bigger lead. Will they live to regret not finding the killer blow in the first half hour?
31 mins: City attack down the left yet again and Nolito and Fellaini, trying to help Valencia out, get involved in quite a scrap. The United man eventually clears the ball but there is some afters between the pair and once again Clatternburg steps in. Fellaini appeared to put his head in there.
28 mins: After his clash with Guardiola, Rooney seems fired up and he flies into two tackles outside the City box, leaving Fernandinho in a heap. The referee steps in again but there is no booking.
And while United huff and puff City continue to pass and move nicely. Since going ahead they have had two thirds of the possession.
24 mins: Touchline drama! Wayne Rooney clashes with Giardiola on the touchline. The Spaniard picked up the ball and wouldn't give it back to Rooney who ends up grappling with the City manager. Ref Clattenburg steps in to cool things down.
Then Sterling goes down in the box as he tried to dance round Blind, who stood his ground.
For United Mkhitaryan is seeing a lot of the ball and doing very little with it.
21 mins: United have tried to rouse themselves after that setback but cannot penetrate the City defence. The visitors, meanwhile, continue to ping the ball around nicely, with Nolito, Silva and De Bruyne feeding off each other.
15 min: GOAL!! Man utd 0 Man City 1. De Bruyne scores for City. Big questions over Daley Blind as he hesitates coming for a long ball and De Bruyne nicks in front of him and goes through on goal, He makes no mistake in a one on one with De Gea and slots home. First blood to Guardiola!
That was not exactly a Guardiola type goal. It came from a huge long ball from Sagna, which was flicked on by Iheanacho and tucked away by De Bruyne, who's cool finish left De Gea with no chance.
13 mins: City really are on top here, and De Bruyne almost threads a ball through to Iheanacho, but he is muscled off the ball by two defenders in the box. The movement up front is impressive and Sterling almost springs the offside trap, but the flag gos up.
10 mins: Bailly flattens De Bruyne 25 yards from goal on the left of the box. Big chance for City but Kolarov's effort flies high and wide.
7 min: First chance for United who counter attack with Rooney storming through the middle and feeding Mkhitaryan. He pulls it back for Pogba but he fires over from 25 yards.
4 mins: De Bruyne does well down the left channel again to win City the first corner of the match, but David Silva's delivery is cleared. City are on top n the early exchanges, with Man United forced into some Row Z clearances.
3 min: There's some crisp passing from Pogba and Mkhitaryan in midfield as United build. They are a physically imposing team. But it comes to nothing and City attack and a De Bruyne fires in a low cross that Iheanacho fails to get a touch on. Luke Shaw was swamped down the left then.
1 min: Mark Clattenburg blows and City kick off at Old Trafford. We are underway in the biggest game of the season so far.
12.27: The teams are out, with Wayne Rooney leading out United and David Silva wearing the City armband.
The two managers embrace on the touchline! A cessation if hostilities? We'll find out in a few seconds.
12.20: Jose Mourinho and Pep Guardiola have named their teams for the first Manchester derby of the season and their first meeting as Premier League managers.
Claudio Bravo will make his debut for Manchester City at Old Trafford, with Pep Guardiola also picking teenage striker Kelechi Iheanacho up front.
In defence for City Bacary Sagna returns in place of Pablo Zabaleta. Leroy Sane could also make his City debut from the bench.
Jose Mourinho has sprung something of a surprise picking Henrikh Mkhitaryan and Jesse Lingard in place of Juan Mata and Anthony Martial. There is no place in the starting line-up for Marcus Rashford who starts on the bench.
United: De Gea, Valencia, Bailly, Blind, Shaw, Fellaini, Pogba, Mkhitaryan, Rooney, Lingard, Ibrahimovic. Subs: Romero, Smalling, Herrera, Mata, Schneiderlin, Martial, Rashford.
City: Bravo, Sagna, Otamendi, Stones, Kolarov, Fernandinho, De Bruyne, Silva, Sterling, Nolito, Iheanacho. Subs: Caballero, Zabaleta, Clichy, Fernando, Garcia, Navas, Sane.
Mourinho vs Guardiola: Seven reasons why it really matters
9 September
The first big derby of the season arrives on Saturday and it promises to be a major event as local rivals Manchester United and Manchester City, the two biggest spenders of the summer, collide at Old Trafford.
The Manchester derby is always a headline affair but this one could eclipse everything that has gone before. This game does not just involve United and City, but also Jose Mourinho and Pep Guardiola, who will renew their poisonous rivalry in the Premier League. Everywhere you look there are big storylines.
Mourinho vs Guardiola
Understandably the first meeting between the world's most famous coaches has grabbed the headlines in the build-up to the game. The pair were once friends but fell out in spectacular fashion when Guardiola was in charge of Barcelona and Mourinho was at Real Madrid. The Spanish press even took to describing their feud as "The Disease" and now it has come to Manchester and the Premier League.
"Jose versus Pep is a match the Premier League has circled relentlessly, a thrillingly poisonous sibling rivalry entwined for the last eight seasons around Europe's grandest clubs," says Daniel Taylor of The Guardian. "And now at last it's ours."
So far the build-up has been civil but tension is mounting. "As the rivalry is transported to Manchester, the fascination lies not just in seeing who comes out on top but whether we are drawn back into those moral arguments about the right way to play the game," says Matt Dickinson of The Times.
United vs City
Mourinho and Guardiola's history stretches back to the 1990s when they were colleagues at Barcelona. But the rivalry between United and City goes back 135 years. The two teams first met in 1881 when West Gorton, which would become Manchester City, hosted Newton Heath, which later became United. The result was a 3-0 win to Newton Heath.
Their first league meeting came in 1894, when Newton Heath again won 5-2 against Manchester City. Since then there have been 171 meetings. City have 49 to United's 71, with 51 drawn.
Ibrahimovic vs Guardiola
City boss Guardiola will not only have to face his nemesis Mourinho, but will also be up against United striker Zlatan Ibrahimovic, who once branded him a "spineless coward". Guardiola signed Ibrahimovic from Inter Milan (coincidentally managed by Mourinho at the time) when he was at Barcelona but the two did not get on. Ibrahimovic chronicled their fall out in eye-watering detail in his autobiography, I Am Zlatan.
"By the end Ibrahimovic does not even want to use Guardiola's real name. Instead he calls him 'the philosopher', with barely disguised contempt," says Daniel Taylor of The Guardian. "He has used that tag ever since and nobody should be in any doubt how fired up he will be against his old coach this weekend."
Ibrahimovic has remained true to form in the build-up to the match and has gone on the record to praise Mourinho. "He's not a coach that goes behind your back," he said this week.
Rashford vs Iheanacho
Not only is Guardiola up against Mourinho and Ibrahimovic he is also without his star striker Sergio Aguero, who is currently serving a ban for elbowing West Ham defender Winston Reid. That though could serve to tee up another mouthwatering storyline.
City may well choose to start with Kelechi Iheanacho up front, the Nigerian teenager who burst onto the scene last season. And he could be up against another young superstar in the form of Marcus Rashford who has made even more of an impact since breaking into the Man United team, and scored a stunning hat-trick for England Under-21s this week.
They are "the brilliant teenage strikers who could decide the Manchester derby", says The Sun. "Both are regarded among the best young talents coming through in the Premier League, and they could have a major say in who comes out on top on Saturday when United and City square-up."
Battle of the chequebooks
Iheanacho and Rashford cost their club's nothing, which cannot be said of most of the players on Saturday.
"For all the inevitable focus on the geniuses in direct conflict in the respective dugouts, the one record that Saturday's Manchester derby is certain to break is for the two most expensive starting line-ups, which at a total of just under £600m are set to make it the most expensive match in history," says Oliver Kay of The Times.
The starting line-ups are expected to include at least six of the 12 most expensive signings recorded in England, including United's world record signing Paul Pogba.
100 per cent records
It may be early in the season but the match could turn out to be crucial to the title race. United and City both have 100 per cent records going into the match, but one of those records will fall.
Arsenal manager Arsene Wenger believes the game could turn out to be critical. "The two teams have started well so it will have more psychological impact than mathematical impact," he told the Daily Mail. "You could say the team that wins will straightaway be branded as the favourites to win the Premier League in May. It is a bit early. But it will be interesting to watch."
Record audience
The game kicks off at 12.30pm on Saturday, which is not the most glamorous slot of the weekend as far as domestic fans are concerned. But it could mean a record global audience.
The lunchtime kick off means that the action will take place "between breakfast and bedtime in virtually all of the 190 countries in which the Premier League is shown... helping bring it to the largest possible number of fans", says the [8]Daily Telegraph. That means it is "poised to capture the largest possible worldwide audience for the game between United and City at Old Trafford, which is being televised from New Zealand to the United States and almost everywhere in between".
The paper reports "unprecedented interest in the fixture".

Continue reading for free
We hope you're enjoying The Week's refreshingly open-minded journalism.
Subscribed to The Week? Register your account with the same email as your subscription.