What next in the Post Office scandal?
First set of victim hearings launches public inquiry into decade-long miscarriage of justice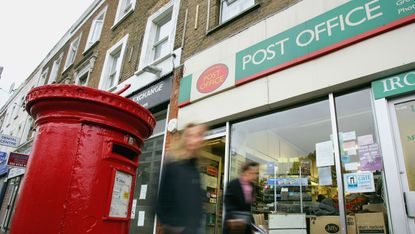 A public inquiry examining the wrongful convictions of hundreds of sub-postmasters and mistresses – described as the UK's most widespread miscarriage of justice in history – finally began this week.
A total of 736 sub-postmasters were wrongly accused of theft, fraud and false accounting between 2000 and 2014 – an average of one a week. The prosecutions were based on information from a Fujitsu computer system called Horizon, which was installed by the Post Office in its branches in 1999.
Bugs in the software meant that it falsely reported shortfalls running into thousands of pounds. This was down to a "hopelessly stupid programming mistake", said Tim Worstall on CapX. If the internet connection dropped out when a transaction was being sent, "which wasn't unusual back in the 90s", and a postmaster re-sent it, Horizon would log it as a new transaction and over-calculate the amount of money collected.
Subscribe to The Week
Escape your echo chamber. Get the facts behind the news, plus analysis from multiple perspectives.
SUBSCRIBE & SAVE
Sign up for The Week's Free Newsletters
From our morning news briefing to a weekly Good News Newsletter, get the best of The Week delivered directly to your inbox.
From our morning news briefing to a weekly Good News Newsletter, get the best of The Week delivered directly to your inbox.
Turned life 'upside down'
The Post Office ignored evidence of IT errors and mounted prosecutions against countless innocent people. One was Harjinder Butoy, who ran the post office in Sutton-in-Ashfield, Nottinghamshire, with his wife. Butoy was sentenced to three years and four months in jail for stealing £208,000 – and didn't have his wrongful conviction overturned in the High Court until 2021.
Speaking about the public inquiry, Butoy told the BBC that he wanted to see "someone on the other side to be charged and jailed like I was".
Under suspicion, some desperate postmasters tried to compensate for the system's mistakes using their own money, even mortgaging their homes to do so. Many were shunned by their communities, who believed them untrustworthy, while others struggled to find new work.
Baljit Sethi, who ran a post office in Essex for 22 years, told the inquiry that the software error turned his life "upside down". At one stage he contemplated suicide because he felt like a "failure" for being financially unable to help his children through university, reported the FT.
One wrongly accused postmaster, Martin Griffiths, took his own life in 2013.
Concerns raised
For decades, MPs, journalists and campaign groups including the Justice for Sub-postmasters Alliance (JFSA) have raised concerns about this miscarriage of justice.
In 2015, Private Eye reported that the Post Office ordered investigative firm Second Sight to terminate their independent inquiry into Horizon just one day before the report was due to be published. In the same year, it scrapped the independent committee overseeing the investigation.
In 2017, the JFSA took the Post Office to court through a group litigation action by 550 former employees, mainly made up of ex sub-postmasters. It wasn't until December 2019 that the Post Office agreed to settle the case and accepted it had previously "got things wrong", said the BBC.
The Post Office agreed to pay almost £58m to settle the dispute and 51 cases were referred back to the courts by the Criminal Cases Review Commission. Days later, a High Court judgement said that the Horizon system was not "remotely robust" for the first ten years of its use.
In a series of rulings last year, the convictions of 72 former sub-postmasters were quashed, with more expected to go through the court of appeal. According to The Telegraph, the Horizon scandal could end up costing the taxpayer more than £350m in compensation payments.
Public inquiry
The first set of victim hearings for the public inquiry into the scandal began on Monday and will continue in London, Cardiff and Leeds until March. They are also being live-streamed on YouTube.
The victims "fought hard" for this public inquiry to be given statutory status with "the power to call witnesses under oath", said Computer Weekly. The government had "originally initiated a non-statutory" inquiry, which the former sub-postmasters described as a "whitewash".
Who could be held accountable?
So far, nobody at the Post Office nor Fujitsu has admitted liability for the scandal. The two organisations have blamed each other for failings in the Horizon computer software.
Former Post Office chief executive Paula Vennells is now likely to come under the spotlight. Vennells, an ordained Anglican priest, held the post between 2012 and 2019, "a period when many subpostmasters suffered at the hands of Horizon", said Computer Weekly.
According to The Guardian, when Vennells stepped down in February 2019, she "walked away nearly £5m richer". In 2018, she had been awarded a CBE for "services to the Post Office and to charity".
It's unlikely Fujitsu will get off lightly either. In November 2021, Computer Weekly reported that two former Fujitsu workers had been interviewed by the Met for the second time. Both workers were under investigation for potential perjury during sub-postmaster trials.
In a letter to the Director of Public Prosecutions, a High Court judge said he had "very grave concerns regarding the veracity of evidence given by Fujitsu employees to other courts in previous proceedings about the known existence of bugs, errors and defects in the Horizon system".
Questions have also been raised about the lawyers who executed the Post Office's decision to prosecute hundreds of sub-postmasters. "Generally, lawyers are obliged to follow the instructions of their client and bear no moral or other responsibility for the outcome, but is there a point at which they too can be held to account?" asked Richard Moorhead in The Times.
Compensation for victims
It was announced last July that sub-postmasters wrongly convicted of offences would get interim compensation of up to £100,000. For members of the JFSA, this has worked out to just £20,000 in compensation, due to legal fees.
Post Office bosses pledged on Monday that all victims would receive compensation offers by the end of the year and confirmed that around 900 of 2,300 applicants have already been made an offer, said the Daily Mail.
"Ensuring compensation is made as quickly as possible is a priority for Post Office," said chief executive, Nick Read. "Whilst we cannot change the past, this is an important step towards meaningful compensation for victims and we will offer payments as soon as possible."
When the Post Office said last December that it could not afford the multimillion-pound cost, the government confirmed it would step in with taxpayer money. The total compensation bill is expected to exceed £1bn.

Continue reading for free
We hope you're enjoying The Week's refreshingly open-minded journalism.
Subscribed to The Week? Register your account with the same email as your subscription.