University life in the UK and US compared
Studying in the UK offers proximity to home, while US institutions tend to offer broader curriculum options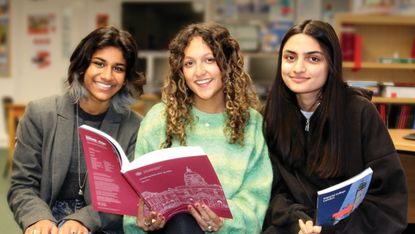 Sign up to our 10 Things You Need to Know Today newsletter
A free daily digest of the biggest news stories of the day - and the best features from our website
Thank you for signing up to TheWeek. You will receive a verification email shortly.
There was a problem. Please refresh the page and try again.
Is it best to study in the UK or head overseas? Our experts, David James and James Dahl, discuss the respective benefits of each in an article first published in The Week's Independent Schools Guide.
In praise of UK universities
Given what our sixth form students have lived through in recent years it would be perfectly understandable if many decided that they wanted to study at an overseas university. The opportunity to spread their wings and explore the world is an appealing prospect. And the United States, with its shared language, familiar culture and excellent universities, is undoubtedly growing in popularity for British students.
But UK universities are still the most attractive option for sixth formers – and are likely to remain so for the foreseeable future. You only have to look at the numbers: compared to the 10,000 UK students who are studying in the US there are over two million students from the UK studying in this country. Indeed, since Brexit, it seems the tide of students has been coming to the UK from the US, not the other way round, with a 50 per cent increase in applications from American students to study at British universities.
Subscribe to The Week
Escape your echo chamber. Get the facts behind the news, plus analysis from multiple perspectives.
SUBSCRIBE & SAVE
Sign up for The Week's Free Newsletters
From our morning news briefing to a weekly Good News Newsletter, get the best of The Week delivered directly to your inbox.
From our morning news briefing to a weekly Good News Newsletter, get the best of The Week delivered directly to your inbox.
Why might this be? Well, despite facing many challenges over recent years, including the rising cost of living and increased demands on accommodation, students at British universities remain overwhelmingly satisfied with their courses. In a recent survey 80 per cent of respondents agreed they were happy with the teaching on their course, 81 per cent were happy with their learning resources and 79 per cent were happy with their learning opportunities.
Not only that, UK universities are trying to widen access so that students who come from backgrounds which have not traditionally attended higher education have increased: the entry rate of state school students in England who were in receipt of free school meals has gone up from 13 per cent to nearly 21 per cent in the last decade.
The familiarity that schools have with the application process is also valuable. At Lady Eleanor Holles School nearly 90 per cent of our students achieved their first choice university. We are a selective school, and our students are academically strong, but such success comes also from the deep experience staff have with the UCAS process. The application process is much more straightforward for UK universities: one UCAS form allows you to apply for five universities whereas US universities require a different application for each course.
All this would not count for much if graduates from UK universities saw no advantages in having studied for three to four years when they enter the job market. But the evidence shows that if you have a degree from a British university you are going to be, on average, about £10,000 better off than if you did not have a degree. The median salary for graduates is now £36,000 and employment rates are up to 86.7 per cent. If you want to earn a high salary and remain employable, then a degree is central to achieving this.
Of course, such advantages are not limited to attending British universities: graduates from American universities will be advantaged in many different ways and, depending on the disciplines they've studied, will also be in high demand from employers who want the best new talent.
But I would argue that it is the intangibles that prove so attractive to students who are contemplating their post-sixth form studies. These don't show up in government (or university) statistics but matter a great deal. It is reassuring to know that the path most travelled is a familiar one to students from your school: if, as an aspiring history student you know of eight or nine former students from your school who are also studying that subject at a particular university, and are happy doing so, then that matters. As does proximity to home: even with international travel, getting from New England to old England is going to be more demanding and more expensive – than hopping on a train to go home for a weekend to see your family. It also helps that students can visit UK universities for open days before deciding which one works best for them. Such social networks, particularly at such an emotionally intense period in any young person's life, can be invaluable.
UK universities are, by any objective measure, some of the best in the world. They employ many of the world's leading academics and are involved in cutting-edge research, with significant commercial and government funding behind them. Even with Brexit the UK is ideally located for Europe and the Middle East – major destinations for graduates wanting to work outside the UK once they have finished their studies.
The US has many outstanding universities which will appeal to a small number of UK students. But, taken as a whole, the UK continues to cover not just world-class facilities and opportunities, but also the reassurance of the familiar. In an increasingly uncertain world this security, at this stage of a student's life, should never be underestimated.
David James, Deputy Head, Lady Eleanor Holles School
The benefits of US universities
Over the past ten to 15 years an ever-increasing number of our pupils have sought to attend US rather than UK universities, with around 10 per cent of our leavers heading across the Atlantic each year. It is a similar story at many schools. With over 4,000 different options available, ranging from small liberal arts colleges to vast state universities, the breadth of choice is staggering. And these are highly respected institutions: on the annual QS World University Rankings, the US holds 17 of the top 50 spots, more than any other country.
Many are attracted by the broader curriculum options which enable them to study economics alongside physics and literature in their early undergraduate years. This appeals to those who do not wish to narrow their options aged 18. Unsurprisingly, two-thirds of our pupils who have gone to the US over the past decade have studied the broader International Baccalaureate (IB) Diploma programme in the sixth form instead of the narrower A level pathway.
That said, the US route is readily accessible for A level students too and the prospect of both small class sizes and more personalised academic programmes really sets the US experience apart from many of the offerings at similarly ranked UK institutions, aside from Oxford and Cambridge, with their tradition of small group tutorials and supervisions.
Others find the American admissions process more appealing, with greater emphasis placed on the individual – their academic passions, interests and achievements as well as their broader contributions in activities such as volunteering and sport, performing arts and charity work, all of which play an important role in developing all-round character. Quite simply, the process looks and feels less myopic than the UCAS system where – let's be honest – many universities, including our most selective, pay little attention to the personal statement and are simply uninterested in anything beyond grades.
With most US colleges offering vibrant campus life, including a plethora of societies and clubs, opportunities abound to get involved in everything from drama to debating, from singing ensembles to sports activities. It is a rich educational experience for the mind, body and soul. It is also an experience that comes with a hefty price tag, which can be off-putting for many at first sight. However, with so many institutions offering an extensive range of very generous scholarships, some covering 100 per cent of the fees, there is a level of financial aid available which simply does not exist in the UK.
Many of our brightest sixth formers apply to both top UK universities and elite US colleges, with some trying Oxbridge and Ivy League at the same time. It is interesting to note that during my ten years at Wellington College, we have had students most years being offered places at Ivy League and Oxbridge – and every one of them has opted for the US. The brain-drain which many educational commentators identify is a genuine phenomenon.
The US, however, is not for everyone and many of our UK institutions have adapted their provision to offer a more appealing experience for our young school leavers. There has been huge growth in liberal arts courses over the past decade and many institutions, most notably Bath, are making industry placements a mandatory part of undergraduate courses, developing skills and increasing employability as well as offering undergraduates opportunities to earn as they learn.
The degree apprenticeship route still has great potential to offer a compelling alternative route to school leavers who do not wish to go to formal university in the UK and to be saddled with the associated student debt. With the recent news that university tuition fees in England will continue to be frozen for the next two years, the cost of an undergraduate course at most universities in the UK, when compared to the US, remains better value in pure economic terms. This is a significant factor for many.
We must also not forget that UK universities are one of our great educational success stories, the envy of many around the world. This is why so many of our institutions have been able to open satellite campuses in many different global regions; it also explains the sheer number of international students who want to come to the UK to complete their undergraduate studies. There are only 160 or so universities in the UK but many of them feature in those same QS World University Rankings I mentioned before, with Oxford, Cambridge, Imperial and UCL all in the top ten. Not bad for a small island off the coast of Europe.
James Dahl, Master, Wellington College