The Holodomor: Ukraine's other significant anniversary
The famine killed nearly four million people, stripped the country of it's independence, and still was denied by the Soviet Union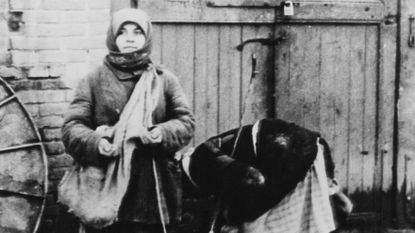 (Image credit: Photo by Daily Express/Hulton Archive/Getty Images)
Sign up to our 10 Things You Need to Know Today newsletter
A free daily digest of the biggest news stories of the day - and the best features from our website
Thank you for signing up to TheWeek. You will receive a verification email shortly.
There was a problem. Please refresh the page and try again.
While the World marked the first anniversary of Russia's invasion of Ukraine last week, this year also marks the 90th anniversary of another Ukrainian tragedy, the Holodomor genocide.
A famine that killed nearly four million people, stripped Ukraine of it's independence, and still was denied by the Soviet Union.
Why is this still so significant?
A man-made famine ravaged the Ukrainian Soviet Socialist Republic from 1932 to 1933, killing several million people. While it was officially denied by the Kremlin for more than 50 years, it "dramatically changed Ukrainian society and culture, leaving deep scars in the national memory", writes Serhii Plokhy, the eminent Ukrainian historian.
Subscribe to The Week
Escape your echo chamber. Get the facts behind the news, plus analysis from multiple perspectives.
SUBSCRIBE & SAVE
Sign up for The Week's Free Newsletters
From our morning news briefing to a weekly Good News Newsletter, get the best of The Week delivered directly to your inbox.
From our morning news briefing to a weekly Good News Newsletter, get the best of The Week delivered directly to your inbox.
It is known as the Holodomor, derived from the Ukrainian words for "hunger" (holod) and "killing" (mor) – and it has long been a matter of dispute between modern Ukraine and Russia. Ukraine officially declared the famine a genocide in 2006, and has lobbied the international community to do the same. Twenty-four countries have done so, including, in recent months, Germany, Ireland, Romania and Bulgaria.
How did the famine come about?
In 1928, Joseph Stalin decided that the USSR's survival depended on rapid industrialisation. His first Five-Year Plan decreed that private landholdings should be merged into collective farms, run on communist lines; increased production would feed factory workers and excess grain would be sold abroad, generating funds for industrial investment. In fact, resistance from the peasantry to land confiscation, along with poor planning, led to smaller yields.
The Soviets responded by accusing the kulaks (landowning peasants) of sabotage and grain hoarding. They were deemed class enemies, and many were killed or sent to the gulags. When poor harvests led to widespread hunger in the early 1930s, Stalin doubled down, trying to meet optimistic quotas by seizing peasants' food supplies. The famine devastated grain-producing regions of the USSR: an estimated 5.7 to 8.7 million people died of starvation and linked diseases between 1930 and 1933.
Why was Ukraine particularly affected?
A quarter of the world's most fertile soil is in Ukraine, which has been famous as a grain exporter since antiquity. The Bolsheviks relied heavily on its grain, but they also deeply distrusted Ukraine.
After the Russian Revolution in 1917, an independent republic was declared in Ukraine, and a complex series of vicious conflicts were fought during the Russian civil war, before it became part of the USSR in 1922. As a grudging compromise, the Soviets adopted "Ukrainianisation": support for its language and a measure of cultural independence.
But when Stalin targeted Ukraine for rapid collectivisation, many peasants resisted, some violently. The Soviets blamed this resistance, and crop failures resulting from Stalin's policies, on nationalist feeling: Ukrainian communists and intellectuals were blamed, and the Soviets renewed their determination to extract as much grain as possible from Ukraine.
What effects did this have?
The harvest of 1932 was poor, but state requisition targets were kept very high. When Ukrainian party leaders told Moscow that fulfilling the targets would mean mass starvation, they were classified as enemies and killed or imprisoned. As people began dying in spring 1932, requisitions proceeded, taking what the peasants needed to survive the winter, and even their seed corn for the next year.
In August, Stalin criminalised taking even a single grain of wheat from a collective farm. Party cadres toured the countryside searching out and confiscating any food as "fines". Ukrainian peasants were banned from leaving the republic and from travelling to cities. Areas that didn't meet grain targets were blacklisted, and cut off from the Soviet economy. Mass deaths began, on an almost unimaginable scale, in early 1933; Kyiv and Kharkiv provinces each recorded more than one million deaths.
How did the world react?
The Soviets denied throughout that a famine was taking place. A handful of foreign journalists reported on it, but most were successfully discouraged from doing so. Foreign nations made no interventions. Discussion of the famine was forbidden in the USSR until the 1980s, and its memory was mostly kept alive by Ukrainian émigrés, whose accounts of mass starvation – of peasants dying in the streets, and widespread cannibalism – were so horrifying that they were sometimes dismissed as Cold War propaganda. Even the opening of the Soviet archives hasn't answered every question.
Death counts, estimated at 3.5 to five million people in Ukraine alone, or around 10% of its population, have had to be deduced because the data was falsified: when the 1937 census revealed drastically reduced population figures, Stalin had the statisticians responsible arrested and shot.
Were Ukrainians singled out for persecution?
Certainly: Stalin imposed the most brutal collectivist policies on Ukraine; he also purged its political leaders, and reversed "Ukrainianisation" by having Ukrainian-language schools and publications closed.
Ukrainian farmers elsewhere in the USSR, for instance in the Kuban region of the north Caucasus, were affected more than their neighbours. However, other parts of the Soviet Union, such as Lower Volga and Kazakhstan, suffered comparably.
Was it a genocide?
Raphael Lemkin, the Polish-Jewish lawyer who coined the word in 1944, described the Ukrainian famine as "the classic example of the Soviet genocide". But under the terms of the 1948 UN Genocide Convention, it possibly doesn't qualify: there has to be an "intent to destroy, in whole or in part, a national, ethnical, racial or religious group".
Anne Applebaum, in her history Red Famine, argues that the Holodomor doesn't entirely conform to that. The issue has become deeply politicised: in Russia today, the famine is seen as a "pan-Soviet tragedy" and talk of genocide is regarded as a provocation. Settling the issue is perhaps unnecessary, argues the Yale historian Timothy Snyder. Either way, it is "one of history's great political atrocities".
Continue reading for free
We hope you're enjoying The Week's refreshingly open-minded journalism.
Subscribed to The Week? Register your account with the same email as your subscription.
Sign up to our 10 Things You Need to Know Today newsletter
A free daily digest of the biggest news stories of the day - and the best features from our website