Piers Corbyn: the weather forecaster and conspiracy theorist who 'defies categorisation'
Jeremy Corbyn's brother is a leading anti-vaccination campaigner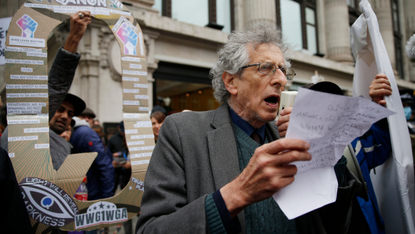 (Image credit: Hollie Adams/Getty Images)
Former Labour leader Jeremy Corbyn has not always seen eye to eye with his older brother Piers, as was seen at a party conference fringe event this week.
Piers began "shouting and refused requests to leave" at the radical-left World Transformed event at which his brother was a panellist, The Guardian reported. And when asked if Jeremy would be upset by the disruption, Piers apparently said "I don't care".
It comes two months after the "eccentric disseminator of anti-vaccine materials" did his "best to steal his borther's thunder" as the MP protested in Downing Street for a 15% pay rise for health workers, said The Spectator's Steerpike.
Subscribe to The Week
Escape your echo chamber. Get the facts behind the news, plus analysis from multiple perspectives.
SUBSCRIBE & SAVE
Sign up for The Week's Free Newsletters
From our morning news briefing to a weekly Good News Newsletter, get the best of The Week delivered directly to your inbox.
From our morning news briefing to a weekly Good News Newsletter, get the best of The Week delivered directly to your inbox.
Piers could be heard shouting "no more lockdowns" and "end the Covid con". "With brothers like these, who needs enemies?" asked the gossip columnist.
Early life
"[Piers] Corbyn says that the day he was born, March 10, 1947, nature put on a spectacular show," wrote Tom Standage in Wired, after interviewing him in 1999. "One of the largest sunspots ever recorded had appeared on the sun."
It was an apt arrival for the future long-range weather forecaster.
One of four boys, he grew up in "bucolic bliss", said Tatler, first in Wiltshire, then Shropshire. He described himself as "very inquiring" as a child and would "ask questions that there weren't really answers for", said Standage. Surrounded by homemade meteorological tools including an anemometer and rain gauge, as a teenager he began keeping daily records of the weather.
Piers earned a scholarship to study physics at Imperial College London and graduated with a first. In 1979, he then began a master's in astrophysics at Queen Mary College, where he became interested in the link "between solar activity and terrestrial weather", said Standage. By observing the activity of the sun, he believed he might be able to predict the weather months in advance.
He developed a formula for forecasting the weather months into the future, wrote Monica Porter in The Article. Then, in 1984, "a singular event changed the course of his working life", said The Observer. At the beginning of the year, the International Marxist Group (IMG) asked him to forecast how cold the weather would be in winter. The IMG was planning a strike and "they wanted to know whether it was going to be cold enough for the strike… to bring Britain to his knees", he told the newspaper. His prediction was correct, it proved to be an "unusually cold" winter.
Career
The Independent's Simon Usborne once said Corbyn "defies categorisation", but gave it a go anyway, describing him as "a left-wing physicist turned political activist and councillor, turned conspiracy theorist and maverick weather forecaster".
In the early days of his forecasting career, Corbyn and his girlfriend at the time "no doubt spent a lot of time looking anxiously at the sky", The Observer said. He had begun placing bets on his forecasts, which proved accurate enough that "it would pay the rent basically", he told the newspaper.
Businesses became interested in Corbyn's services, which he started to sell. In 1995 he formed WeatherAction, a long-range weather forecast firm based in southeast London that still operates today. Filmmakers, clothing retailers and petrochemical companies were among those who began relying on its forecasts.
An annual subscription costing "£24,000 and upward" in the late 1990s, with most services costing "anywhere between £480 and £6,000", according to Wired. An early customer of Corbyn's, who used the service to predict winter demand for electricity, told the magazine he "would put the success rate of Corbyn's forecasts in the excess of 70%".
The company faced an "uphill struggle" in winning new clients, partly due to "an outcry from mainstream meteorologists" fuelled by the mystery shrouding Corbyn's forecasting methodology. His "secret formula", he assured the magazine, is "locked safely away in case he gets hit by a bus".
But "adversity has only stiffened Corbyn's resolve", said The Observer. By 1997 "he had just become very rich indeed", said The Article's Porter. With "hundreds of clients", and a stint on the stock exchange, "the nutty professor and one-time scourge of the Establishment had morphed into a City tycoon". WeatherAction was on the stock exchange for two years before returning to private ownership.
When speaking to Porter around that time, Corbyn said that "he had no idea" what his brother Jeremy thought of his forecasting business, "as they hadn't been on speaking terms for years".
Controversy
Corbyn has "clashed" with his brother Jeremy over coronavirus and climate policy, The Telegraph reported. The elder Corbyn brother is often referred to as a climate change denier, and has been described as a "conspiracy theorist", said Tatler.
He has called Greta Thunberg an "ignorant, brainwashed child" and in 2018 he told LBC that the findings of an Intergovernmental Panel on Climate Change report were a "pack of lies". The report's conclusions, he said, were "anti-scientific nonsense based on fraud". Professor Stuart Haszeldine, a geoscientist, rebutted Corbyn's statements on the same programme, saying he was "on a different set of belief systems" to that of the forecaster. "I deal with facts and information."
Throughout the pandemic Corbyn has spearheaded demonstrations against coronavirus measures. A leading anti-vax campaigner in the UK, he reportedly described lockdowns as "against natural justice" at one gathering.
Corbyn was recently duped into accepting a £10,000 donation, of what transpired to be monopoly money, from a supposed AstraZeneca investor, which came with a request that more attention be focused on the Moderna and Pfizer vaccines instead of the Oxford-AstraZeneca. In response to the prank by YouTubers Josh Pieters and Archie Manners, Corbyn's nephew Tommy (son of Jeremy) tweeted "Piers is a tit".
Tommy had told the Evening Standard months earlier that though his uncle "can be a nightmare", the Corbyns were a "close family and we all get on". It seemed even a tier four lockdown couldn't keep the family apart over the Christmas period, when a video of the two speaking on the former Labour leader's doorstep emerged. The younger brother is seen nodding in response to Piers' view that "Covid stuff is being used as a cover to privatise the NHS".
Weeks later, in February 2021, Piers was arrested "on suspicion of malicious communications and public nuisance" after turning himself in to police over leaflets that compared the UK's Covid-19 vaccine rollout to Auschwitz, the BBC reported. The leaflets were illustrated with the Nazi concentration camp's gates, with the sign above reading "vaccines are safe path to freedom".
If familial ties had been repaired over the festive period, the latest spate of heckling may indicate the Corbyns are once again back at odds.

Continue reading for free
We hope you're enjoying The Week's refreshingly open-minded journalism.
Subscribed to The Week? Register your account with the same email as your subscription.