Barry Humphries obituary: cerebral satirist who created Dame Edna Everage
Actor and comedian was best known as the monstrous Melbourne housewife and Sir Les Patterson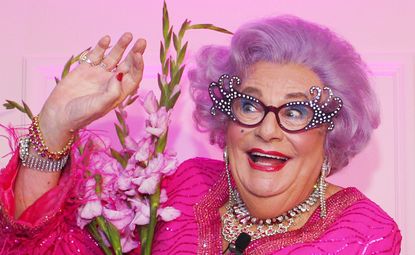 (Image credit: Lisa Maree Williams/Getty Images)
During an appearance on Desert Island Discs in 2009, Barry Humphries declared that he would be happy if his obituaries made no mention of Dame Edna Everage, the monstrous Melbourne housewife he had created half-a-century earlier. Some hope, said The Times. True, Dame Edna wasn't his only alter ego: there was also Sir Les Patterson, the boorish Australian cultural attaché, with his filthy suits, nicotine-stained dentures and much discussed "trouser snake", and the terminally dreary Sandy Stone. Nor were these satirical creations Humphries' only achievements. He was also an accomplished writer and artist, and a bibliophile who counted John Betjeman among his friends. But the housewife superstar from Moonee Ponds – with her lilac bouffant hair, rhinestone cat-eye spectacles, outrageous frocks and "hello possums" greeting – had grown so famous, she'd been invited on to Desert Island Discs two decades before he was.
As well as starring in countless TV and stage shows, Dame Edna had opened the Harrods sale, turned on the Christmas lights in Regent Street, and had her waxwork installed at Madame Tussauds. As she put it, in an obituary she wrote for The Daily Telegraph, "Barry Humphries was an unknown aspiring actor and would-be comedian when I first met him in the early 1950s. It is true that he put me on stage for the first time in December 1955, but it was in order to belittle me and get cheap laughs at my expense and ridicule the great Australian way of life. How the tables were turned! I became the star and he merely a footnote to my spectacular career."
Early life
Barry Humphries was born in 1934, and brought up in the well-to-do Melbourne suburb of Camberwell. His father was a successful builder; his mother was a snobbish, Catholic-hating housewife. An eccentric child, Barry spent his time knitting, writing stories and painting. "Eric and I don't know where he comes from," his mother would say. He enjoyed acting at his private school, and at Melbourne University, he was cast in a touring production of Twelfth Night.
Subscribe to The Week
Escape your echo chamber. Get the facts behind the news, plus analysis from multiple perspectives.
SUBSCRIBE & SAVE
Sign up for The Week's Free Newsletters
From our morning news briefing to a weekly Good News Newsletter, get the best of The Week delivered directly to your inbox.
From our morning news briefing to a weekly Good News Newsletter, get the best of The Week delivered directly to your inbox.
On the bus between venues, Humphries would entertain his fellow thespians by lampooning the middle-class ladies who'd greet them in each town along the way; it was around that time that Mrs Norm Everage made her first appearance in a student revue. She was a mousy woman then, said The New York Times, but "already in full command of the arsenal of bourgeois bigotries that would be a hallmark of her later self".
In his teens, he had become fascinated by Dadaism, and while at university, he staged a show featuring exhibits such as Pus in Boots – a pair of shoes filled with custard. He also delighted in Dadaist pranks in which he would, for instance, get a tin of Heinz Vegetable Salad and pour it onto the pavement. While passersby avoided what looked like a puddle of vomit, he'd kneel down and sup from it. Discomfiting people, he said, gave him almost as much satisfaction as amusing them.
Having neglected his studies, he dropped out of university to join a theatre troupe in Sydney. Then in 1959, he moved to London with his second wife Rosalind Tong, a dancer, to try his luck there. (His first marriage had lasted only two years.) Edna didn't find an audience in England, and was shelved as a character. (Later, she'd refer to him as her "manager", and blame him for this early setback.) His break came when he was cast as Mr Sowerberry in the original West End production of Oliver!, a role he reprised on Broadway. Having fallen in with the likes of Dudley Moore and Peter Cook, he performed at The Establishment club and, with Nicholas Garland, produced a cartoon strip for Private Eye about the adventures of a randy Australian in 1960s London. Barry McKenzie popularised a range of slang sayings including "pointing percy at the porcelain", and later appeared in two films. By the mid 1960s, Humphries was working consistently on the London stage, but suffering from depression and in the grip of worsening alcoholism.
Back in Australia, he took Edna on a triumphant solo tour. By then, she had started to evolve from dowdy housewife into a bejewelled, gladioli-hurling celebrity with a grotesquely inflated ego and a tendency to ridicule the fans she purported to adore. Leaning out over the footlights, she might address a woman in the front row: "I know, dear. I used to make my own clothes, too." But in London, audiences continued to resist her charms. Tong left Humphries, owing to his drinking, and in 1970 he was beaten up while drunk, and found unconscious in a gutter. It proved a turning point: he sought treatment; joined Alcoholics Anonymous; and never touched alcohol again.
Chat show host
It was around that time that he created Sir Les, said The Guardian, a repellent old soak who'd stagger around as the support act, whiskey in hand, urging the audience to give Edna the clap she richly deserved. In 1976, Edna finally made it big in London with a sell-out show called Housewife! Superstar! Other hit shows, including A Night with Dame Edna, followed, said The Daily Telegraph.
Then in 1987, she was awarded her own TV chat show, The Dame Edna Experience, on which she redefined the genre by denying her celebrity guests the deferential treatment to which they had become accustomed. "Can you laugh at yourself?" she famously asked Jeffrey Archer, in her most treacly voice, before adjusting her timbre: "Because if you can't laugh at yourself, you could be missing the joke of the century."
American audiences took longer to see the point of this satire of celebrity culture, but by the 2000s, Dame Edna had become a star on Broadway too. Humphries said that he regarded her as a separate entity, a law unto herself. "I'm, as it were, in the wings, and she's onstage," he told an interviewer. "And every now and then she says something extremely funny, and I stand there and think, 'I wish I'd thought of that.'" Latterly, some of his comments (in character and out) had caused offence, but he argued that his humour depended on being able to walk close to the edge. "I love making an audience gasp," he once said. "I don't crave the sound of applause. I crave the sound of sharply indrawn breath."
Humphries' third marriage, to Diane Millstead, ended in divorce; he is survived by Lizzie Spender, his wife of the past 32 years, and by his four children from his second and third marriages. Dame Edna had four children, one of whom was abducted as an infant by a "rogue koala". She found it difficult to talk about Lois, but in 2015, she revealed that she'd never given up hope of her being found. "I'm looking," she told NPR. "Every time I pass a eucalyptus tree, I look up."

Continue reading for free
We hope you're enjoying The Week's refreshingly open-minded journalism.
Subscribed to The Week? Register your account with the same email as your subscription.