Pros and cons of porn-site age verification
Users may need to verify their age with a passport or credit card under new Online Safety Bill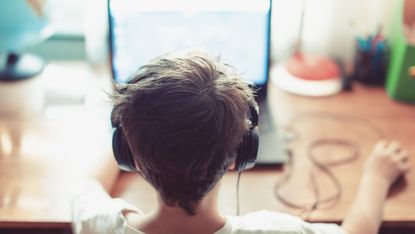 UK porn websites will be forced to prevent underage access by using age-verification technologies as part of the government's Online Safety Bill.
The measures will require all sites that publish pornography, including user-generated sites and social media platforms, to put "robust checks in place" to ensure that users are 18 years old or over.
Users may need to verify their age using their passport, credit card or with "details that their mobile provider holds". Sites that fail to introduce age checks could be fined up to 10% of their annual turnover, or have their UK access blocked. Similar measures were previously proposed by the government but dropped in 2019 following implementation difficulties.
Subscribe to The Week
Escape your echo chamber. Get the facts behind the news, plus analysis from multiple perspectives.
SUBSCRIBE & SAVE
Sign up for The Week's Free Newsletters
From our morning news briefing to a weekly Good News Newsletter, get the best of The Week delivered directly to your inbox.
From our morning news briefing to a weekly Good News Newsletter, get the best of The Week delivered directly to your inbox.
When the first draft of the Online Safety Bill was published in May last year, children's online safety campaigners expressed astonishment that it did not include the long-promised age-verification checks for pornography.
But an updated version of the bill was announced by the Department for Digital, Culture, Media and Sport on 8 February, with the government claiming that it had been "significantly strengthened".
Children's online safety experts have welcomed the greater protections, but privacy campaigners have expressed concern about the bill's potential impact on individuals' digital security.
1. Pro: less exposure to harmful content
Children's safety groups and campaigners have welcomed the news, claiming that the bill could protect the high numbers of young people who witness pornography before the age of consent.
Research commissioned by the British Board of Film Classification in 2019 found that more than half (51%) of 11- to 13-year-olds had seen porn at some point, rising to 66% of 14- to 15-year-olds.
"It's right the government has listened to calls to fix one of the gaps in the Online Safety Bill and protect children from pornography wherever it's hosted," said Andy Burrows, head of child safety online policy at the NSPCC.
The bill has been a long time coming for children's safety groups who have lobbied regulators for years to introduce measures which would make it more difficult for minors to access graphic content online.
When similar measures were proposed but subsequently dropped by the government, online child safety consultant John Carr described the news as "scandalous". The Conservative Party has "sacrificed a child's right to a healthy upbringing", he wrote in a blog post.
The harmful impact porn can have on children is well documented. Speaking on US presenter Howard Stern's SiriusXM show last year, singer Billie Eilish revealed she became addicted to porn after watching it aged 11, The Metro reported.
The 20-year-old star said it often gave her nightmares and she thought porn "really destroyed" her brain.
2. Con: privacy risk fears
Red flags have been raised over the news that individual companies will be allowed to decide how they comply with the legislation, with this non-uniform approach raising privacy concerns.
As James Vincent explained on Vox Media's The Verge, "this approach will likely reawaken old fears that such age-checks could leave users exposed; creating databases of pornography users that would be ripe targets for hackers looking to blackmail or extort individuals".
Jim Killock, the executive director of the Open Rights group, which works to protect online privacy, pointed out that the government's verification proposal contained no indication that it would "protect people from tracking and profiling porn viewing".
Experts have warned that providing sensitive information to websites with limited resources to prevent hacks could put LGBTQ+ users particularly at risk. Ross Anderson, a professor of security engineering at the University of Cambridge, told Sky News that porn tracking could see "gay kids being outed to their parents".
"Tech companies are often pretty heedless about such edge cases," he added.
3. Pro: covers greater scope of sites
A new provision in the bill which makes it different to the one first proposed in 2015 is that it will cover all commercial pornography sites, rather than just designated porn sites. This means it now applies to providers of user-generated pornography such as OnlyFans, said The Guardian.
The legislation also targets technology companies that host explicit content, with the government saying it will apply to "social media companies, where a considerable quantity of pornographic material is accessible".
This is significant because the majority of young people are witnessing porn on social media, meaning introducing an age-verification requirement purely on designated porn sites would be ineffective.
A May 2021 survey of 1,000 16- and 17-year-olds in the UK, by Neil Thurman of the University of Munich's department of media and communication, found that 63% of them had seen porn on social media, while 47% had seen it on porn sites, reported Matt Burgess for Wired magazine.
4. Con: question mark over effectiveness
Concerns have been raised at the ease with which such blocks could be circumnavigated by children.
"Kids get enough practice already, e.g. at school," said the University of Cambridge's Anderson. "The low-cost techniques that the large [Internet Service Providers] will use will not withstand anyone who knows what they're doing."
The government has said that age-verification methods could include using data from credit cards, mobile-phone providers and passports. But, as The Verge's Vincent points out, "it is possible that these credentials could be used to verify age without also checking an individual's identity".
However, proponents of the bill have argued that although "it would not block a persistent teenager from accessing adult material… it could stop younger children from stumbling across images they found deeply disturbing", said The Guardian.
5. Pro: part of wider trend
If the UK were to introduce age verification for online pornography, it would be following in the footsteps of France and Germany, which have similar laws to prevent children from accessing adult content.
It's too early for data to show how effective such legislation has been, but clearly introducing an age-verification system for accessing online pornography is part of a wider trend, with the governments of Poland, the Philippines and Canada also considering similar proposals, said The New York Times.
Digital age-verification techniques are already used by some online gambling companies, with research by the University of Oxford suggesting that regulators could learn from the "success of responsible online gambling operators in establishing processes for effective online age verification".
6. Con: verification firms 'cash out'
If the bill does become law, "the age-verification industry at least looks set to do very well", said Natasha Lomas on the US site TechCrunch.
The Open Rights group's Killock suggested that the bill could potentially benefit companies using or building age-verification technology more than young children. The proposed legislation "appears to be a huge boon to age-verification companies, for little practical benefit for child safety, and much harm to people's privacy", he said.
The legislation will also "likely put a growth rocket under VPN services", added Lomas, suggesting that porn users could redirect their connection through a server in a different country without such stringent laws.

Continue reading for free
We hope you're enjoying The Week's refreshingly open-minded journalism.
Subscribed to The Week? Register your account with the same email as your subscription.