Why the undersea cables that connect the world are a subject of concern
The global network is a technological marvel – but it's also very vulnerable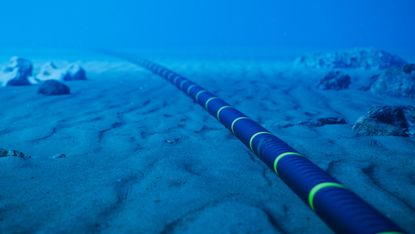 (Image credit: Getty Images)
The "backbone" of the internet, the data superhighway that connects the world's online computer networks, is a web of fibre-optic cables. Between continents and land masses, the internet relies on cables crossing the sea floor.
This network, which is over half a million miles in length, and comprised of over 200 independent systems of interconnected cables, carries over 95% of global communications (the rest is carried by satellite). If you open a foreign webpage, the data you're accessing will have been propelled by lasers down fibre-optic threads under the sea, at almost the speed of light. In a single day, this network also processes some $10trn in financial transfers via the SWIFT system, which manages global bank transactions.
The recent explosive growth of cloud computing has vastly increased the volume and sensitivity of data – from military documents to scientific research – crossing these cables.
Subscribe to The Week
Escape your echo chamber. Get the facts behind the news, plus analysis from multiple perspectives.
SUBSCRIBE & SAVE
Sign up for The Week's Free Newsletters
From our morning news briefing to a weekly Good News Newsletter, get the best of The Week delivered directly to your inbox.
From our morning news briefing to a weekly Good News Newsletter, get the best of The Week delivered directly to your inbox.
How do the cables work?
Undersea cables have been used since the 1850s. Today, they've evolved into technological marvels. Laid by slow-moving ships, they are typically between two and seven inches thick and have a lifespan of approximately 25 years. Each cable contains fibre threads capable of transmitting data at 180,000 miles per second, wrapped in steel armour, insulation and a plastic coat.
These fibres have the capacity to transmit up to 400GB of data per second (about enough for 375 million phone calls); a single undersea cable contains anywhere up to 200 such fibres. By way of context, eight fibre-optic strands could transfer the entire contents of the Bodleian Library across the Atlantic in about 40 minutes.
Some new cables, such as the Asia-America Gateway cable, which links California to the Philippines and Southeast Asia, stretch to more than 10,000 miles in length.
Why are they a subject of concern?
Because of their vulnerability. To take an extreme recent example: in January, a volcanic eruption severed the single cable to Tonga, cutting off all communications to the Pacific island for five days. Phone contact has now been restored, via satellite, but normal internet service has still not been reinstated.
Damage occurs fairly regularly: an estimated 100 to 150 cables are severed every year, the vast majority due to fishing equipment or anchors. Usually, the system has enough slack in it to deal with such damage: most nations are connected by scores of fibre-optic cables, so if one or two are damaged, data can be rerouted without disruption. But problems do occur. In 2008, three cables linking Italy and Egypt were accidentally cut, causing data connectivity between Europe and the Middle East to plummet, with knock-on effects for American military operations in Iraq.
How could this affect the UK?
Britain, unlike Tonga, is connected to the rest of the world by around 60 cables, not just one: from the 80-mile CeltixConnect cable to Ireland; to the Tangerine, which runs 81 miles from Kent to Belgium; to the Tata TGN-Atlantic, stretching 8,000 miles from Somerset to New Jersey.
Yet the UK is far more reliant than Tonga on digital services. "Even more significantly, unlike Tonga, we have powerful enemies," said Harry de Quetteville in The Daily Telegraph. Sabotaged cables could pose "an existential threat" to British security, warned the now-Chancellor Rishi Sunak in a 2017 report for the Policy Exchange think tank. "The most severe scenario… of connectivity loss is potentially catastrophic," he added – and even relatively limited damage could "cause significant economic disruption and damage military communications."
How might they be sabotaged?
"Disrupting cables is not only possible," wrote Sunak, it's "surprisingly easy." There is a long history of countries hostile to one another sabotaging cables. Britain cut five German cables in the First World War; in the Cold War, the US placed wiretaps on Soviet subsea cables.
When Russia annexed Crimea in 2014, one of its first moves was to sever its cable connection. The cables are generally owned and installed by consortia of internet and telecoms companies, without much government oversight. Their locations are usually both isolated and publicly known, making them vulnerable to sabotage. There are also several "choke points" potentially vulnerable to attack, such as Wall Township, a small town in New Jersey where five major cables come ashore.
Have any cables been threatened?
Just last month, the head of the UK's Armed Forces, Admiral Tony Radakin, warned that Russian submarine activity is threatening underwater cables and that the Kremlin has "grown the capability" to exploit them.
Russia, through its Main Directorate of Undersea Research, probes cables using vessels such as the research ship Yantar, equipped with submarines and undersea drones thought to be capable of cutting or tapping cables. Last summer, it was tracked in a position around transatlantic cables off the coast of Ireland; a month later, it was in the English Channel.
What can be done about this?
A number of concrete proposals have been put forward. One option is to establish "cable protection zones", which would ban certain types of anchoring and fishing, and require greater disclosure by vessels inside them. Other solutions include updating international law around cables, and establishing treaties that would criminalise foreign interference.
Nato has held exercises to hone potential responses to an attack on infrastructure. So-called "dark cables" – or backup systems – could also be built to increase resilience in the global network. But it's clear that much more needs to be done to protect a critical part of the infrastructure of modern life.

Continue reading for free
We hope you're enjoying The Week's refreshingly open-minded journalism.
Subscribed to The Week? Register your account with the same email as your subscription.