Why is the US waging a tech war on China?
Battle for technological supremacy is at the forefront of a new economic Cold War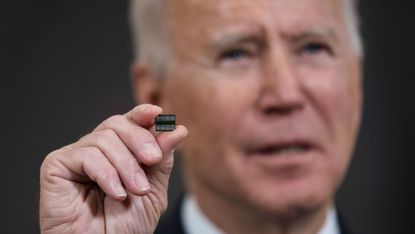 (Image credit: Doug Mills/The New York Times/Bloomberg via Getty Images)
Joe Biden's reassuring meeting with China's President Xi Jinping at the G20 summit in Bali may have calmed rising tensions between the two superpowers, but the stark reality is that the world is now embarking on a new economic cold war.
The US president sees competition not open conflict with China as the biggest threat to continued American hegemony in the 21st century; an economic rather than a military fight between the world's two largest economies.
Biden's secretary of state, Antony Blinken, suggested as much in a major speech this month in which he said: "We are at an inflection point. The post-Cold War world has come to an end, and there is an intense competition underway to shape what comes next. And at the heart of that competition is technology."
Subscribe to The Week
Escape your echo chamber. Get the facts behind the news, plus analysis from multiple perspectives.
SUBSCRIBE & SAVE
Sign up for The Week's Free Newsletters
From our morning news briefing to a weekly Good News Newsletter, get the best of The Week delivered directly to your inbox.
From our morning news briefing to a weekly Good News Newsletter, get the best of The Week delivered directly to your inbox.
With China making huge strides in its drive for high-tech development and self-sufficiency in recent years, the Biden administration has decided to act. Last month it took what CNN called "unprecedented steps" and effectively banned the sale of any modern semiconductor manufacturing equipment to China and forbade "US persons" from working in the Chinese semiconductor industry.
What did the newspapers say?
While the policy's details are "complex", said Eric Levitz in New York magazine, the effect amounts to "an economic war" against China, which is "coolly bureaucratic, its aims strictly limited".
"It is now official US policy to prevent China from achieving its development goals," Levitz wrote, while Bloomberg reported that "in the intensifying battle for supremacy in the global technology sector, the US has now gone from playing defense against China to going on the offensive".
"Geopolitics is often likened to a game of chess," said The New Statesman, carrying on the sporting analogy and "recent US sanctions have put China in check (though not checkmate)".
Why semiconductors matter
"Those who don't follow the semiconductor industry closely could be forgiven for thinking that this is a niche topic, but computer chips are a strategic industry with major geopolitical implications," reported Time.
The Financial Times said: "Advanced chips and the factories making them have become a substitute for arms and armies in the east-west stand-off because they are a critical component of our modern lives." They are found in everything from "mobile devices, electric cars and gaming consoles" to data centres and hypersonic missiles. They are also the foundation of next-generation technology from self-driving cars and 5G internet to cloud services and artificial intelligence.
The semiconductor industry is forecast by WSTS to generate revenues of $646bn in 2022, while recent analysis by Goldman Sachs found that they are a major contributor to 12% of US GDP.
Put starkly, "if a shortage of chips can cut economic growth in half, imagine what fully losing access to chip supplies could do", asked Time.
What next?
China's initial response is "likely to include much more defence than attack", said The New Statesman. With no viable alternative to US semiconductor material and manpower, Beijing will be forced to invest more in domestic research and development while it is likely to keep the option of a retaliatory attack, including sanctioning US technology, for a later date.
The US embargo will, however, train Beijing's attention even more on Taiwan. Verdict reported that the US is "concerned about dependence on semiconductors" manufactured by the island nation, "which accounts for 20% of global wafer fabrication capacity, and 92% capacity for advanced chips".
This has put Taiwan's TSMC, the world's leading manufacturer of advanced semiconductor chips, "in a tricky position", said the news site. "China's political stance towards Taiwan, which has been growing increasingly aggressive in the last 12 months, means the company seeks to be [on] good terms with Washington while continuing to build relationships in every international market, a delicate balancing act".
The hope in Washington is that Biden's policy of "openly stymieing China's economic development" will constrain Beijing rather than provoke it, said Levitz in New York magazine. "Nothing less than peace between the world's pre-eminent powers may be at stake."
Ultimately "war is a troubling lens to view the US-China competition", said the Bulletin of the Atomic Scientists, which sets the annual Doomsday Clock counting down to global extinction. "It risks militarising economic, scientific, and technological competition – bolstering rationales for expanded military budgets and brinksmanship," while the talk of war "runs the risk of fostering nationalism, discrimination, and oppression".
"Debates about whether we are or aren't in a tech war or even a new Cold War may just be semantics." it concluded. "Either way, we're in a risky place."

Continue reading for free
We hope you're enjoying The Week's refreshingly open-minded journalism.
Subscribed to The Week? Register your account with the same email as your subscription.