Five high-profile people who disappeared in China
Tennis player Peng Shuai is the latest Chinese star to have vanished from the public eye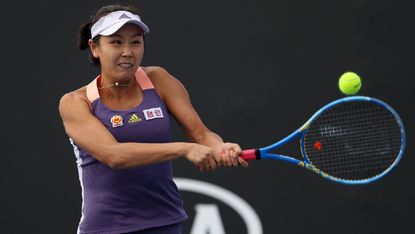 (Image credit: Clive Brunskill/Getty Imagess)
The disappearance of Chinese tennis star Peng Shuai after she accused a senior Communist Party official of sexual assault has made headlines worldwide in recent weeks.
Demands from international leaders for proof of her well-being show that while the Chinese government "has become extremely effective in controlling what the country's 1.4bn people think and talk about", influencing the rest of the world "is an entirely different matter", said The New York Times columnist Li Yuan.
Peng went missing for more than two weeks after claiming in a social media post that former vice premier Zhang Gaoli had "forced" her to have sexual relations with him. Amid growing global concern, the 35-year-old tennis champ spoke to the president of the International Olympic Committee (IOC) during a 30-minute video call on Sunday.
Subscribe to The Week
Escape your echo chamber. Get the facts behind the news, plus analysis from multiple perspectives.
SUBSCRIBE & SAVE
Sign up for The Week's Free Newsletters
From our morning news briefing to a weekly Good News Newsletter, get the best of The Week delivered directly to your inbox.
From our morning news briefing to a weekly Good News Newsletter, get the best of The Week delivered directly to your inbox.
But while Peng insisted she was safe and well at her home in Beijing, experts told The Telegraph that she might have been abducted under the Chinese regime's programme of "enforced disappearances", known officially as RSDL – Residential Surveillance at a Designated Location. People who have criticised the Beijing regime often vanish "for several months, while they are interrogated in a nondescript government building", said the paper.
Many then "re-emerge in society with an outwardly different personality, their plucky mode of resistance replaced by a supine deference to Beijing authorities".
Here are five other high-profile people who have disappeared after falling foul of President Xi Jinping's Communist Party.
Zhao Wei
One of China's most popular actresses, Zhao disappeared from public view in August. Films and TV series in which she appeared were removed without explanation from video platforms, and her name was scrubbed from the Chinese internet.
Her profile on social media platform Weibo – where she had accumulated 86 million followers – was also shut down. And social media users were censored when trying to discuss Zhao, the Chinese ambassador for luxury Italian fashion house Fendi.
Chinese state newspaper Global Times said that Zhao was "widely known as a billionaire investor surrounded with lawsuits" and that she and her husband had previously been banned from "China's securities markets" for five years for market violations.
But according to Variety, her disappearance "epitomises many aspects of the Chinese government's campaign to tear down fandom, celebrity and the driving forces behind them".
"Zhao Wei is like a poster child for what the Communist Party sees as what's wrong with celebrity culture in China," Stanley Rosen, a professor at the University of Southern California specialising in Chinese films and politics, told the magazine. "Going after her without offering a smoking-gun explanation as to why they did it will certainly make other celebrities extremely cautious and proactive in embracing regime goals.
"It's a demonstration that no one, no matter how wealthy or popular, is too big to pursue."
Whether Zhao is now "under house arrest" or just "keeping a low profile" is unclear, said The Guardian. She was reportedly spotted in her hometown in eastern China "posing for a photo" in September. And Chinese internet portal Netease has claimed that Zhao took part in a recent "online shopping event".
Jack Ma
The billionaire entrepreneur behind e-commerce giant Alibaba went missing for three months shortly after criticising the Chinese financial system in a controversial speech in October last year. Ma told an audience including senior Chinese officials at the Bund Summit in Shanghai that traditional lenders operated with a "pawn shop" mentality.
His criticisms "angered the banking establishment and reportedly reached the attention" of President Xi, said the BBC. China analyst Christina Boutrup told the broadcaster that Ma "apparently crossed the invisible red line for what can be said and done" in Xi's China.
Within a fortnight, Ma and two of his close colleagues were summoned to meet financial regulators, who halted the flotation of Ant Group – his financial technology firm and China's biggest payments provider.
Ma wasn't seen in public again until 20 January, when he took part in an online charity event for rural teachers. According to local media, the tycoon said he had been "studying and thinking, and we have become more determined to devote ourselves to education and public welfare".
He Jiankui
The Chinese biophysicist went missing after telling a summit in Hong Kong that he had engineered the world's first genetically edited babies. Addressing the Human Genome Editing Conference in November 2018, the scientist said that he felt "proud" of the historic feat.
But fellow scientists in China and worldwide "denounced" the work as "a step too far", said The New York Times (NYT), with some dubbing him the "Chinese Frankenstein".
China's National Health Commission ordered an investigation into He's claims and the scientist disappeared from public view shortly after the conference.
He was not seen again until late the following month, when the newspaper reported that he was "sequestered" in a small guesthouse on the Southern University of Science and Technology campus in Shenzhen, and was being kept "under guard by a dozen unidentified men".
After an "initial flurry of reports", China's domestic media, "complying with a directive from the propaganda department, have been silent on Dr He", the NYT added.
A year later, the controversial researcher was sentenced to three years in prison and fined the equivalent of $430,000 by a Chinese court, after pleading guilty to carrying out "illegal medical practices".
Fan Bingbing
Another well-known actor, Fan mysteriously disappeared for four months in 2018, a year after gracing the cover of Time magazine.
It later emerged that the X-Men star had been detained by the Chinese government over alleged tax evasion, for which she was subsequently fined the equivalent of nearly $70m, as Time reported at the time.
In a statement titled "letter of apology" posted on social media platform Weibo after she reappeared, Fan wrote that she felt "unworthy of the trust of the society and let down the fans who love me". She promised to "try my best to overcome all difficulties and raise funds to pay back taxes and fines".
Fan then only emerged "from time to time to glorify the Chinese Communist Party", said Business Insider, and is continuing to keep a relatively low profile.
Ai Weiwei
In 2011, dissident contemporary artist Ai disappeared after being arrested by the Chinese police as he was about to board a flight from Beijing to Hong Kong. He had spent years under constant surveillance and harassment as a result of his open criticism of the Chinese government.
Ai later revealed that he had been taken to a secret detention centre, where he was kept under surveillance around the clock. He was released after 81 days, amid intense international pressure.
"I felt powerless in secret detention," he told The Times correspondent Anthony Loyd in 2020. "They said that if I did ever get finally released then my son, who was two, wouldn't recognise me. That moment gave me a sense of how cruel authority can be to an individual. I'm lucky it didn't destroy me."
In 2015, the Royal Academy of Arts in London held a major retrospective of Ai's work that included a mock-up of his life in the detention centre. "Thinking Ai might shut up after his 81-day incarceration in 2011, and the bulldozing of his newly completed Shanghai studio by the authorities, the Chinese government got it wrong," said The Guardian's art critic Adrian Searle in a five-star review of the show.

Continue reading for free
We hope you're enjoying The Week's refreshingly open-minded journalism.
Subscribed to The Week? Register your account with the same email as your subscription.