Why Denmark is stripping Syrians of residency and sending them home
Copenhagen orders refugees back to Damascus claiming security has 'improved significantly'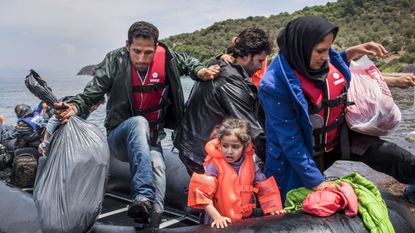 (Image credit: Soeren Bidstrup/AFP via Getty Images)
Sign up to our 10 Things You Need to Know Today newsletter
A free daily digest of the biggest news stories of the day - and the best features from our website
Thank you for signing up to TheWeek. You will receive a verification email shortly.
There was a problem. Please refresh the page and try again.
Denmark has become the first European country to revoke the residency permits of Syrian refugees after claiming that the security situation in parts of the war-torn country has "improved significantly".
Almost 200 Syrians have so far had their renewal applications rejected, while around 500 people originally from Damascus and the surrounding areas are still having their renewals reviewed.
After a decade of war, Syrian President Bashar al-Assad now controls almost all of the country, with fighting mainly confined to the north. But "one of the main reasons people rose up during the Arab spring remains", The Guardian says: namely his secret police force.
Subscribe to The Week
Escape your echo chamber. Get the facts behind the news, plus analysis from multiple perspectives.
SUBSCRIBE & SAVE
Sign up for The Week's Free Newsletters
From our morning news briefing to a weekly Good News Newsletter, get the best of The Week delivered directly to your inbox.
From our morning news briefing to a weekly Good News Newsletter, get the best of The Week delivered directly to your inbox.
'I felt so foreign'
The stripping of Syrian refugees' residency permits was catapulted into the spotlight when 19-year-old Aya Abu-Daher, from Nyborg in central Denmark, pleaded on national television earlier this month for her family to be allowed to stay.
Abu-Daher later told Deutsche Welle (DW) that she received a letter from the Danish authorities at the end of June, at which point she "sat down and just cried". She added: "I was so sad, I felt so foreign, like everything in Denmark had been taken away from me."
Danish immigration services first said that Syrian capital Damascus and its surrounding suburbs were safe in 2019 and have since set about "depriving Syrian refugees of their asylum status, even as Syria remains shattered", The New York Times (NYT) reports.
Both the EU and UN have said that the country is "not stable enough to be considered safe for returnees", the paper adds. However, those being asked to leave Denmark include "high school and university students, truck drivers, factory employees, store owners and volunteers in nongovernmental organisations".
The Syrians being told that they cannot reside in Denmark "risk being uprooted from a country where they have built new lives", with Asmaa al-Natour, 50, telling the NYT that "it is as if the Danish immigration services has bombed my dream, just as Bashar al-Assad bombed our homes".
Charlotte Slente, secretary general of the Danish Refugee Council, said that the new rules amount to "undignified treatment", adding that experts "disagree with the decision to deem the Damascus area or any area in Syria safe for refugees to return to". "The absence of fighting in some areas does not mean that people can safely go back," Slente added. "Neither the UN nor other countries deem Damascus as safe."
Human rights groups, including DRC and Amnesty International, have also disputed the decision, with "left-wing parties that often cooperate with Prime Minister Mette Frederiksen's Social Democrat-led minority government" also "protesting the move", DW reports.
Kristian Hegaard, the integration policy spokesman for the Radikale Venstre or Social-Liberal Party, described the decision to revoke residency as "heartless and senseless" in a Facebook post, noting that Denmark "closed its embassy [in Syria] because of the insecure situation".
Abu-Daher's classmates "wrote an open letter" to Danish Integration Minister Mattias Tesfaye in which they urged him "not to expel a girl who speaks fluent Danish and wants to give something back to Danish society", DW reports.
However, "their words fell on deaf ears", with Tesfaye telling Danish media that he "trusts the authorities' assessment of the situation" and will not be forced into making exceptions "because someone has appeared on television", the broadcaster adds.
Hardliners
Denmark has one of Europe's most restrictive immigration policies, a trend that has continued since Prime Minister Frederiksen came to power in 2019. In mid-March, a proposal to limit the number of "non-Western" residents living in some of the country's most troubled estates triggered headlines and criticism, with Amnesty warning that "many people will be made homeless or pushed into inadequate housing".
Unveiling the new initiative, Interior Minister Kaare Dybvad Bek argued that having too many "non-Westerners" increased the risk "of an emergence of religious and cultural parallel societies" in "vulnerable areas".
The decision to revoke residency rights has prompted more criticism, with some of the rejected applicants, "who had originally been granted only a temporary permit", being "placed in a detention centre" while they await their next move, Al Jazeera reports.
"No other country in Europe has adopted such a policy," Niels-Erik Hansen, a lawyer specialising in migration issues, told AFP. "Being in a return centre, you can't work nor study and you get food three times a day. Basically, they keep you there until you sign a paper saying that you'll return voluntarily to Syria."
Last week, the UN High Commissioner for Refugees also voiced its concern over the policy, releasing a statement that said it "does not consider that the recent improvements in security in parts of Syria to be sufficiently fundamental, stable or durable to justify ending international protection for any group of refugees".
Much of the fear among Syrians facing a return to the country centres on "regime intelligence branches", which have "detained, tortured and 'disappeared' more than 100,000 people since the war broke out in 2011", The Guardian says. The country's infrastructure is also unstable, with services like water and electricity remaining "scarce" and the collapse of the Syrian pound sending "food prices rocketing by 230%", the paper adds.
Danish officials insist that refugees in the country always knew that they would one day have to return to Syria, with Immigration Minister Tesfayer releasing a statement in February that said Denmark was "honest from day one" and that "we have made it clear to the Syrian refugees that their residence permit is temporary".
As Denmark "does not maintain diplomatic relationships with Mr. al-Assad's government", its government "cannot forcibly deport refugees", the NYT says. But with the Syrian Network for Human Rights warning that hundreds of returnees have disappeared, Syrians in Denmark face being left in a frightening limbo.
Continue reading for free
We hope you're enjoying The Week's refreshingly open-minded journalism.
Subscribed to The Week? Register your account with the same email as your subscription.
Sign up to our 10 Things You Need to Know Today newsletter
A free daily digest of the biggest news stories of the day - and the best features from our website
Joe Evans is the world news editor at TheWeek.co.uk. He joined the team in 2019 and held roles including deputy news editor and acting news editor before moving into his current position in early 2021. He is a regular panellist on The Week Unwrapped podcast, discussing politics and foreign affairs.
Before joining The Week, he worked as a freelance journalist covering the UK and Ireland for German newspapers and magazines. A series of features on Brexit and the Irish border got him nominated for the Hostwriter Prize in 2019. Prior to settling down in London, he lived and worked in Cambodia, where he ran communications for a non-governmental organisation and worked as a journalist covering Southeast Asia. He has a master's degree in journalism from City, University of London, and before that studied English Literature at the University of Manchester.