Oil price posts two-year highs - but how long can it last?
Brent rose above $59 a barrel this week, its best third-quarter showing since 2004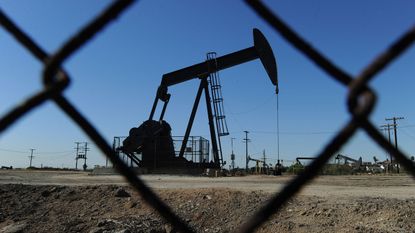 (Image credit: Mark Ralston/AFP/Getty Images)
Sign up to our 10 Things You Need to Know Today newsletter
A free daily digest of the biggest news stories of the day - and the best features from our website
Thank you for signing up to TheWeek. You will receive a verification email shortly.
There was a problem. Please refresh the page and try again.
Analysts bearish on oil price despite Opec deal hopes
21 November
Growing hopes for an Opec deal on production has helped the oil price continue its rebound after hitting three-month lows last week.
Subscribe to The Week
Escape your echo chamber. Get the facts behind the news, plus analysis from multiple perspectives.
SUBSCRIBE & SAVE
Sign up for The Week's Free Newsletters
From our morning news briefing to a weekly Good News Newsletter, get the best of The Week delivered directly to your inbox.
From our morning news briefing to a weekly Good News Newsletter, get the best of The Week delivered directly to your inbox.
Iran, one of the most stubbornly resistant members of the 14-nation cartel, has been offered an exemption from export cuts so long as it agrees to "at least cap production" at its pre-international sanctions level, Reuters reports.
It adds: "This would leave the onus of an outright reduction on other Opec members, including its political rival and de-facto Opec leader Saudi Arabia."
There have been reports of other Opec members, such as Iraq, Libya and Nigeria, seeking to be excluded from making cuts. But Venezuela, Qatar and Algeria are said to have launched a diplomatic push to secure a deal.
"I think there will be some kind of agreement next week," said Matt Stanley, of Freight Investor Services in Dubai, told Reuters.
Brent crude, the international oil price benchmark, was up around one per cent this morning to $47.32 a barrel, while its US counterpart, West Texas Intermediate, rose 1.1 per cent to $46.21.
The Financial Times says the advance is "all the more eye-catching in the context of the sustained run higher for the dollar, strength for which can temper gains for commodity contracts denominated in the currency".
The dollar rose more than four per cent against global peers in ten sessions up to Friday and is at levels last seen in 2003.
But Stanley and others doubt this will be enough to sustain the resulting oil price rally into 2017 even if Opec does defy the doubters to finalise a production cut.
The proposed drop to between 32.5 and 33 million barrels a day may not be enough considering the underwhelming demand for Opec oil, which the group itself estimates will only hit 32.7 million barrels next year.
Added to that, Barclays has said in a client note that an oil rally to above $50 a barrel after a deal will result in a big increase in US production, which has already been rising this year.
With oil reserves growing –the US energy regulator reported its biggest-ever weekly stocks build earlier this month – this suggests the global supply glut is here to stay.
Oil price rally contained another big stocks build
17 November
A strong rally in the oil price from its multi-month lows last week ran out of steam on Wednesday in New York on the back of another big oil stocks build in the US.
Brent crude, the international oil price benchmark, along with its US counterpart West Texas Intermediate (WTI) rose by nearly six per cent on Tuesday because of renewed optimism that the 14-nation Opec cartel might agree on a production cut later this month.
Analysts had cast doubt on the prospects of the deal being finalised in Vienna on 30 November, but comments from Opec members Saudi Arabia, Qatar, Algeria and Venezuela buoyed sentiment.
Yesterday Russia, one of the largest oil exporters in the world and a non Opec producer, said it would also take part, adding to growing hopes that an agreement that would be game changing to the global supply imbalance might be reached.
"Russian Energy Minister Alexander Novak told reporters at a Moscow energy forum that Russia would 'support any decision' adopted by Opec," says the Wall Street Journal.
Despite this positive sign, oil prices "whipsawed" after an early surge, eventually settling down for the New York session last night. Brent dropped 0.7 per cent to $46.63 a barrel, while WTI fell 0.5 per cent to $45.57 a barrel.
The trigger for the turnaround is the latest set of weekly data from the US energy watchdog, the Energy Information Administration, that shows a fourth consecutive increase in US oil reserves. At 5.3 million barrels, the build is almost five times the consensus estimate, too.
Growing oil supplies have added to concern that a global supply overhang is firmly entrenched and set to continue well into next year. This is contributing to the downward pressure on prices.
This morning oil was rising again, with Brent crude adding 1.1 per cent to $47.13 a barrel and WTI adding 0.7 per cent to $45.90.
Oil price ends losing streak after falling below $44
15 November
The oil price has been in freefall since the USpresidential election last week, but finally bucked its losing streak in Asian trading earlier this morning.
But it did so only after first slumping to a new three-month low.
Brent crude, the international oil price benchmark, dropped a dollar to $43.57 a barrel at one point in the New York session yesterday evening, down almost 20 per cent from its $54 high just one month ago.
US counterpart West Texas Intermediate (WTI) plummeted to a low of a little above $42 a barrel yesterday, having been above $50 as recently as 25 October.
This morning in London, after a rally overnight, Brent was up 2.1 per cent to $45.34 a barrel, while WTI was up 2.5 per cent to $44.40.
The rally could simply be the result of consolidation trading, not least for the US benchmark as its 'front-month' futures contract expires in less than a week, according to Reuters.
Some analysts reckon the recent rally reflects a much-needed burst of optimism on the prospects for an Opec supply cut being finalised at the end of this month.
Oil's October rally follows the surprise announcement of a cut of up to one million barrels a day by the 14-nation cartel, but sentiment has turned negative as divisions in the group seem likely to scupper the deal.
The recent slump in the oil price – and predictions that if Opec fails oil could fall to below $40 or even $30 a barrel – may have finally started to focus minds, however.
Saudi Arabia's energy minister is reported to have said that finalising the deal is "imperative", while traders are buoyed by reports that three other Opec members, Qatar, Algeria and Venezuela, are leading a diplomatic push.
There are even suggestions that Iran and Iraq are "thinking about restraining production". They are two of Opec's biggest producers and had previously been seeking an exemption from any cuts.
Given the fissures among the bloc's members and recent figures that show record output from the group even as global stockpiles surge, some analysts remain unconvinced that the rally will hold.
"Reports of a diplomatic push by Opec to strike a deal are supporting the markets," says Tamas Varga, an analyst at the brokerage PVM. "The rally could last a little while but the underlying fundamental picture is still bearish.
Oil price flounders after Opec output hits record high
14 November
The oil price has continued its downward trajectory, reflecting the pressure being exerted by a rising dollar but also, critically, mounting pessimism over a deal to cut global production.
Brent crude, the international benchmark, was down 0.3 per cent to $44.64 a barrel in London this morning. On Friday, it hit a three-month low of $44.19 in intraday trading.
US counterpart West Texas Intermediate was down 0.4 per cent to $43.25 barrel this morning, having hit a two-month low on Friday of a shade above $43.
One of the main triggers for this morning's falls, says Reuters, is the continuing strength in the dollar, which is rising on speculation that president-elect Donald Trump's plans for $1trn (£800bn) of infrastructure spending will boost inflation and promptinterest rates rises.
The greenback rose to a nine-month high against other currencies earlier today, making dollar-denominated oil more expensive overseas.
But the oil price is also suffering from bearish sentiment on the chances that a global supply glut, which has weighed on the market for the past two years, will come to an end any time soon.
It had been hoped that an Opec deal on production would tip the market into supply deficit and support prices going into 2017.
Analysts are generally pessimistic, however, citing discord between Opec members on which countries should have to take a hit on their oil revenues.
Nigeria, Libya and Iran are said to have exemptions already, while and Iraq is also demanding one. On Sunday, Iran opened three new oilfields, reports Reuters, ramping up the scale of the expected cuts needed elsewhere.
Adding to the negative sentiment, an Opec report on Friday confirmed output hit a record 33.64 million barrels a day in October, the month after the group provisionally agreed to cut exports.
Worse, says Oilprice.com's Irina Slav, it also forecast that demand for Opec oil would be 32.7 million barrels a day in 2017.
Opec's proposed cuts, due to be finalised in Vienna at the end of this month, would reduce its total output to between 32.5 and 33 million barrels a day, which may not be enough even if the deal goes through.
Oil price falls again as IEA report builds pressure on Opec
11 November
A bleak report from the international energy regulator piled up the pressure on Opec to secure a supply deal this month as the oil price fell again today.
The International Energy Agency's (IEA) monthly bout of number-crunching estimated another new record output total for the 14-nation cartel last month, citing 33.8 million barrels per day.
However, demand growth is not improving and the watchdog believes it will remain flat at 1.2 million barrels per day throughout 2017.
International oil price benchmark Brent crude was down 1.3 per cent at $45.24 a barrel – it had been $54 a month ago on the hope of Opec's prospective cuts. Its US counterpart, West Texas Intermediate, fell 1.5 per cent to below $44.
Opec's exports total makes "the scale of the output cut needed to stabilize prices being discussed by the group's members later in November look increasingly challenging", says the Wall Street Journal.In September, the bloc agreed to cut production to between 32.5 and 33 million barrels per day, a reduction of at least the best part of a million barrels.
Analysts doubt this is possible, with Irina Slav on Oilprice.com saying the IEA report shows why.
Slav says the countries that drove that record Opec output total -"Libya, Nigeria and Iraq, where production hit an all-time high" - are the members that already have an exemption from any cuts or, in the case of Iraq, are seeking one.
Iran is also keen to be allowed to increase its production back to its pre-sanctions level.
Regional rival and de facto Opec leader Saudi Arabia may be left having to bear the brunt of the retrenchment. However, it has threatened to ramp up output if others don't share the cuts.Without a deal, the IEA says "we'll drown in oil", says Slav, and the oil price is expected to fall sharply again, perhaps lower than $30.
The IEA report comes days after the US regulator, the Energy Information Administration, revealed a third consecutive weekly build in US crude reserves, adding to fears the global supply glut will not end any time soon.
Continue reading for free
We hope you're enjoying The Week's refreshingly open-minded journalism.
Subscribed to The Week? Register your account with the same email as your subscription.
Sign up to our 10 Things You Need to Know Today newsletter
A free daily digest of the biggest news stories of the day - and the best features from our website