Oil price posts two-year highs - but how long can it last?
Brent rose above $59 a barrel this week, its best third-quarter showing since 2004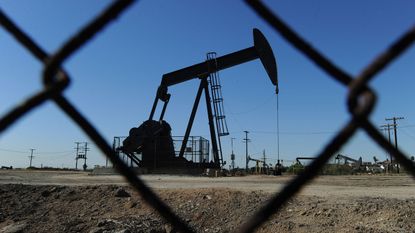 (Image credit: Mark Ralston/AFP/Getty Images)
Sign up to our 10 Things You Need to Know Today newsletter
A free daily digest of the biggest news stories of the day - and the best features from our website
Thank you for signing up to TheWeek. You will receive a verification email shortly.
There was a problem. Please refresh the page and try again.
Oil price slumps to $50 on stocks build and Opec deal doubts
26 October
Oil prices have dropped to around $50 for the first time in three weeks as fears grow that the two-year supply glut that has seen trading fall from more than $100 a barrel is far from being over.
International benchmark Brent crude fell around 2.3 per cent to $50.30 a barrel in New York trading yesterday evening. It touched the $50 mark overnight in Asia before recovering slightly to around $50.20 in London this morning.
Subscribe to The Week
Escape your echo chamber. Get the facts behind the news, plus analysis from multiple perspectives.
SUBSCRIBE & SAVE
Sign up for The Week's Free Newsletters
From our morning news briefing to a weekly Good News Newsletter, get the best of The Week delivered directly to your inbox.
From our morning news briefing to a weekly Good News Newsletter, get the best of The Week delivered directly to your inbox.
Its US benchmark, West Texas Intermediate, was this morning down to $49.35 a barrel, around 2.4 per cent from yesterday's New York opening price.
The slump, the third in three sessions, came after a report from the American Petroleum Association showed a 4.8 million build in US raw crude reserves last week, says Oilprice.com.
That would almost fully erase the 5.2 million draw from the preceding week and came alongside an increase in refined products, with petrol stocks up 1.7 million barrels.
These figures feed into wider concerns on supply. Analyst doubt that the tentative supply deal struck by the Opec cartel, in which they would cut output by up to one million barrels from next month, will be successful.
Specific country cuts among the group's 14 members need to be agreed at a formal meeting in Vienna next month, but Reuters says Iran, Nigeria, Libya, Venezuela and Indonesia could all be exempted.
At the same time, Iraq has signalled it will refuse to cut exports, while non-Opec giant Russia has refused to say whether it will honour any deal.
This "leaves the onus of a potential cut with Arab producers in the Middle East such as Saudi Arabia", Reuters adds.
"The market is definitely in need of some kind of soothing words once again, but it's a 'cry wolf' thing. The talking has to get louder and louder to attract any attention because scepticism is on the rise and I think rightly so," Ole Hansen, the senior manager at Saxo Bank, said.
He has set a near-term target for Brent of $49.40, later falling to $48.40.
Oil price wobbles as Iraq demands Opec deal exemption
24 October
The oil price was struggling for traction this morning after Iraq's oil minister cast doubt on a deal to cut global production next month.
Brent crude, the international oil price benchmark, was rooted below $52 a barrel.
It has been stuck at around this level for several sessions, but is down around three per cent from its highest 2016 settlement set earlier this month, when it also posted an intraday high of close to $54.
Its US counterpart West Texas Intermediate was down 0.2 per cent this morning and back below $51 a barrel.
The trigger for the latest price wobble came from Iraqi oil minister Jabar Ali al-Luaibi, who "said Baghdad wants to be exempt from any production cut" agreed by the Opec cartel next month, says Reuters.
Iraq is the second-largest producer in the 14-nation group, with almost 4.8 million barrels a day pumped in September.
But the country wants to rebuild its economy and so is seeking more oil revenue. Al-Luaibi said Iraq could up its output this month and would be producing nine million barrels a day now "if it wasn't for the wars".
Support for prices came in the form of comments from fellow Opec country Iran's deputy oil minister Amir Hossein Zamaninia, who said Tehran would encourage other members to take part in the cuts, to be finalised next month.
However, Iran has consistently suggested it should be allowed to return to the four million barrels a day of exports it was achieving before international sanctions were imposed. That's about 500,000 more than its current level.
Opec wants to cut between 500,000 to one million barrels a day from its collective output. Who will cut what has yet to be signed, though, and this is prompting fears the agreement could break down.
Ultimately it may come down to Opec's de facto leader Saudi Arabia – the biggest oil producer and richest state in the cartel – to take the brunt.
If Saudi Arabia is unwilling and the deal fails, we can expect oil prices to fall sharply again.
Why the oil price could be $55 or $90 in five years
21 October
At the moment, the oil price is caught in a narrow range a little above $50 a barrel. Most expect it to remain so until Opec finalises – or ultimately fails to agree – a supply cut next month.
Analysts generally assume the cartel, which once held the oil market in its thrall, will agree to drop output by between 500,000 and a million barrels per day.
However, there is less consensus among senior figures in the energy market over where the oil price goes from there.
The World Bank forecasts it will increase next year, but only to around $55 a barrel, says Reuters. Neil Beveridge, of Bernstein Energy, however, says prices will advance to above $60 and go on to $70 in 2017.
Longer term, the disparity is more marked.
The Economist Intelligence Unit sees prices being affected by falling demand from China and flexible output in the US, which will rise along with the oil price. It says the cost of a barrel could still be as low as $55 and will probably be no higher than $65, says Oilprice.com.
Meanwhile, there are those, such as the Saudi Arabian oil minister Khalid al-Falih, who predict oil prices will spike in the years to come as substantially reduced investment in the past two years feeds through into a supply shortage.
Peter Tertzakian, the chief energy economist at private equity fund Arc Financial Corp, says that while "short-cycle" investing in projects that are economical at a sub-$60 oil price are "de rigour", there could be a limit on how long this can last.
As a result, oil could "head back to $90 sooner than thought", he concludes
Tertzakian says: "Piling into North American tight oil plays, or even some new ones abroad like Argentina, has high potential to over-capitalize concentrated areas and drive costs much higher.
"All of this is to say that $60 may be the new $90, but only until such time as everyone strips the rack of $60 opportunities."
Brent crude, the international oil price benchmark, dipped two per cent yesterday to below $51.50 a barrel, before recovering a little this morning to $51.62.
US counterpart West Texas Intermediate also slipped more than two per cent to $50.40 a barrel on Thursday and has recovered to $50.78 this morning.
Oil price could make 'upwards break towards $60'
20 October
Opec's proposed deal to cut production has "put a floor" under the oil price at around $50 a barrel, Reuters says.
Indeed, international benchmark Brent crude gained nearly two per cent to $52.67 a barrel last night in New York, although it lost some of this ground in a "consolidation" trade this morning and dropped to a little above $52.
It's US peer, West Texas Intermediate, hit a year-high of close to $52 at one point last night and was holding above $51 a barrel this morning.
Optimism is growing for future trading, too - BMI Research says it sees "significant potential for an upwards break in Brent towards $60 per barrel".
BMI Research argues this is down to "bullish technical drivers and supportive conditions in the broader financial markets". Essentially, its analysts believe markets are quite "risk-on" and that oil's recent trajectory makes a case for further gains to come.
In addition to ongoing speculation that Opec will confirm its tentative supply deal when it meets formally next month, markets are buoyed by official data showing raw crude stockpiles in the US has fallen for the sixth time in seven weeks.
A headline drop of 5.2 million barrels was somewhat offset by an increase of 1.6 million barrels in reserves of refined products such as petrol, but that did not stop a bullish mood from taking hold.
"Even when factoring in hurricanes, it is difficult to write off the fact that US crude stocks have drawn by some 26.5 million barrels in the past seven weeks," analysts at JCB said.
A Wall Street Journal survey of investment bankers found they have upped a consensus forecast for the oil to average $56 per barrel next year - "but some have predicted the recent declines in stockpiles suggest prices could rise above $60 in the next year," says the paper.
However, prices could still be hit if the Opec deal falls through amid ongoing acrimony among member
Another danger is that if agreed, the deal could prompt a sharp rise in the oil price that in turn triggers a rapid increase in output from the US – the world's "swing producer", says Exxon chief executive Rex Tillerson, owing to its highly-efficient shale oil drillers.
That could bring a renewed supply glut that would put pressure on oil prices again next year.
BP says current oil price is not a blocker to growth
19 October
BP will break even at current prices and even grow its investment in new exploration projects, its chief executive has announced.
Last year, Bob Dudley said the company needed the global oil price to return to $60 a barrel for its "upstream" drilling activities not to be loss-making.
Yesterday, however, he told a conference in London BP could now "operate in the $50 range if we have to and still invest in growth", says The Times.
"Last year we said we needed to balance at $60 and we had a job to get it there. Next year, we will be able to balance south of $55," he said.
"At today's prices, we have to maximise efficiency and minimise costs. We have to focus on the highest-quality projects and develop them with great capital discipline."
The comments mean BP is adapting to an oil price that remains rooted in the low $50s - Dudley says he expects oil to trade between $50 and $60 next year.
Brent crude, the international benchmark, rose marginally to a little above $52 a barrel in London trading this morning.
It was languishing around $45 last month until the 14-nation Opec cartel revealed it had agreed to cut supply, a deal it intends to finalise at its meeting next month.
However, there are doubts the supply cuts will actually be formally signed as they require bitter regional rivals Saudi Arabia and Iran, among others, to resolve their differences.
Earlier this week, oil dipped for several sessions after Iran suggested it would continue to increase its market share until it reached the pre-sanctions level.
There is also a disparity in the price Iran and Saudi Arabia need to balance their budgets, which in both cases is above where BP is now setting its sights.
Bloomberg says the International Monetary Fund has revised its forecast for a break-even oil price for Saudi Arabia from around $67 to a shade under $80 a barrel but says Iran can meet its spending commitments at around $55 a barrel.
Continue reading for free
We hope you're enjoying The Week's refreshingly open-minded journalism.
Subscribed to The Week? Register your account with the same email as your subscription.
Sign up to our 10 Things You Need to Know Today newsletter
A free daily digest of the biggest news stories of the day - and the best features from our website