Oil price posts two-year highs - but how long can it last?
Brent rose above $59 a barrel this week, its best third-quarter showing since 2004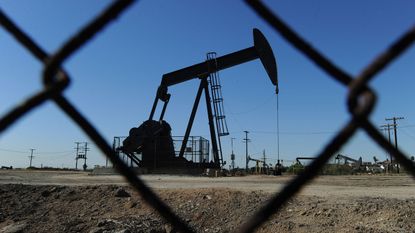 (Image credit: Mark Ralston/AFP/Getty Images)
Sign up to our 10 Things You Need to Know Today newsletter
A free daily digest of the biggest news stories of the day - and the best features from our website
Thank you for signing up to TheWeek. You will receive a verification email shortly.
There was a problem. Please refresh the page and try again.
Oil price: 'I just can't see it getting back to $60'
25 July
An oversupply in the global oil market is preventing the price from recovering to $60 a barrel and could last for two more years, according to one of the world's largest oil traders.
Ian Taylor, the chief executive of Vitol, told The Times that bullish forecasts for demand were unlikely to be met and that near-record levels of domestic and offshore storage might even grow in the second half of this year as disrupted output recovers.
Subscribe to The Week
Escape your echo chamber. Get the facts behind the news, plus analysis from multiple perspectives.
SUBSCRIBE & SAVE
Sign up for The Week's Free Newsletters
From our morning news briefing to a weekly Good News Newsletter, get the best of The Week delivered directly to your inbox.
From our morning news briefing to a weekly Good News Newsletter, get the best of The Week delivered directly to your inbox.
"There's probably 500 million to 600 million barrels in the system," he said. "We are no longer sure that's going to disappear this year."
Describing the market as "a tad soggier", Taylor said the industry consensus has been that "we slowly but surely move up as the supply cutbacks bite".
But, he added: ''We still think the market overall is unlikely to draw significantly in the second half of the year and may even be slightly building."
He continued: "It's not going to be a two million [barrels increase in] demand year. We are going to be lucky to be a 1.1-1.2 million year… I just can't see the industry getting back to $60."
The oil price has rallied twice this year to around $50, at which point it has consistently run aground as two years of excess supply, combined with the threat of increased production at higher prices, weighs on sentiment.
Last month's Brexit victory hit prices as the dollar rose against the pound and made the commodity more expensive to overseas buyers.
With the shocked reaction to the referendum now fading, evidence continues to point to a huge volume of oil remaining in stockpiles around the world. Where raw crude oil is being drawn down, it is being processed into a glut of petrol and other refined products that are far in excess of demand.
International oil price benchmark Brent crude is down close to one per cent to $45.25 in early afternoon trading in London today, marking another new two-month low.
One effect of the low price has been a widespread cut to investment by oil majors, which has hit, among other areas, the North Sea sector. As a result of a declining quantity of extractable oil in the region, the industry may never fully recover, Taylor says.
"In my view it's game over for the North Sea. The big boys are not going there because there is nothing large enough left. The smaller companies can't get any capital. You will see a slow but steady decline," he said. "It's hard to see it ever coming back."
Vitol is one of the world's largest global oil traders, dealing in more than 146 million barrels last year and boasting revenues of $168bn (£139bn), making it the ninth largest company in the world.
Oil price hits another two-month low as supply concerns persist
22 July
The oil price hit another two-month low overnight and is set for a steep weekly fall as supply concerns continue to weigh on trader sentiment.
The forecast for the week as a whole, according to the Financial Times, is that the benchmark for oil produced in the North Sea is heading for a fall of below 2.5 per cent.
Triggering this volatility, as well as the sharp drops overnight, is the official inventory data from the US, which show a 2.3 million barrel draw in raw crude oil stocks but a sizeable 700,000 barrels in petrol reserves.
The new figures suggest refineries are making inroads into previously record stockpiles of crude but that insufficient demand for the resulting refined products is leaving a glut.
That this is occurring in the peak summer driving season in the US, when the demand for petrol rises sharply, only adds to the unease. Data from BMI Research says consumption in key Asian markets is also waning.
Phil Davis, a trader at PSW Investments in California, points to the separate 4.2 million-barrel build of "other oils" - alternative products that "refiners typically crank out when there is too much gasoline and distillate supply", Reuters says.
Traders say the outlook for the crude market is that it's more in balance as a result of supply disruption. But there is a bearish sign from Iraq, the second-largest producer in the Opec cartel.
Exports from the south of the country in the first 21 days of July are estimated to have averaged 3.28 million barrels per day, up from 3.18 million last month.
"The narrative of a balanced oil market has so far been an illusion," says UBS oil analyst Giovanni Staunovo. He believes supply might increase in the near term, "while demand growth is set to slow in emerging Asia."
Oil price: 'Market is not sound to sustain a rally'
21 July
The oil price waned and waxed yesterday as the latest US inventory data added to the mixed messages over supply and demand in the market.
The report showed raw crude stockpiles fell by 2.3 million barrels last week, the ninth straight draw and above the 2.1 million barrels predicted by analysts.
A two-year glut in global supplies has prompted a prolonged slump in prices, but recent supply disruption has swung the market into at least a temporary supply deficit and boosted trader sentiment.
However, gasoline reserves gained for the second week in three, increasing 900,000 barrels. Analysts had expected stocks to remain flat with the previous week.
A glut of refined products even despite the peak summer driving season in the US suggests that fundamental demand is not where it needs to be to sustain a longer-term oil price recovery.
International benchmark Brent crude hovered near a two-month low at around $46 a barrel ahead of the data release before recovering to a little below $47.50.
This morning in London, it was down to around $47 a barrel, well below the $50 at which it spent much of the spring.
"We continue to see these builds in gasoline which suggest the market is fundamentally not sound to sustain a rally," Tariq Zahir, a trader at Tyche Capital Advisors in New York, told Reuters.
Among the factors helping to ensure oil settled higher was a jump in the pound against the dollar after a positive post-Brexit survey from the Bank of England.
Meanwhile, another report revealed that Saudi Arabia has been burning through its own oil reserves since October as demand reaches a peak in the country.
This adds to the sense of a global market more in balance - but again, says Oilprice.com, increased refinery activity that is not expected to last beyond the summer could be responsible.
"Saudi Arabia is moving out of its peak seasonal demand for crude oil right when global refining margins are under strong pressure, and that is not a good combination," said Olivier Jakob, of oil market researcher Petromatrix.
Oil price vulnerable ahead of US reserves report
21 July
After falling on both Monday and Tuesday, the oil price was hovering at a relative low on Wednesday morning as traders digested conflicting data on US reserves.
However, a recent softening of the price has coincided with surprise increases in stocks of petrol and other derivative products, despite the peak-demand driving season being in full swing.
Overall, this paints a picture of a market in which refineries are making inroads into record crude stockpiles only to create a glut in refined products.
International benchmark Brent crude fell around one per cent at the beginning of the week and was holding below $47 a barrel in London this morning, around $1 above its recent two-month low.
The slides were as much as anything a result of the continuing fallout of the EU referendum on currency markets and especially the dollar.
The greenback rose against the pound earlier this week, leaving it up more broadly against a basket of global currencies. This in turn makes oil, which is denominated in dollars, expensive for overseas buyers and is seen as negative for demand.
But oil also fell despite a report from the American Petroleum Association yesterday showing a 2.3 million barrel fall in crude oil reserves and an 800,000 barrel increase in gasoline stocks.
Official data from US watchdog the Energy Information Administration is due later today. Any cut in main reserves, Reuters says, will be for the ninth consecutive week.
"Unless crude imports fall totally out of bed, there's ample oil in the tanks, and the headline numbers for crude won't be as bearish as the total numbers," said Kyle Cooper, an oil markets consultant for New York-based broker ION Energy.
Oil price falls as output cuts fail to stem oversupply fears
20 July
Oil prices extended their decline on Tuesday as cuts in production and concerns over disruptions from an attempted coup in Turkey failed to impact on the glut in global supplies.
Crude prices fell more than 1 per cent from the previous session, despite an expected drop in US shale production next month of 99,000 barrels per day.
Brent crude slipped 11 cents to $46.85 a barrel after finishing the previous session down 65 cents, or 1.4 per cent.
"It's a knife edge between optimism and pessimism," analyst Ben Le Brun told Reuters, adding that the market was eagerly awaiting US crude stocks data to give an indication on the direction of prices.
Despite it being peak summer driving season, fuel stocks in the US, Europe and Asia are brimming, leading traders to store diesel on tankers at sea amid wilting demand.
With land storage also approaching full capacity, there is little support for any sustained recovery in prices even with output tapering.
North Sea oilfields have been hit particularly hard by the rout, with about 30 per cent of the region's production operating at a loss, Bloomberg reports. The market is also suffering from a lack of investment due to uncertainty created by the UK's decision to leave the European Union.
Meanwhile, China continues to increase its crude imports, with a rise of 14.2 per cent between the January to June period. The gains come mainly from huge increases in supply from Russia, Oman, Iraq and Brazil.
Continue reading for free
We hope you're enjoying The Week's refreshingly open-minded journalism.
Subscribed to The Week? Register your account with the same email as your subscription.
Sign up to our 10 Things You Need to Know Today newsletter
A free daily digest of the biggest news stories of the day - and the best features from our website