French climategate ends with sceptic's humiliation
Will climate change sceptic Claude Allegre finally keep his thoughts to himself? Probably not...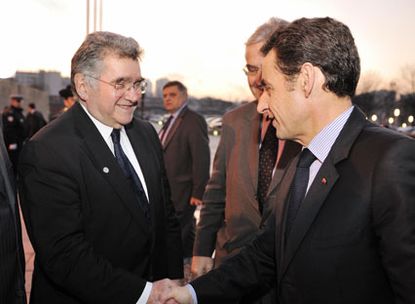 A prominent French climate change sceptic has been forced to eat his words in emphatic fashion after the Academie des Sciences, of which he is a member, published a report contradicting his claims.
Putting a lid on what has become its own version of the UK's 'climategate' row, France's most august scientific body yesterday declared that global warming exists and has unquestionably been caused by the activities of mankind.
In April, former French education minister Claude Allegre published a book called L'imposture climatique (The climatic deception).
Subscribe to The Week
Escape your echo chamber. Get the facts behind the news, plus analysis from multiple perspectives.
SUBSCRIBE & SAVE
Sign up for The Week's Free Newsletters
From our morning news briefing to a weekly Good News Newsletter, get the best of The Week delivered directly to your inbox.
From our morning news briefing to a weekly Good News Newsletter, get the best of The Week delivered directly to your inbox.
The book came at an opportune time for its author, a geochemist who is also a member of the Academie des Sciences, because it tapped into the sceptical atmosphere engendered by the 'climategate' row, then at its height, in which the validity of claims made by climate scientists was questioned following the leak of emails from the Climatic Research Unit of the University of East Anglia.
Allegre claimed in his book that climate change was not linked to an increase in carbon dioxide (CO2) in the atmosphere; instead, he said, clouds and solar activity are more important.
Allegre's objections to man-made climate change may sound vaguely scientific, but in fact his book was riddled with basic errors and he insulted prominent scientists, calling them "religious fanatics", "Marxists" and "mediocre scientists".
One highlight was a graph he personally redrew to suit his argument. Hakan Grudd, the scientist who created the original graph, called Allegre's behaviour "unethical".
He even failed to spell correctly the names of the scientists he insulted. (To get a taste of just how bad a book L'imposture Climatique is, a visit to RealClimate.org is recommended.)
The book was so badly received that hundreds of scientists called on the French science minister Valerie Pecresse to disown Allegre's claims, which they said disparaged their work and contained downright lies.
In a bid to clear the air, Pecresse agreed to stage a debate on the science of climate change, which was finally held by the Academie des Sciences in September. The report released yesterday is the result of this debate.
The report concludes that "several independent indicators show an increase in global warming from 1975 to 2003". It adds that CO2 is principally to blame for the increase in temperature and states: "The increase in carbon dioxide, and to a lesser degree other greenhouse gases, is unquestionably due to human activity."
As for Allegre's claims about solar activity and clouds, the report says: "Solar activity, which has dropped slightly on average since 1975, cannot be dominant in warming observed during this period" and "major uncertainties remain on how to model clouds, the evolution of marine ice and the polar caps, the connection between the oceans and the atmosphere, the biosphere's evolution and the carbon cycle".
As a member of the Academie des Sciences, Allegre signed off on the report, which contradicts his published claims. But that doesn't mean he has changed his mind.
Allegre told Agence France Presse: "I have not evolved, I still say the same thing, that the exact role of carbon dioxide in the environment has not been shown."
Allegre has a history of taking perverse positions in areas outside of his expertise - and a stubborn propensity not to back down when exposed.
In 1999 he erroneously stated that if a petanque ball and a tennis ball were dropped from a tower they would reach the ground at the same time, despite their different masses. Of course, this is only true in a vacuum – a point demonstrated by the astronaut David Scott on the moon in 1971 when he dropped a hammer and feather.
Yet despite being pilloried in the French press, and being corrected by a Nobel prize-winning physicist, Allegre stuck to his guns.

Continue reading for free
We hope you're enjoying The Week's refreshingly open-minded journalism.
Subscribed to The Week? Register your account with the same email as your subscription.