The 'genocide' debate in Gaza
Experts dispute whether Israel's war meets the definition. Some observers say the argument goes both ways.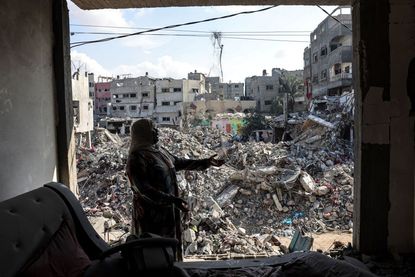 (Image credit: Mohammed Abed / AFP via Getty Images)
Israel's war in Gaza has been brutal and bloody. More than 11,000 Gazans have been killed — "one out of every 200 people" in the territory. But does that growing death toll rise to the level of genocide?
That's a fraught and hotly debated question among observers to the conflict. Israel "emerged out of the ashes of the most horrifying genocide in human history," Ishaan Tharoor noted at the The Washington Post. The country's leaders see Hamas as a threat determined "to kill Jews wherever it can." But Israel's critics see it as "perpetrating what may be de facto ethnic cleansing." The debate isn't contained to op-ed pages. Palestinian human rights groups have asked the International Criminal Court to probe Israel's war on Gaza, accusing the country of war crimes. Independent experts from the United Nations have called for a cease-fire in the war, saying that Palestinians in the territory are at "grave risk of genocide." And a group of more than 750 current and former journalists from around the world have signed a petition calling on their colleagues to use the term "genocide" when reporting on the war.
"There are different ways to define genocide," Nicole Narea and Sigal Samuel observed at Vox. The strictly legal definition in the 1951 Genocide Convention describes genocide as acts committed with "intent to destroy, in whole or in part, a national, ethnical, racial or religious group, as such." That kind of intent can be difficult to prove.
Subscribe to The Week
Escape your echo chamber. Get the facts behind the news, plus analysis from multiple perspectives.
SUBSCRIBE & SAVE
Sign up for The Week's Free Newsletters
From our morning news briefing to a weekly Good News Newsletter, get the best of The Week delivered directly to your inbox.
From our morning news briefing to a weekly Good News Newsletter, get the best of The Week delivered directly to your inbox.
'Crimes against humanity'
But many social scientists define genocide more broadly, Time reported. The treaty definition "doesn't take into account people being targeted because of their socioeconomic status, or their political identity, or whatnot," said one expert. But Time, like Vox, found that a number of experts said the legal definition of genocide would be hard to prove. Instead, those experts said, it's likely that because of "indiscriminate" bombing and mass civilian casualties "both Hamas and some Israeli officials could be found guilty of crimes against humanity."
Western leaders tend to use a "shifting definition" of genocide depending on who is being accused, Juan Alberto Ruiz Casado argued at The Diplomat. The United States and other countries have easily acknowledged accusations of genocide when it comes to China's mistreatment of Uyghurs, but less so when it comes to Israel's actions against Palestinians. Western leaders should "engage in more self-reflection" about the double standards.
That doesn't mean there aren't deep moral concerns. "My life has been defined by the European genocide of the Jewish people," Yale University's Jason Stanley, who has studied the language used to justify genocides, wrote for The Guardian. And Hamas' massacre of Israeli civilians on Oct. 7 was a "special horror" evocative of the worst attacks on Jews. But Hamas' "genocidal ambition" against Israel's Jewish inhabitants "hardly constitutes a justification for Israel's mass killing of innocents." There is a particular responsibility here: "For those of us who bear the trauma of our own ancestors' genocide, it is time to face the consequences of these actions."
'Rarely seen such carnage'
The argument goes both ways. Stephen D. Smith, emeritus executive director at the USC Shoah Foundation, argued in The Hill that Hamas' initial October attack on Israel, with its brutal mass murder of civilians, also constituted genocide. "I have rarely seen such carnage carried out with such fervor in such short a period of time," he wrote after viewing footage of the atrocities.
Too often the term "genocide" is misused, The Economist opined. While Hamas has indicated in its charter that it is a "genocidal organization," there is no evidence that Israel intends to "destroy" Palestinians as a group. Maybe that's too high a threshold: "Even if an army's actions do not pass the threshold of genocide, they can still be wrong."
The violence in Gaza "is both unbearable and untenable," Omer Bartov, a professor of Holocaust and genocide studies at Brown University, wrote in The New York Times. History shows it "is crucial to warn of the potential for genocide before it occurs." So no, the legal definition of genocide has not been met in Gaza. That's why it is important to act now to restrain the violence. "I think we still have that time."

Continue reading for free
We hope you're enjoying The Week's refreshingly open-minded journalism.
Subscribed to The Week? Register your account with the same email as your subscription.