What Omicron means for schools this winter
What to know about how Omicron is affecting schools, teachers, parents, and students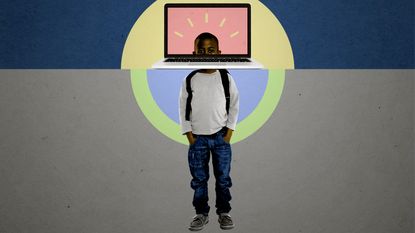 (Image credit: Illustrated | iStock)
The sudden national onset of Omicron has induced an uncomfortable feeling of déjà vu, a sense of dread that the explosive rise of the hyper-transmissible, little-understood new coronavirus variant could drag us all back to the bad old days of last winter.
Professional sports leagues are suspending their seasons; plays and concerts are being canceled; colleges with COVID-19 outbreaks sent students home early for winter break; restaurants and bars in some parts of the country are closing; and many hospitals and their ICUs are filling up — only this time, people are 20 months into the pandemic and sick of living in various physical and metaphorical boxes.
Meanwhile, parents of K-12 students are staring down "a return to the drudgery of school through a screen, child care crises, and restless young bodies, penned inside for the winter," The New York Times reports. School districts "have mostly reassured families that despite targeted classroom closures to contain spread of the virus, they plan to continue in-person learning until the Christmas break and reopen as planned in January," but "the alarming spread of the virus could expose the rickety infrastructure that has kept schools running through most of this year."
Subscribe to The Week
Escape your echo chamber. Get the facts behind the news, plus analysis from multiple perspectives.
SUBSCRIBE & SAVE
Sign up for The Week's Free Newsletters
From our morning news briefing to a weekly Good News Newsletter, get the best of The Week delivered directly to your inbox.
From our morning news briefing to a weekly Good News Newsletter, get the best of The Week delivered directly to your inbox.
So what does the flash flood of Omicron mean for schools, teachers, parents, and students?
Are school closures likely?
Some schools have already announced a temporary return to distance learning — Maryland's Prince George's County school district, one of the largest on the East Coast, said last week it will shift to remote learning until mid-January after three of its 208 schools closed due to COVID-19 outbreaks. "But Prince George's is an outlier," the Times notes, and "the political will to keep schools open" is so strong, not even teachers' unions are calling for a pivot back to Zoom school.
"While over 99 percent of schools are open now, we need to make sure we keep that throughout the winter," President Biden said in early December, laying out the government's initial plan for tackling Omicron. "We want our children in school."
"We know a lot more today than we did back in March of 2020," Biden said Tuesday, laying out his expanded response. "For example, last year, we thought the only way to keep your children safe was to close our schools. Today, we know more and we have more resources to keep those schools open."
Teachers, staff, and children 5 and older can get vaccinated, and Congress gave school districts resources to improve ventilation, social distancing, and other mitigation measures, he said. "We can keep our K-12 schools open, and that's exactly what we should be doing."
What could change that calculus?
Schools across the country are already stretched thin, struggling to find enough substitute teachers and bus drivers, and a wave of Omicron that sidelines enough teachers and staff could force schools to shut down. Also, there's not much data on how Omicron affects kids. Presumably, if large numbers of students started getting seriously ill, parents and teachers would agree online classes are the better alternative.
"Just about a month ago, we had about 98 percent of the students in this country attending school in person, and Omicron has brought about just a huge reversal in that process," Daniel Domenech, executive director of the American Association of School Administrators, tells The Associated Press. "And all of a sudden we're seeing infection rates skyrocket." The new variant is "affecting children much more than previous variants, so children are getting sick. Staff is getting sick, and it's just a spread that's alarming," he added.
Nearly 7.4 million U.S. children have been infected with COVID-19 during the pandemic, representing 17.3 percent of all cases, according to the American Academy of Pediatrics and the Children's Hospital Association, and almost 170,000 of those cases were reported last week, AP notes. Provisional data from the Centers for Disease Control and Prevention (CDC) shows that about 770 children age 0 to 18 died of COVID-19 in the U.S. between January 2020 and mid-December 2021.
"Everybody wants to keep the schools open," Domenech told USA Today. "The schools want to stay open. But it's a logistical nightmare. Depending on the infection rate in communities, it's going to be hard to do that."
Will parents put up with a return to virtual, at-home education?
Many parents are eager for their kids to remain in school, and "virtual learning doesn't work well academically, socially, or emotionally for many students, particularly those who lack safe, supportive households, and steady internet connections," USA Today reports. Private schools, which have tended to maintain in-person education more than public schools during the pandemic, have seen a surge of enrollment.
But, simultaneously, a large number of parents have pulled their children from class out of concern for the safety of their families. Most, though not all, of these students are doing school online.
"Parents are voting with their feet, and many of them don't feel that the current protocols are actually keeping their families safe," Jennifer Jennings, a Princeton University researcher, tells AP. "And a lot them don't think they're being given enough information about what's happening to allow them to make choices for their families." On Monday, AP reports, a fifth of New York City public school students skipped in-person classes.
How can schools keep students and teachers safe?
Schools know what works to maintain in-person learning, Sara Bode, a member of the American Academy of Pediatrics Council on School Health, tells USA Today: Vaccinate more staff and students, wear masks, maintain good ventilation, and increase coronavirus testing. "Going back to remote learning as a quick strategy only exacerbates the overall school climate and mental wellness of students and staff," she said.
The CDC still agrees that "schools can remain safe when proper protocols are followed," AP reports, and late last week, the agency changed its guidance on allowing unvaccinated students to stay in school after exposure to the coronavirus. The CDC said the new "test-to-stay" protocol — under which unvaccinated students who test negative twice in a week can remain in class — proved effective in two counties that tested it out.
"The evidence behind test-to-stay is clear and strong," Dr. Ashish Jha, dean of Brown University's School of Public Health, writes in The Atlantic. "But test-to-stay can be deployed only with adequate supplies of rapid tests," which few schools have, and enough staff to administer them. There are also concerns that Omicron appears to infect people faster, meaning a negative test may only be reliable for a few hours.
Where do we go from here?
The COVID-19 pandemic has sparked a lot of fights around schools. Parents were angry over mask requirements, or state bans on masks, or vaccinations in schools, while arguments over books and race-adjacent curricula also raged. "Teachers battled student misbehavior, from low-level defiance to fights, threats, and gun violence," USA Today reports. Everyone has been fighting anxiety and other mental health triggers.
The debate over whether to keep schools open as cases rise will be, as always in this pandemic, a personal and communal balancing of risks and rewards.
"This is going to be a winter of challenging choices for schools, but closure cannot be the default," says Robin Lake, director of the Center on Reinventing Public Education think tank.
So far in this academic year, "things have gone relatively smoothly for schools," and "school outbreaks remain limited, as they have been throughout the pandemic," the Times reports, citing data from school tracking service Burbio. "Across the nation's 13,000 districts and 98,000 public schools this week, there are about 600 shuttered schools or districts."
And of course, schools don't operate in a vacuum. All of us "can make some modest sacrifices in the upcoming weeks to prevent the unnecessary spread of infections," Jha writes. If we avoid large indoor parties, mask up indoors, get vaccinated or boosted, test and quarantine (if necessary), and use other mitigation tools and strategies, "we can meet the challenges of this latest variant — protecting our hospitals, allowing schools to remain open safely, and keeping open the businesses, theaters, and more that enrich our lives and sustain our communities."
"If I hear of a single school district that goes remote but keeps bars open, what that says to me is they don't care about kids — and they don't care about COVID," Jha said Monday on MSNBC. "Because bars spread COVID. Schools generally don't, not if you put in place mitigation efforts."

Continue reading for free
We hope you're enjoying The Week's refreshingly open-minded journalism.
Subscribed to The Week? Register your account with the same email as your subscription.