Clinton aide splits from Anthony Weiner after third sexting scandal
Huma Abedin's husband accused of sending yet another lewd picture of himself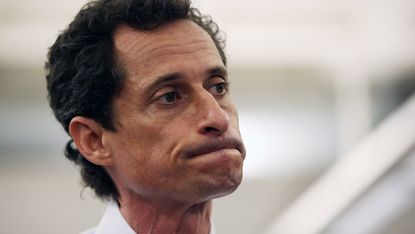 (Image credit: John Moore/Getty Images)
Anthony Weiner in slanging match with heckler
5 September 2013
Campaigning New York mayoral candidate Anthony Weiner got into a bitter war of words with a heckler in a bakery in the Orthodox Jewish area of Borough Park yesterday.
The argument (see video) started when the heckler, named by CNN as Saul Kessler, yelled, "You're a real scumbag" from the back of the Weiss Family Bakery as Weiner attempted to leave with his entourage.
Subscribe to The Week
Escape your echo chamber. Get the facts behind the news, plus analysis from multiple perspectives.
SUBSCRIBE & SAVE
Sign up for The Week's Free Newsletters
From our morning news briefing to a weekly Good News Newsletter, get the best of The Week delivered directly to your inbox.
From our morning news briefing to a weekly Good News Newsletter, get the best of The Week delivered directly to your inbox.
With his mouth full of cake, Weiner replied, "Takes one to know one, jackass!" before the two confronted each other in the doorway.
Kessler then laid into the disgraced former congressman, saying: "You did disgusting things ... you have the nerve to even walk around in public!"
Weiner, who still refused to quit the mayoral race despite sexting revelations, responded: "And you're perfect? You're going to judge me?"
Kessler: "I'm not the one running for office."
Disgraced congressman's communication director launches foul-mouthed attack against tell-all former intern
31 July 2013
Things are going from very bad to far, far worse for wannabe New York mayor and serial sexter Anthony Weiner, if that's possible.
Close on the heels of yesterday's poll which showed a clear majority of the city's voters want the former US congressman to exit from the mayoral race, Weiner now has to deal with the fall-out from an astonishing four-letter tirade delivered by his communications chief against a former campaign intern.
Tuesday's Daily News provided a grim start to the day for Team Weiner. Splashed across the top of the tabloid was a trail for an exclusive piece by Olivia Nuzzi.
Nuzzi, a college student who spent a month working for Weiner, described in the News a ramshackle campaign with Weiner acting bizarrely, inexperienced staffers in key positions, and opportunists joining as a launchpad to working on Hillary Clinton's 2016 presidential bid.
The Weiner camp's reaction was swift. Communications director Barbara Morgan let rip with a foul-mouthed diatribe to the politics blog TPM which would have had The Thick Of It's Malcolm Tucker purring with delight.
"I'm dealing with like stupid fucking interns who make it on to the cover of the Daily News even though they signed non-disclosure agreements and/or they proceeded to trash me," Morgan said. Nuzzi had questioned Morgan's credentials: she was previously press secretary for the New Jersey state education commissioner.
"F***ing slutbag. Nice f***ing glamour shot on the cover of the Daily News. Man, see if you ever get a job in this town again," continued Morgan. "It's all bullshit," she said. "I mean, it's such bullshit. She could f***ing ... f***ing twat."
Morgan signed off the extraordinary interview with one last shot across Nuzzi's bows.
"And then like she had the fucking balls to like trash me in the paper," Morgan said. "You know what? F*** you, you little c***. I'm not joking, I am going to sue her."
Anthony Weiner: Pull out now, New Yorkers demand
30 July 2013
NEW YORKERS are on the whole a broadminded bunch when it comes to their politicians, having put adulterers, crooks and drunks into Gracie Mansion, the mayor's official residence. But it seems that the latest transgression by former US congressman, recidivist 'sexter' and wannabe mayor Anthony Wiener is a scandal too far for them.
Following the revelation that the 48-year-old Democrat had continued to send sexually suggestive texts and photographs to women after he was forced to resign from Congress in 2011 for having done the same thing to at least six women, a poll for Quinnipiac has found that 53 per cent of voters want him to leave the race to succeed Michael Bloomberg as mayor. Just 40 per cent said he should stay in.
An overnight poll conducted the day after the new scandal hit Weiner had found 47 per cent in favour of him staying in, and just 43 per cent advocating his exit from the Democratic primary. But days of humiliation at the hands of the city's tabloids and his inability to answer fresh questions about his behaviour appear to have scuppered his always unlikely bid for political rehabilitation.
The repercussions from Wiener's woes could also impact on a national level now, as Hillary Clinton, the odds-on favourite to be the Democratic nominee for president in 2016, has been unwittingly drawn into the affair. Clinton's aide and close confidante Huma Abedin is unfortunate enough to be Weiner's wife, who has bravely stood by her man since the original 'sexting' scandal broke two years ago.
Abedin is so close to Clinton that the former secretary of state once said that "If I had a second daughter, it would be Huma", according to The Sunday Times. Hillary campaign officials are nervously asking what the ramifications for their candidate could be from having such a loose cannon as Weiner anywhere near their expensively assembled and fine-tuned machine.
For the time being Abedin remains supportive of her husband, appearing alongside him at a second press conference in two years where he tearfully admitted to his crimes and misdemeanours. This led to rumours that she had in some way colluded with her husband's aberrant behaviour, or that there was "something very wrong with her", in the words of the New York Post's Maureen Callahan.
Anthony Weiner: new lewd texts and pictures sent to woman
24 July 2013
Oops, he did it again. Anthony Weiner, the former US congressman who was forced to step down after he was caught sending "sexually suggestive" photographs of his anatomy to women he barely knew, has been up to his old tricks.
Embarrassingly for Weiner – a man whose surname is a gift to comedians everywhere – the new pictures and texts have emerged just as he tries to rebuild his shattered career by running as a candidate in New York's mayoral election.
Weiner was forced to leave Congress in June 2011 after it emerged he had sent lewd texts and photographs to at least six women. Announcing his resignation at a press conference in Brooklyn he apologised for "the personal mistakes I have made and the embarrassment I have caused."
Despite his public show of contrition it appears Weiner found it hard to change his ways. New texts and photographs posted on a website called The Dirty were apparently sent by Weiner to an unnamed woman last August, more than a year after he quit in disgrace. Some of the messages were sent from an account that uses the name Carlos Danger. The woman says Carlos Danger is Weiner.
The Dirty says Weiner and the woman spoke on the phone daily for six months. The texts they exchanged veer wildly from explicit sexual messages to a discussion of a political blog.
The latest revelations would leave most political comebacks dead in the water. But Weiner, 48, is nothing if not thick-skinned. At a hastily convened press conference in New York he announced he would not drop out of the race to become the city's mayor and did his best to downplay the latest texts and lewd photographs.
"I said that other texts and photos were likely to come out, and today they have," said Weiner, who appeared next to his wife, Huma Abedin. "Some of these things happened before my resignation, some of them happened after."
USA Today says that Abedin, a top aide to Hillary Clinton, was close to tears during the humiliating press conference. She said it had taken a lot of "work and therapy" to allow her to forgive her husband, but she had decided it was "worth staying in our marriage".
"Anthony has made some horrible mistakes both before he resigned from Congress and after," she told reporters. "I love him, I have forgiven him, I believe in him."

Continue reading for free
We hope you're enjoying The Week's refreshingly open-minded journalism.
Subscribed to The Week? Register your account with the same email as your subscription.