10 things you need to know today: December 12, 2021
New York Times claims secret drone strike cell showed reckless disregard for civilian casualties, Newsom announces plan to adapt Texas abortion law to gun control, and more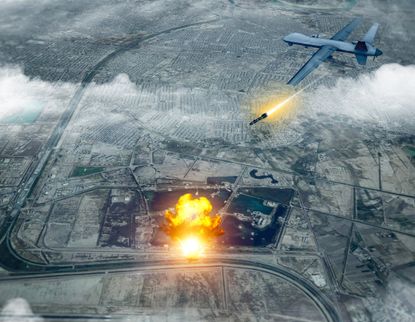 (Image credit: Naeblys / iStock)
1. Secret drone strike cell showed reckless disregard for civilian casualties, New York Times report claims
A classified Delta Force cell that coordinated strikes against Islamic State targets showed reckless disregard for civilian casualties by regularly circumventing safeguard procedures and engaging in deceptive practices, according to a report published Sunday by The New York Times. The cell, known as Talon Anvil, worked out of nondescript offices in Iraq and Syria. Authority to order airstrikes was delegated to enlisted personnel. High-ranking intelligence officers became skeptical of the cell's methods as civilian casualties mounted. Talon Anvil members reportedly misclassified almost all strikes as defensive in order to sidestep waiting periods imposed on offensive strikes and even took to averting the drones' cameras after launch in order to hide evidence of civilian deaths.
2. Newsom announces plan to adapt Texas abortion law to gun control
California Gov. Gavin Newsom (D) responded Saturday to the U.S. Supreme Court's decision to leave a controversial Texas abortion law in place by announcing plans to adapt that law's legal framework to gun control. "I am outraged by yesterday's US Supreme Court decision allowing Texas's ban on most abortion services to remain in place, and largely endorsing Texas's scheme to insulate its law from the fundamental protections of Roe v. Wade," Newsom said in a statement. The Texas law allows private citizens to sue abortion providers. Newsom proposes allowing private citizens to sue assault weapon manufacturers, distributers, and sellers.
Subscribe to The Week
Escape your echo chamber. Get the facts behind the news, plus analysis from multiple perspectives.
SUBSCRIBE & SAVE
Sign up for The Week's Free Newsletters
From our morning news briefing to a weekly Good News Newsletter, get the best of The Week delivered directly to your inbox.
From our morning news briefing to a weekly Good News Newsletter, get the best of The Week delivered directly to your inbox.
3. Anne Rice, vampire novelist, dead at 80
Anne Rice, author of the best-selling Interview with a Vampire and other novels, died Saturday. Her son, author Christopher Rice, announced her death on Twitter and Facebook, expressing his hope that Anne "is now experiencing firsthand the glorious answers to many great spiritual and cosmic questions." Anne Rice was the author of the 13-book Vampire Chronicles series, which starred the iconic vampire Lestat. She also wrote erotic fiction and, after returning to the Catholic Church 1998, two novels about the early life of Jesus Christ. By the end of her life, Rice had distanced herself from Catholicism and identified as a secular humanist. She will be laid to rest in New Orleans.
4. Death toll from tornadoes tops 80
President Biden declared a state of emergency in Kentucky Saturday as the death toll from tornadoes that ripped across Kentucky and other Southern and Midwestern U.S. states the previous night reached 80. Biden also said he plans to visit the disaster areas once he is sure his presence would not interfere with recovery efforts. The tornadoes ripped a continuous path of destruction through over 200 miles of western Kentucky. The town of Mayfield — which had been home to over 10,000 people — has been almost completely destroyed. Tornadoes also touched down in Arkansas, Illinois, Missouri, and Tennessee. The total number of houses across all five states that are without power exceeds 250,000.
5. G7 to Russia: invading Ukraine would have 'massive consequences'
"Russia should be in no doubt that further military aggression against Ukraine would have massive consequences and severe cost," the G7 nations said in a draft statement released Sunday. Around 94,000 Russian troops have massed on the Ukrainian border, and intelligence estimates suggest that the invasion could come as early as January 2022 and involve 175,000 troops. CIA Director William Burns warned Monday that the build-up of military forces could allow Russia to act "in a very sweeping way." The G7 comprises the United States, United Kingdom, Canada, France, Germany, Italy, and Japan.
6. Israeli PM makes groundbreaking visit to UAE
Israeli Prime Minister Naftali Bennett is scheduled to travel to the United Arab Emirates Sunday, marking the first ever visit to the UAE by an Israeli premier. This visit comes after the UAE signed the Abraham Accords last year, normalizing relations between the two nations. Bennett says he plans to discuss "economic and regional issues that will contribute to prosperity, welfare and strengthening stability between the countries" during his Monday meeting with Emirati Crown Prince Mohamed bin Zayed. Also on the agenda will be how best to respond to an increasingly hostile Iran that seems bent on acquiring nuclear weapons.
The Wall Street Journal The Associated Press
7. Bryce Young awarded Heisman Trophy in second consecutive win for Alabama
Second-year quarterback Bryce Young was awarded the Heisman Trophy Saturday night, marking the second consecutive year that a player from the University of Alabama has won college football's highest honor. Last year's winner was wide receiver DeVonta Smith, who caught Young's first college touchdown pass in 2020. Young, who led Alabama to victory in the SEC Championship earlier this month, won by the seventh-highest margin in Heisman history.
The Associated Press The Washington Post
8. Trump blasts Netanyahu, praises Obama
Former President Barack Obama is "smart and sharp," but sowed "tremendous division" during his time in office, former President Donald Trump said at an event in Florida Saturday. Trump also said he "liked" Obama. This is a major shift in rhetoric for Trump, who spent years claiming his predecessor was born in Kenya and was "the most ignorant president in our history." Even as he warms up to Obama, Trump appears to have soured on his longtime ally former Israeli Prime Minister Benjamin Netanyahu. An Israeli outlet released excerpts Friday from an interview in which Trump blasted "Bibi" for congratulating then-President-elect Biden on his victory before Trump had conceded. "F--- him," Trump said of Netanyahu.
9. New Caledonia votes to stay French as independence movement boycotts referendum
The Pacific archipelago of New Caledonia voted Saturday to remain part of France. With nearly all precincts reporting, only about 4 percent of voters had backed independence. A 1998 agreement between France and New Caledonia provided for three independence referenda to be held in 2018, 2020, and 2022. The first two rejected independence 57-43 and 53-47, respectively. The landslide in this referendum is due to the pro-independence movement's decision to boycott the vote after the French government refused to postpone it. "I'd … like to say how proud I am as president of the republic that the majority of the Caledonian people have chosen France," French President Emmanuel Macron said in a speech Sunday.
10. In SNL cold open, 'Fauci' presents COVID Christmas showcase
Kate McKinnon played Dr. Anthony Fauci in the latest Saturday Night Live cold open, providing public service announcements for dealing with the Omicron variant with a little help — or hinderance — from Sen. Ted Cruz (Aidy Bryant), Reps. Marjorie Taylor Greene (Cecily Strong) and Lauren Boebert (Chloe Fineman), and the Cuomo brothers (Pete Davidson as Andrew and Andrew Dismukes as Chris). "Do people still think I'm sexy, or are we done with that?" McKinnon-as-Fauci asked before explaining that the new Omicron variant of the COVID-19 virus is not as dangerous as was initially feared and that those who have been vaccinated and boosted can safely "unclench."

Continue reading for free
We hope you're enjoying The Week's refreshingly open-minded journalism.
Subscribed to The Week? Register your account with the same email as your subscription.