Flight MH17: Eight other commercial passenger planes shot down
Malaysia Airlines flight MH17 was not the first to be shot down by a missile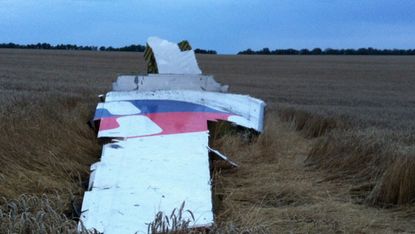 (Image credit: DOMINIQUE FAGET/AFP/Getty Images)
International investigators have finally concluded the provenance of the missile that shot down Malaysia Airlines flight MH17 in July 2014.
The investigators had previously found that the plane was brought down by a Russian-made BUK missile system brought in from Russia and fired from territory in Ukraine held by Moscow-backed rebels. But until now they had stopped short of directly saying who pulled the trigger.
Now "the team has painstakingly recreated the route taken by the missile convoy from Kursk across the border into Ukraine using videos and photos", reports The Daily Telegraph.
Subscribe to The Week
Escape your echo chamber. Get the facts behind the news, plus analysis from multiple perspectives.
SUBSCRIBE & SAVE
Sign up for The Week's Free Newsletters
From our morning news briefing to a weekly Good News Newsletter, get the best of The Week delivered directly to your inbox.
From our morning news briefing to a weekly Good News Newsletter, get the best of The Week delivered directly to your inbox.
Despite repeated denials by the Russian government, one of the investigators said the evidence showed that: "All the vehicles in a convoy carrying the missile were part of the Russian armed forces."
While the downing of MH17 was shocking, "it's rare, but not unprecedented, for civilian airliners to be shot down", says NPR. In the history of aviation, at least two dozen commercial planes have been shot down either intentionally or by accident, Vox reports.
Since 1940, "there have been at least 22 incidents of commercial airliners shot down around the world, resulting in more than 1,250 casualties", says Mashable.
Here's a list of the deadliest episodes:
1. Korean Air Lines Flight 007 (1983)
KAL 007, travelling from New York City to Seoul, was shot down by a Soviet fighter plane on 1 September 1983, west of Sakhalin Island, in the Sea of Japan. 269 passengers and crew died in the incident, which President Ronald Reagan condemned as a "crime against humanity". The incident heightened tensions between the United States and the Soviet Union, each of which accused the other of responsibility for the incident. An International Civil Aviation investigation concluded that Soviet personnel had "appeared baffled and concerned by the presence of an unknown aircraft, rather than determined to strike intentionally". But their decision to shoot the aircraft down without attempting to make contact was declared reckless, Vox says.
2. Iran Air Flight 655 (1988)
Iran Air Flight 655, en route from Bandar Abbas in Iran to Dubai, was shot down on 3 July 1988 by surface-to-air missiles from the US warship USS Vincennes. All 290 passengers – including 66 children and 16 crew – died. Many of those on board were Iranians on a pilgrimage to Mecca, The Guardian says. US Navy officials claimed that they had mistaken the passenger jet for an incoming Iranian F14 jet fighter, and say that the plane was not travelling on its usual course and that it didn't respond to requests to change direction. Iran said that the attack "could not have been a mistake" and was a "criminal act" and a "massacre".
3. Siberia Airlines Flight 1812 (1983)
On 4 October 1983, Ukraine shot down a Russian passenger plane that had 66 passengers and 12 crew on board. Siberia Airlines Flight 1812 was travelling from Tel Aviv in Israel to Novosibirsk in Russia when it was shot down by a Ukrainian surface-to-air missile. It is believed that the missile was fired as part of a military exercise and struck the Soviet-made Tupolev Tu-154 passenger jet by accident.
4. Itavia Flight 870 (1980)
On 27 June 1980, Itavia Flight 870 from Bologna to Palermo crashed in the Tyrhennian Sea, near Sicily, killing its 81 passengers and crew. Investigators concluded that it was "abundantly clear" that the plane was downed by a missile strike. One theory put forward by an Italian judge, Rosario Priore, claimed that the jet was shot down as part of a Nato plot to kill the Libyan dictator Muammar Gaddafi, The Guardian says. Another, from former Italian President Francesco Cossiga attributed the crash to a missile fired from a French Navy aircraft. But to this day the full story behind the incident remains unknown.
5. Air Malawi 7Q-YMB (1987)
An Air Malawi flight was shot down on 6 November 1987 during the civil war in Mozambique. The plane had been travelling from Blantyre to Lilongwe. Eight passengers and two crew died when the plane went down near the town of Ulongwe.
6. Korean Air Lines Flight 902 (1978)
On 20 April 1978, Korean Air Lines Flight 902 was fired upon near Murmansk, in the former Soviet Union, after it failed to respond to instructions from Soviet ground control and interceptor jets. Soviet pilots had identified the aircraft as a passenger plane from the logo on its tail, but commanders still ordered the plane to be brought down after it failed to respond to repeat instructions to land. Military jets fired on the plane and it was forced to make an emergency landing. Two passengers died in the attack.
7. Libyan Arab Airlines Flight 114 (1973)
Libyan Arab Airlines Flight 114 from Tripoli to Cairo was shot down by Israeli fighter jets in 1973 after getting lost in a sandstorm, USA Today reports. The Israeli pilots said that they had fired warning shots but believed the pilot of the 727 was defying their orders to land, so they shot the plane down. Of the 113 people on board, there were just five survivors.
8. El Al Flight 402 (1955)
On July 27, 1955, El Al Flight 402 travelling from Vienna to Tel Aviv was shot down by two Bulgarian MiG fighters. Bulgaria admitted to having shot the plane down "in error" and agreed to pay a total of $195,000 in compensation to Israel. All 58 people on board were killed in the incident.

Continue reading for free
We hope you're enjoying The Week's refreshingly open-minded journalism.
Subscribed to The Week? Register your account with the same email as your subscription.