McDonald's offers all staff an end to zero-hours contracts
Fast-food giant will guarantee a minimum number of hours each week, says chief executive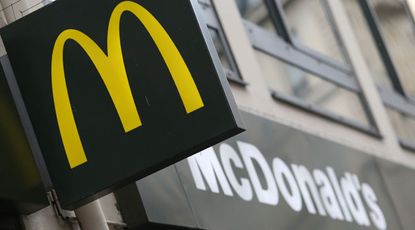 (Image credit: Getty)
McDonald's is to offer all its UK staff the opportunity to move off zero-hours contracts.
Chief executive Paul Pomroy told Sky News all 115,000 workers of the fast-food giant "will be given a choice between remaining on a flexible, zero-hours contract or moving to a fixed position".
New contracts would guarantee "either four, eight, 16 or 30 hours work per week".
Subscribe to The Week
Escape your echo chamber. Get the facts behind the news, plus analysis from multiple perspectives.
SUBSCRIBE & SAVE
Sign up for The Week's Free Newsletters
From our morning news briefing to a weekly Good News Newsletter, get the best of The Week delivered directly to your inbox.
From our morning news briefing to a weekly Good News Newsletter, get the best of The Week delivered directly to your inbox.
McDonald's trialled the scheme in 23 UK cities and found 80 per cent of workers "chose to remain on flexible contracts", reports The Guardian, with the company saying it had seen an increase in "employee and customer satisfaction after the offer".
It will be extended to another 50 restaurants before being rolled out nationwide "later in the year".
Zero-hours contracts have become a hugely controversial issue. Companies and business leaders argue they allow workers and firms necessary flexibility, while workers say they face short-notice changes to working hours and cannot make financial plans.
"Staff in [McDonald's] restaurants complained they were struggling to get loans, mortgages and mobile phone contracts because they were not guaranteed employment each week," says the Guardian.
Other firms, such as Sports Direct, have moved away from zero-hours contracts for directly-employed workers in recent months.
Meanwhile, Pomroy also told Sky News that McDonald's will look to respond to customer demand for a delivery service.
"The market's growing - I've been looking at that market for 18 months now - customers are starting to ask us when McDonald's are doing delivery," he said.
"We think we're going to start probably in June. We'll start in a small, controlled way. We serve 3.7 million people per day so you can't go from one store to 1,300 quickly without causing disruption."
Record numbers working on zero-hours contracts
3 March
More people than ever are working on zero-hours contracts, according to new figures from Resolution Foundation think-tank.
Analysis based on Office for National Statistics reports show there are now 910,000 people on the controversial contracts.
Zero-hours contracts (ZHCs) are widely used by retailers, hotels, restaurants and leisure centres, although many firms, such as Sports Direct and McDonald's, have received considerable flak for using them as they do not offer a minimum number of hours but require workers to be available when needed.
In 2005, there were 100,000 workers on ZHCs, fewer than the increase in numbers between 2015 and 2016, when 110,000 were signed.
According to Resolution Foundation, the final three months of 2016 saw an increase of 13 per cent year-on-year and a rise of 30 per cent compared to the same period in 2014.
However, it added, the numbers of people on ZHCs in the second half of last year was only marginally up from the first six months, an increase of 0.8 per cent compared to growth of 7.7 per cent in the same period of 2015.
So while numbers are at all-time highs, Resolution believes they may have peaked, in part because the vote for Brexit has employers worried about finding the workers they need.
Conor D'Arcy, policy analyst at the foundation, said: "With the employment rate at a record high and the first inklings that firms may think the supply of labour from the EU could be limited after Brexit, employers may be finding it harder to fill roles without guaranteeing hours of work."
He added: "The negative publicity these contracts have attracted may well have played a role in their slowdown, as firms rethink their use."
Len McCluskey, general secretary of Britain's biggest trade union Unite, urged the government to follow the example of New Zealand and ban ZHCs, The Guardian reports.
He said: "There are now close to one million people in the UK on zero-hours contracts. That's one million people with no job security, who are earning less than people in stable work and who, from week to week, do not know what they will have to live on.
"Let's learn from New Zealand - put workers' welfare first and outlaw these hire and fire contracts."
Will zero-hours contracts soon be a thing of the past?
16 September
So-called 'zero-hours' contracts have become one of the cause celebres of the employment market in recent years.
When the government trumpets impressive employment figures, it often finds itself on the back foot forced to defend claims that uncertainty over pay is disenfranchising more and more workers.
Worse, the use of these controversial contracts has been linked to poor working practices and stories of staff being bullied with threats of fewer hours if they complain.
What are zero-hour contracts?
They are the flexible contracts that many of us might have worked on at one point or another, especially when studying, that do not guarantee a set number of hours each week or month.
Are they legal?
Absolutely – although many people would like them not to be. They were outlawed in New Zealand as recently as March. Campaigners would like that example to be followed here.
Why are they controversial?
Because staff are not able to bank on receiving a set amount of pay, making it difficult for them to plan their finances or to make big purchases like buying a house.
There are also widespread stories of staff having to be available seven days a week at short notice, having their hours cut for refusing shifts or falling out with management, or worse.
How many people are on these contracts?
According to the Office for National Statistics, more than 900,000 people in the UK claimed to be on zero-hours contracts during the three months to the end of June, up 21 per cent year on year.
The BBC notes that the figure comes from a survey of 40,000 people and is entirely based on what a person believes their employment contract states. So the estimate might not be completely accurate, but the rise of 153,000 people employed in this way is still "statistically significant".
So zero-hours contracts are booming?
They have been and now account for around three per cent of all employment, but this might be changing.
As part of a shake-up to counter criticism of its working practices, Sports Direct announced earlier this month that it was moving all of its 18,000 shop staff onto fixed hours. This month pub chains JD Wetherspoon and Greene King, and cinema chain Everyman all said they'd ditch zero-hours contracts.
What does the government say?
So far its line has consistently been that the contracts are an important part of flexible working and that 70 per cent of those on them, especially students, are happy with the arrangement.
All this might change under Theresa May, who has pledged to do more to tackle corporate excess and to build an economy "that works for everyone".
If zero-hours contracts are so bad, why are workers so happy?
16 December
When zero-hours contracts first hit the headlines during the 2015 election campaign they were broadly denounced as a terrible development in the labour market. But a new survey suggests workers on these strange deals are happier. What is the reality for workers?
What is a zero-hours contract?
This style of contract allows employers to hire staff without guaranteeing them any work. The employee is expected to work the shifts offered, but there is no minimum amount of work that they are assured of getting.
Sick pay is rarely included in the contract, but holiday pay should be in order to comply with working time regulations.
Some of these contracts require workers to take the shifts they are offered or their contract will be terminated.
Who uses them?
According to data from the Office for National Statistics the number of people employed on zero-hours contracts is on the rise. At present around 1.4 million people are on these contracts, mostly in the hospitality, retail and manufacturing sectors.
Well-known brands including McDonalds, JD Wetherspoon, Cineworld and Sports Direct employ a large proportion of their staff in this way. The latter has hit the headlines in recent weeks for the terrible way it allegedly treats its staff.
"It's not festive fun to end every shift being searched by guards for 15 unpaid minutes…just to make sure you haven't nicked a Spurs away top," says Janice Turner in The Times.
"Teachers at nearby schools report young children being left home alone because on their Sports Direct zero-hours contracts parents can be instructed to work overtime without notice and, since mobile phone are banned within the warehouse, they can't even call the schools. Complain or refuse and they'd be quickly sacked."
What is happening at Sports Direct?
Stories coming out about Sports Direct don't paint a happy picture of working on a zero-hours contract. Employees are scared to speak out for fear of being sacked but several have spoken anonymously about how their shifts were slashed after taking sick days, or time off to look after children.
"Mike Ashley's Shirebrook factory... really is a workhouse not a workplace – something that should shame us in 2015 Britain," says Charlotte Bence, Chair of Unite's London & Eastern Young Members Committee in The Independent.
"We've met workers who have been told off for having to leave work to collect sick children from school, for taking days off at short notice to visit dying family members, who have been verbally abused by members of the public, felt upset about it and simply told to toughen up – all of whom have had their hours 'inexplicably' reduced as a result."
So zero-hours employees aren't happy?
This is the thing: a recent survey has found that employees on zero-hours contracts "are as happy as permanent full-time employees," says Sarah O'Connor in the Financial Times.
Of those interviewed 65 per cent on zero-hours contracts said they were either very satisfied or satisfied with their jobs, compared to 63 per cent for all employees. The findings will be welcomed by business groups who defend zero-hours contracts as they "provide useful flexibility to works and employers," says O'Connor.
The survey has been criticised, though, because only 350 of those questioned were on zero-hours contracts.
"We are not saying that the sample is perfect, but what we are saying it this is the most reliable sample of zero-hour contract workers in the UK excluding the ONS data," said the Chartered Institute of Personnel and Development (CIPD), which conducted the survey, in the Financial Times.
The CIPD's research "must not be used as a way of glossing over the problems zero-hours working can create," says Frances O'Grady, general secretary of the TUC trade union group.
"We've heard many stories of people being denied mortgages and tenancies as a result of being on these contracts and of the stress caused by not knowing how much work they will have from one day to the next."
Zero-hour contracts: are they fair and why the controversy?
6 June 2014
Regulations surrounding zero-hours contracts will be tightened under plans announced in this week's Queen's Speech.
Companies including Sports Direct, McDonald's and Amazon faced criticism last year for using such contracts, which unions say offer little security for workers. However, others insist that the contracts have created a flexible workforce that has helped to keep unemployment down while allowing individuals a greater say over when, where and how much they work.
What exactly are zero-hour contracts?According to the government, a zero-hour contract is "an employment contract in which an employer does not guarantee the individual any work and the individual is not obliged to accept any work offered".
What are the advantages of zero-hour contracts?For employers, zero-hour contracts are useful to provide a flexible workforce and a cheaper alternative to agency fees. For example, a catering company may need extra workers to cover unexpected or last-minute events, such as a last-minute wedding party. Other companies might need zero-contract workers to cover for temporary staff shortages. Workers, on the other hand, have the opportunity to gain experience and skills without the requirement to accept offers of work. A survey by the Office for National Statistics found that two in three people on zero-hour contracts did not want to work more hours.
What are the disadvantages of zero-hour contracts?The Trades Union Congress says that workers on zero-hour contracts are at risk of exploitation, with the majority earning less than the living wage. It has called on the government to clamp down on abuse of the contracts by "bad employers". The lack of regular hours and income makes it difficult for families to budget and organise childcare, says the TUC. "Employers like to argue that zero-hour contracts offer flexibility but for many workers they mean poverty pay and no way of knowing how often they'll be working from one week to the next."
What are the politicians saying?Business Secretary Vince Cable has ruled out a complete ban on zero-hour contracts, saying they offer employers "welcome flexibility". The government has completed a 12-week public consultation on the issue and will respond in "due course". But unions have complained that this only examines exclusivity clauses and lack of transparency in employment rights, while the problems facing workers on these contracts are far more wide ranging. The government has also come under fire for threatening to take away jobseekers' benefits for three months or more if people refuse to take roles with zero-hours contracts. Labour has pledged to tackle the "epidemic" of zero-hour contracts if it wins the next general election, introducing more rights for workers, compensation if shifts are cancelled at short notice and a fixed-hours contract after 12 months with an employer. Details of reforms announced by the coalition in this week's Queen's Speech have not yet been announced.
How many people are on zero-hour contracts?According to the Office for National Statistics, there were around 1.4 million UK jobs making use of zero-hours contracts in a two-week period in January and February this year, a far higher number than expected. The contracts are most likely to be offered to women, people over 65 and young people, with nearly one-fifth likely to be in full-time education. Tourism, catering and food industries used the highest proportion of zero-hour contracts.
Do I have any rights under a zero-hour contract?"Zero-hour workers have the same employment rights as regular workers, although they may have breaks in their contracts, which affect rights that accrue over time," says Acas. This might include sick pay for example. Zero-hour workers are entitled to annual leave, rest breaks and the national minimum wage, but not redundancy pay or a statutory minimum notice period.

Continue reading for free
We hope you're enjoying The Week's refreshingly open-minded journalism.
Subscribed to The Week? Register your account with the same email as your subscription.