Will Facebook be broken up?
Democratic presidential candidates join calls for Instagram and WhatsApp to be separated from the social media giant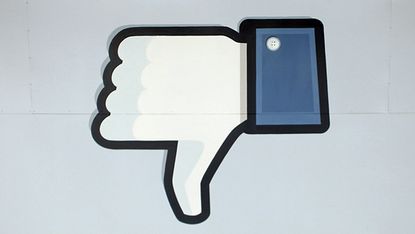 (Image credit: Robyn Beck/AFP/Getty Images)
Facebook has rejected calls for the social media company to be broken up amid growing criticism from US politicians.
The California-based firm's rapid growth has been fuelled by acquisitions of other platforms including Instagram and WhatsApp. Indeed, some critics say Facebook simply purchased its competition rather than innovating to meet the challenges they posed.
"Their whole business model is to identify potential threats and then buy them or beat them in some way," Stephen Diamond, an associate professor at Santa Clara University School of Law, told tech news website CNet.
Subscribe to The Week
Escape your echo chamber. Get the facts behind the news, plus analysis from multiple perspectives.
SUBSCRIBE & SAVE
Sign up for The Week's Free Newsletters
From our morning news briefing to a weekly Good News Newsletter, get the best of The Week delivered directly to your inbox.
From our morning news briefing to a weekly Good News Newsletter, get the best of The Week delivered directly to your inbox.
Facebook co-founder Chris Hughes criticised chief executive Mark Zuckerberg in an opinion piece in The New York Times last week, warning that the tech tycoon wields too much power.
"Mark's influence is staggering, far beyond that of anyone else in the private sector or in government. He controls three core communications platforms - Facebook, Instagram and WhatsApp - that billions of people use every day," Hughes wrote.
"Mark alone can decide how to configure Facebook's algorithms to determine what people see in their News Feeds, what privacy settings they can use and even which messages get delivered. He sets the rules for how to distinguish violent and incendiary speech from the merely offensive, and he can choose to shut down a competitor by acquiring, blocking or copying it."
Hughes concluded: "We are a nation with a tradition of reining in monopolies, no matter how well intentioned the leaders of these companies may be. Mark's power is unprecedented and un-American. It is time to break up Facebook."
But speaking to CNN, Facebook's head of global affairs, former Lib Dem leader Nick Clegg, said that while the social media giant was "dealing with some very profound ethical and political issues... chopping a great American success story into bits is not something that's going to make those problems go away".
A force for good?
Zuckerberg addressed Hughes' comments during an interview with French broadcaster France 2, arguing that "what he's proposing we do isn't going to do anything to help".
The CEO insisted that Facebook's immense size and power actually benefits its users, as a force for truth and democracy.
"If what you care about is democracy and elections then you want a company like us to invest billions of dollars a year, like we are, in building up really advanced tools to fight election interference," said Zuckerberg.
"Our budget for safety this year is bigger than the whole revenue of our company was when we went public earlier this decade. A lot of that is because we've been able to build a successful business that can now support that."
Change in 2020
Facebook's public role is set to be a hot issue in the US presidential campaign. If the Republicans are beaten in 2020, "a new Democratic administration would have a number of options to choose from when it comes to tech titans, from pushing for new regulations to working to break up current Silicon Valley giants", says Vox.
Democratic candidate Elizabeth Warren has already proposed such a law, which would require tech platforms with revenues of $25bn or more to "structurally separate" their products. Warren said that if she won the presidential election, her administration would also appoint regulators to unwind the mergers of Instagram and WhatsApp from Facebook.
Warren's proposal has won the support of the party's rising star Alexandria Ocasio-Cortez, who said: "Facebook as a basic communications platform while also selling ads and also being a surveillance platform, I think those functions should be broken up, but how that gets levied and how that gets approached is what we need to take a fine-tooth comb at."
Fellow Democratic presidential candidate Kamala Harris has also signalled that her thinking is along the same lines.
But not everyone agrees with the proposals to break up tech giants. Democratic candidate Cory Booker said: "I don't think that a president should be running around, pointing at companies and saying break them up without any kind of process here.
"Do I think it is a massive problem in America, corporate consolidation? Absolutely. It's about making sure that we have a system that works."
The Federal Trade Commission, which enforces antitrust law in the US, has been investigating Facebook over the company's failure to protect the personal data obtained by Cambridge Analytica. Facebook is expected to face a fine of anywhere from $3bn (£2.3bn) and $5bn (£3.8bn).
But experts believe the likelihood of Facebook being broken up remains remote. "I doubt there is sufficient political momentum to break up Facebook," said law professor Diamond. "I'm sceptical, even though I think there might be good reasons to do it."

Continue reading for free
We hope you're enjoying The Week's refreshingly open-minded journalism.
Subscribed to The Week? Register your account with the same email as your subscription.