US election 2020: Joe Biden wins the White House
Democrat takes Pennsylvania to clinch victory over Donald Trump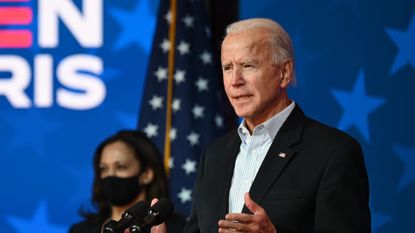 (Image credit: Drew Angerer/Getty Images)
Joe Biden has won the US election, beating Donald Trump to claim the White House even as counting continues in several states.
The Democrat took Pennsylvania and its 20 electoral votes to pass the threshold of 270 electors needed to clinch the hard-fought victory.
Biden tweeted that he was "honored that you have chosen me to lead our great country", adding: "The work ahead of us will be hard, but I promise you this: I will be a president for all Americans - whether you voted for me or not."
Subscribe to The Week
Escape your echo chamber. Get the facts behind the news, plus analysis from multiple perspectives.
SUBSCRIBE & SAVE
Sign up for The Week's Free Newsletters
From our morning news briefing to a weekly Good News Newsletter, get the best of The Week delivered directly to your inbox.
From our morning news briefing to a weekly Good News Newsletter, get the best of The Week delivered directly to your inbox.
Trump responded by reiterating the false claim that "illegal ballots" have been counted in Biden's favour, adding: "The simple fact is that this election is far from over."
Even prior to Biden's victory, the Trump campaign had already launched lawsuits in a number of swing states and won a request for a recount in Wisconsin.
Route to victory
Biden won in Pennsylvania to take the White House, having already won key swing states including Arizona, Wisconsin and Michigan. He now has 284 electoral college votes - 14 more than the 270 required to secure the top job.
Trump needed to win all four remaining states - Pennsylvania, Nevada, North Carolina and Georgia - to retain the presidency. He is the first incumbent to fail to win a second term since Republican George H. W. Bush lost to Democrat Bill Clinton in 1992.
Who did the polls say would win?
The BBC poll of polls showed that just over half of American voters (52%) intended to back Biden. The president, on 44%, trailed his Democratic rival by eight points. The final daily tracking poll by Morning Consult delivered the same percentages.
However, the US uses an electoral-college system, so winning the most votes doesn't always win you the election, as Hillary Clinton discovered in 2016.
When it comes to the all-important electoral college, RealClearPolitics predicted 216 votes for Biden and 125 for Trump, with the remaining 197 votes described as "toss ups".
The Economist was more robust in its forecast, giving Biden a 96% chance of winning the electoral college, with Trump awarded only a 4% chance of managing the same feat.
The Center for Politics' final electoral college ratings also made good reading for Democrats, showing Biden at 321 electoral votes and Trump at 217.
The final New Statesman US election forecast gave Biden a 90.4% chance, the highest his polling had hit in the magazine's model. Trump, meanwhile, had a far from negligible 10% chance of retaining the White House.
Bookmakers odds*
Swipe to scroll horizontally
| | | |
| --- | --- | --- |
| Row 0 - Cell 0 | Donald Trump | Joe Biden |
| 888 Sport | Suspended | Suspended |
| Sky Bet | Suspended | Suspended |
| PaddyPower | Suspended | Suspended |
| William Hill | Suspended | Suspended |
| Betvictor | Suspended | Suspended |
| Betfred | Suspended | Suspended |
| betfair | Suspended | Suspended |
*Odds accurate as of 07/11/20 at 16:30pm.
How was turnout?
With more than 101 millions votes cast early, this election was expected to mark the highest voter turnout in the US in more than a century.
And voters did not disappoint: Bloomberg's modelling anticipates that the total number of presidential votes cast will be between 157 million and 165 million. That translates as 68.6% to 72.1% of the voting-age population and would mark the highest level of voter engagement in the US since the early 1900s.
Biden has so far won more than 72 million votes, beating the previous record for most votes for a presidential candidate set by his former boss Barack Obama, who secured 69.4 million in 2008. In a signifier of the scale of voter turnout this time round, Trump has also surpassed Obama's tally, with 69.6 million votes and counting.
What if Trump refuses to leave the White House?
The president has baselessly claimed that "this is a fraud on the American public. This is an embarrassment to our country." Speaking at the White House, he added: "We were getting ready to win this election. Frankly, we did win this election."
Every presidential candidate to lose an election has conceded power, meaning Trump's refusal to follow suit would "take the US into unchartered territory and it is not clear how it would play out", the BBC says.
What are the candidates' policies?
The election campaign has been high on personal insults, but low on policies.
The Republicans this year passed a one-page resolution at their convention stating that they were not going to have a new platform, but saying the party "has and will continue to enthusiastically support the president's America-first agenda".
Trump has pledged to cut taxes and create jobs, but otherwise has only presented a non-specific set of promises around "law and order" and "continuing to drain the swamp".
Biden, meanwhile, has promised to reverse much of Trump's legacy, undoing tax cuts and rejoining the Paris Climate Agreement. The experienced Democrat has also committed to take urgent environmental action and boost America's struggling middle class.
Who are the vice presidential candidates?
Mike Pence, the current vice president, describes himself as "a Christian, a conservative and a Republican, in that order" and was seen as a safe bet by many in conservative circles when he was selected as Trump's running mate in the build-up to the last election.
A former talk radio host who once infamously claimed that "smoking doesn't kill", the 61-year-old ended his campaign to be re-elected as Governor of Indiana, a post he had held since 2011, to become Trump's right-hand man.
During his four years as vice president, "he has cast 13 tie-breaking votes in his dual constitutional role as President of the United States Senate - including pushing through a bill to defund Planned Parenthood", Sky News says.
Meanwhile, Kamala Harris, Joe Biden's pick to join him in the White House, mounted an unsuccessful challenge for the Democratic presidential nomination in the months before she confirmed her place on the ticket.
The 55-year-old ex-attorney general of California, who has served as one of the state's senators since 2017, was born on the US West Coast to an Indian-born mother and Jamaican-born father.
GovTrack, a congressional bill-tracking website, rates her as the most liberal senator in the Senate based on her voting record for the past year – but she has faced attacks from progressives for "dodging" fights on issues such as police reform and wrongful convictions, the BBC notes.
Who is endorsing who?
When it comes to starpower, Biden beats Trump hands down.
Some of Biden's early supporters included Game of Thrones author George RR Martin, athlete Michelle Kwan and actors Rob Reiner, Vivica A Fox, Tom Hanks and his wife, actor Rita Wilson.
And since securing the nomination the former VP's celebrity support base has grown, with heavyweights as Robert De Niro, Leonardo DiCaprio, Taylor Swift, Cardi B and, of course, former president Barack Obama, joining Team Biden.
Trump, on the other hand, has received endorsements from Jon Voight, Roseanne Barr, Scott Baio and Stacey Dash. He briefly had the support of hugely influential hip hop artist Kanye West, but West retracted this endorsement shortly after in order to launch his own presidential campaign.
What does the election mean for the UK?
Many in Whitehall will be hoping for a Biden victory, as it would signal a return to diplomatic normality and the expected continuation of the "special relationship".
However, relations are "terribly, terribly fraught, really in either administration, but more fraught I think in the Trump administration," Jeremy Shapiro, an ex-State Department staffer, told The Washington Post.
If Trump does win a second term in the White House, "Johnson can reassure his party that rule-breaking populists still have a winning appeal for those who feel betrayed by mainstream politics," The Guardian says.
But "one of Biden's priorities will be to repair the relationship with Europe, that will give us less clout," Nicholas Burns, a senior diplomat in the Clinton and Bush administrations, told the paper. Having vocally opposed the Brexit project, Biden may prove less eager to strengthen ties with Downing Street if he secures the White House.
Concerns are growing inside Downing Street about a changing of the guard in Washington that could "leave Johnson scrambling to rebuild the 'special relationship'", according to the Financial Times.
Read more here
Key Dates
29 September - first presidential debateTrump and Biden faced off for the first time in Cleveland, Ohio. Chris Wallace of Fox News was moderator.
7 October - vice-presidential debateVice President Mike Pence and Senator Kamala Harris, the Democratic vice-presidential nominee, took to the stage in Salt Lake City. Susan Page of USA Today was moderator.
15 October - presidential town-hallsThe second debate was scheduled to be a town hall-style encounter in Miami. It was cancelled and split into two seperate events after Trump was diagnosed with Covid and refused to debate virtually.
22 October - second presidential debateThe second and final debate was held at the Curb Event Center at Belmont University in Nashville, Tennessee. Kristen Welker of NBC was moderator.
3 November - general electionEligible voters who haven't yet voted by mail can go to the polls and do so in person. If the race is close, a winner may not be announced on election night.
20 January - inaugurationEither Biden will be inaugurated as the 46th president of the United States, or Trump will begin his second term in office.
Read more of our coverage:
Battle for the White House:• What will a Trump or Biden presidency mean for the UK?• What exactly are Donald Trump and Joe Biden's policies?• Why Donald Trump is likely to lose the 2020 election• Russian hackers again targeting US election, Microsoft warns
How the election works:• The states Donald Trump and Joe Biden need to win to take the White House• Could the polls be wrong and what happens if they are?• How the electoral college works• The US Senate and House of Representatives explained• Will the Republicans or Democrats win the Senate?• Counting US election votes and declaring winner could take 'up to nine days'• What can we learn about Trump-Biden from George Bush vs. Al Gore? • Washington insiders preparing for 'counting chaos' and 'states seceding'
The pandemic:• How Donald Trump's 'regret-nothing' Covid stance could pay off in US election• Why everybody's talking about Donald Trump's 'triumphalist' White House return• How Donald Trump's battle with coronavirus may impact the US election
The debates:• Trump vs. Biden: all the key moments from the first US presidential debate• Kamala Harris vs. Mike Pence: who won the vice presidential debate?• Four of the best lines from the second presidential debate
The Supreme Court:• Can Ruth Bader Ginsburg be replaced before the election?• What is Supreme Court packing - and will Joe Biden do it?
The Trump campaign:• Why everybody's talking about Donald Trump's 'bombshell' tax returns• Has Donald Trump hated being president?• Why Donald Trump has a secret Chinese bank account
The Biden campaign:• Will Boris Johnson fall out with Joe Biden if the Democrat wins the White House?• Can Joe Biden do the impossible and win Texas for the Democrats?• Do big-name endorsements help or hinder Joe Biden's US election campaign?• Laptop belonging to Joe Biden's son linked to FBI money laundering probe• Hunter Biden profile: could Joe Biden's 'problem child' scupper his election hopes?

Continue reading for free
We hope you're enjoying The Week's refreshingly open-minded journalism.
Subscribed to The Week? Register your account with the same email as your subscription.