US election: will Boris Johnson fall out with Joe Biden if the Democrat wins the White House?
Government sources forced to deny reports of growing concern in No. 10 about the presidential challenger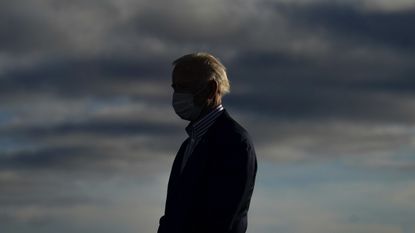 (Image credit: Drew Angerer/Getty Images)
As the self-styled "Mr Brexit", Donald Trump's residence in the White House seemed perfectly aligned with Boris Johnson's aims of striking a lucrative US trade deal as Britain quits the EU.
But Trump's opponent in the imminent US presidential election is a different prospect entirely. Having vocally opposed the Brexit project, Joe Biden may prove less eager to strengthen ties with Downing Street if he secures the White House.
And with polls pointing towards victory at the polls for the Democrat, concerns are growing inside Downing Street about a changing of the guard in Washington that could "leave Johnson scrambling to rebuild the 'special relationship'", according to the Financial Times (FT).
Subscribe to The Week
Escape your echo chamber. Get the facts behind the news, plus analysis from multiple perspectives.
SUBSCRIBE & SAVE
Sign up for The Week's Free Newsletters
From our morning news briefing to a weekly Good News Newsletter, get the best of The Week delivered directly to your inbox.
From our morning news briefing to a weekly Good News Newsletter, get the best of The Week delivered directly to your inbox.
Let's face the music
Johnson has worked hard on his relationship with the Trump administration, becoming particularly close to the president's son-in-law, Jared Kushner.
But "some in London are concerned they have not been able to foster such close links with his opponent", says the FT. British officials have not met with a single member of Biden's foreign policy team in recent weeks, "hampering Downing Street's preparations" for the Democratic victory that polls are predicting, the newspaper reports.
The most pressing issue is the much-touted UK-US trade deal, which is seen as a key touchstone in making a success of Brexit.
Johnson's advisers are said to be worried that "momentum towards a trade agreement could soon be lost", with time already running short as the clock ticks down on the EU transition period. The US law that would allow the trade deal to be fast-tracked through Congress also expires in July, and an agreement would need to be in place by April - four months after the new president takes office - to be covered.
According to a former UK ambassador to the EU, "senior figures in European governments" believe that Johnson is "waiting for the result of the US presidential election before finally deciding whether to risk plunging the UK into a no-deal Brexit", reports The Observer.
Ivan Rogers told the paper that "a view shared by ministers and officials he has talked to in recent weeks in several European capitals is that Johnson is biding his time – and is much more likely to opt for no deal if his friend and Brexit supporter Donald Trump prevails over the Democratic challenger".
By contrast, no-deal is considered "too risky with Biden heading for the White House", said Rogers.
"I don't think either Biden or his core team are anti-British, but I think they are unimpressed by both Johnson and his top team," he added.
No. 10 has moved to play down Roger's comments. Politico London Playbook's Alex Wickham reports that government sources believe "there are positives and negatives for Britain with either candidate - Trump is supportive of Brexit but a political and diplomatic nightmare, Biden is more naturally suspicious but a rational actor".
But Wickham argues that "the more nuanced truth is that No. 10 thinks neither outcome is a particularly great result for them, but neither is a disaster either".
All the same, Biden has stated his aim of rebuilding a close alliance with the EU, with Rogers noting that "Biden's would simply not be an administration which viewed European integration as a negative".
British diplomats feel "that if Mr Biden does come to power, securing a trade deal with the UK is unlikely to be high on his agenda", the FT adds. John Kerr, a former British ambassador to Washington, told the paper that German Chancellor Angela Merkel "and Merkel's successor will be the main interest in America".
Bad blood
So would a Biden presidency mean an end of the road for the "special relationship"? Possibly, says The Observer's Andrew Rawnsley, who predicts that a "Biden White House will have little time and less love for 'Britain's Trump'".
"Boris Johnson will not be the first name on Joe Biden's call sheet if he becomes the 46th president," Rawnsley continues. "Nor is there any expectation that Mr Johnson will be first in line when they hand out invitations to the White House."
The "UK's absence from the EU will make it clearly less influential because it can no longer lead European thinking on the geo-strategic issues which will matter hugely to Biden", whose politics are shaped by his deeply-routed Catholic upbringing and belief in alliance building, rather than Nixonian "madman" alliance-breaking.
Ex-chancellor George Osborne yesterday poured cold water on hopes of a close relationship with a possible Biden administration, telling CNN that the former vice-president "knows the Brexiteers associated themselves with Trump [and] knows they're not his fellow travellers".
"There is a lot of frantic repositioning going on here in London by this administration here," Osborne added. "I don't think Joe Biden will feel particularly warmly toward this British government and they're going to have to work very hard to change that."
However, the reality may be a little more complex. Earlier this year, Biden told The Telegraph that the UK "still is in a special relationship, notwithstanding the way President Trump keeps talking about Europe and the world", adding that "Nato is critical".
And Biden is also a vocal supporter of the Iran nuclear deal, negotiated by his former boss Barack Obama, of which the UK is still a signatory.
The FT's chief political commentator Robert Shrimsley argues that "as a Nato and UN Security Council member, G7 economy and nuclear power, the UK still matters". So while the UK is likely to come lower on the agenda than Biden's US-EU alliance-building mission, Johnson's government could still be an ally on the wider geopolitical stage.

Continue reading for free
We hope you're enjoying The Week's refreshingly open-minded journalism.
Subscribed to The Week? Register your account with the same email as your subscription.