Is GDP the best way to measure economic growth?
Labour says a radically different approach is needed to take in social and environmental factors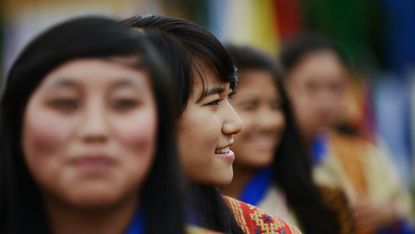 (Image credit: Roberto Schmidt/AFP/Getty Images)
A senior Labour shadow minister has suggested that the party could adopt a radically different approach to measuring the health of the economy, amid growing pressure worldwide to ditch GDP as a barometer of growth.
Speaking to Extinction Rebellion protesters in Trafalgar Square, shadow international trade secretary Barry Gardiner said: "The stupid thing about our economy is the way we judge it - GDP. It makes no sense…the wealth of the country lies in your legal system, your people, your resources, the skills available."
Gross Domestic Product, which measures all goods and services produced by a country in a year, "has long been criticised by environmentalists for treating all forms of economic activity as positive", says Left Foot Forward.
Subscribe to The Week
Escape your echo chamber. Get the facts behind the news, plus analysis from multiple perspectives.
SUBSCRIBE & SAVE
Sign up for The Week's Free Newsletters
From our morning news briefing to a weekly Good News Newsletter, get the best of The Week delivered directly to your inbox.
From our morning news briefing to a weekly Good News Newsletter, get the best of The Week delivered directly to your inbox.
One example cited by Gardiner was the floods last year which boosted GDP and productivity because of the work involved in the recovery. Likewise, when an earthquake hits and requires rebuilding, it boosts GDP.
"Imagine if a corporation used GDP accounting to do its books: it would be adding all its income and expenses together to get a final number," says Ida Kubiszewski in The Conversation. "Nobody would think that's a very good indication of how well that business was doing."
John Havens in The Guardian writes that "on a basic accounting level, GDP measures haven't historically reported the costs of doing business in areas like the environment or employee wellbeing. And in a world of finite resources, where potable water or the amount of stress a worker can handle have limits, businesses and lawmakers alike are beginning to recognise the urgent need to move beyond GDP metrics to better measure what matters in our world and lives".
Opposition to GDP is also growing among financial experts.
Herman Daly, a former senior economist at the World Bank, has said "the current national accounting system treats the earth as a business in liquidation", while Pooran Desai, co-founder of BioRegional Development Group, says GDP "is a poor measure of progress" as "it increases as we destroy the natural capital of the planet".
"We need economic growth, but we cannot continue to measure it using GDP. We need a 'quality adjusted' GDP linked to transactions which recognise how much social and natural capital they are building," he writes.
Not everyone is sold. "GDP isn't perfect," admits Tim Worstall in Forbes, "but it is at least calculable, to a tolerable level of accuracy, pretty quickly."
GDP "is also extremely useful as long as we properly understand what it is", he argues. "It's not a measure of all economic activity, nor is it a measure of the good life. And it doesn't measure the distribution of income, another complaint. But it does do what it says on the tin: it's a good measure of the value added in the economy."
Progressives and environmentalists have long argued for alternatives such as Genuine Progress Indicator (GPI), which takes GDP and corrects it for various social and environmental factors such as inequality, costs of underemployment and costs of pollution.
Describing the relationship between GDP and GPI as mimicking the relationship between the gross profit and net profit of a company, Investopedia says: "By accounting for the costs borne by the society as a whole to repair or control pollution and poverty, GPI balances GDP spending against external costs. GPI advocates claim that it can more reliably measure economic progress, as it distinguishes between the overall shift in the 'value basis' of a product, adding its ecological impacts into the equation."
In the US, Maryland and Vermont now officially report their GPI annually. "This movement towards GPI is part of an international trend," says Kubiszewski, with GPI calculated in around 20 countries worldwide.
–––––––––––––––––––––––––––––––For a round-up of the most important business stories and tips for the week's best shares - try The Week magazine. Get your first six issues for £6–––––––––––––––––––––––––––––––
But "there is no global consensus on what alternative to use", says Left Foot Forward.
Another measure of societal welfare being adopted around the world comes from the Kingdom of Bhutan, which began using Gross National Happiness (GNH) as an alternative to GDP in 1972.
GNH in Bhutan is expressed through four pillars: good governance; sustainable socio-economic development; preservation of culture; and environmental conservation.
It is calculated using a survey that takes approximately seven hours per person, with a GNH Commission set up assess all new policies for their impact on the "happiness" or well-being of the population.
Looking at the data over the past 30 years, "apparently, happiness hasn't come at the cost of per capita wealth, and giving conservation a seat at the table hasn't impeded economic performance", says Euromoney.
Life expectancy has risen from 45 to 70 over the past three decades as infant mortality rates have plummeted; literacy rates have gone from 50% to 72% in the same period, with youth literacy at 93%. According to the World Bank, Bhutan will shake off its developing nation status and become, officially, a middle-income country in 2023.
More often, GDP gets attention when it's falling. "Amid the global financial crisis, national happiness became the subject of policy conferences and college courses," Vox reports.
France commissioned a study on it, which leading economists Amartya Sen, Joseph Stiglitz, and Jean-Paul Fitouss completed in 2009. In 2011, the OECD released its first well-being report on its member countries, and in 2012, the UN began releasing its annual world happiness report.
Growing acceptance has seen it slowly being adopted by larger economies. The Australian Bureau of Statistics has began moving in this direction with the Measures of Australia's Progress initiative, while in May this year, the New Zealand government released the first-ever "well-being budget".
Stressing that health and life satisfaction not wealth or economic growth is the metric by which a country's progress should be measured, Prime Minister Jacinda Ardern said GDP alone "does not guarantee improvement to our living standards" and nor does it "take into account who benefits and who is left out".
As in Bhutan, all new spending is required to satisfy five specific well-being goals: bolstering mental health, reducing child poverty, supporting indigenous peoples, moving to a low-carbon-emission economy and flourishing in a digital age.
To measure progress toward these goals, the government will use 61 indicators tracking everything from loneliness to trust in government institutions, alongside more traditional issues like water quality.
While this approach appeals to many progressives, "it's also attracted criticism from some who think it's airy-fairy marketing spin at best and fiscally irresponsible policy at worst", says Vox. Opposition politician Amy Adams said that at a time of significant economic risk, "this government is focusing on a marketing campaign".

Continue reading for free
We hope you're enjoying The Week's refreshingly open-minded journalism.
Subscribed to The Week? Register your account with the same email as your subscription.